Research: Right-to-Know or Left-to-Wonder
RTK News - RTK Resources - Lost and Found
GIS Shapefile Store - for Beginners & Experienced GIS Users Alike. Geographic Names Information System, Nuclear Facilities, Zip Code Boundaries, School Districts, Indian & Federal Lands, Climate Change, Tornadoes, Dams - Create digital GIS maps in minutes.

Follow on Twitter
A Member of the
Reimagination Network
Didn't find what you are looking for? Email me and I'll find it for you.
Progressive Links
Federation of American Scientists
Physicians for Social Responsibility
Public Employees for Environmental Responsibility
Have a question or comment? Post them at the MapCruzin Blog.
MapCruzin Consulting
GIS and Google Maps Development, Website Creation and Hosting, Fast and Affordable.
Climate Hot Map - Explore Global Warming Hot Spots Around the Globe
Sponsors

<-- Free Geography Maps
<-- Free World Country Maps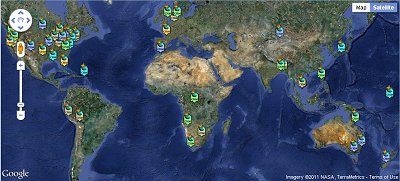 "Observational evidence from all continents and most oceans shows that many natural systems are being affected by regional climate changes, particularly temperature increases." –Intergovernmental Panel on Climate Change (IPCC), 2007
Explore the signs of global warming on this map or Google Earth. The evidence of climate change includes heat waves, sea-level rise, flooding, melting glaciers, earlier spring arrival, coral reef bleaching, and the spread of disease.
The greatest concentration of global warming indicators on the map is in North America and Europe because that is where most scientific investigation has been done to date. As scientists focus increasingly on fingerprints of global warming in other regions—from Russia to Antarctica and Oceania to South America—the evidence they find will be added to the map.
Sponsors
Scientists project that unless emissions of heat-trapping gases are brought undercontrol, the impacts of climate change are likely to increase.
<-- Free Geography Maps
<-- Free World Country Maps
Didn't find what you are looking for? We've been online since 1996 and have created 1000's of pages. Search below and you may find just what you are looking for.
---
MapCruzin.com is an independent firm specializing in the publication of educational and research resources. We created the first U.S. based interactive toxic chemical facility maps on the internet in 1996 and we have been online ever since. Learn more about us and view some of our projects and services.
If you have data, GIS project or custom shapefile needs send me an email.
Sponsors