Research: Right-to-Know or Left-to-Wonder
RTK News - RTK Resources - Lost and Found
GIS Shapefile Store - for Beginners & Experienced GIS Users Alike. Geographic Names Information System, Nuclear Facilities, Zip Code Boundaries, School Districts, Indian & Federal Lands, Climate Change, Tornadoes, Dams - Create digital GIS maps in minutes.

Follow on Twitter
A Member of the
Reimagination Network
Didn't find what you are looking for? Email me and I'll find it for you.
Progressive Links
Federation of American Scientists
Physicians for Social Responsibility
Public Employees for Environmental Responsibility
Have a question or comment? Post them at the MapCruzin Blog.
MapCruzin Consulting
GIS and Google Maps Development, Website Creation and Hosting, Fast and Affordable.
Topo.ly Free Tool to Easily Plot Spreadsheet Location Data on a Google Map
Sponsors

<-- Free GIS Software & Resources

Note that besides the business uses outlined below, topo.ly can also be used to map such things as toxic sources, hazardous waste sites, crime data, census data... Use your imagination. Very powerful tool.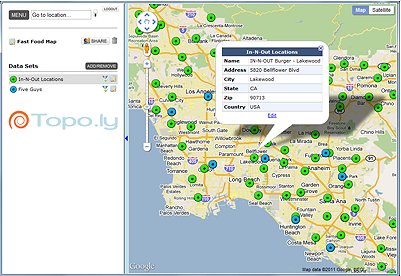 According to the creator of topo.ly:
With increasing technology, businesses are bombarded by growing amounts of data. However, the key to effective management reporting comes from a benefit gained from GIS mapping technology: data visualization.

Topo.ly has developed a free tool to easily plot spreadsheet location data on a Google Map.

This tool helps businesses create sales territories, enhance customer presentations, segment markets, and identify growth opportunities.
Sponsors
It makes mapping simple by allowing users to easily add multiple dataset layers, apply filters to locations, and securely share maps within a team.
Visit the Topo.ly Free Website.
<-- Free GIS Software & Resources
See Also:
Free ArcGIS Shapefiles, Free Maps, Google Earth & Maps, Free GPS, Satellite and Aerial, GIS Tutorials.
Didn't find what you are looking for? We've been online since 1996 and have created 1000's of pages. Search below and you may find just what you are looking for.
---
MapCruzin.com is an independent firm specializing in the publication of educational and research resources. We created the first U.S. based interactive toxic chemical facility maps on the internet in 1996 and we have been online ever since. Learn more about us and view some of our projects and services.
If you have data, GIS project or custom shapefile needs send me an email.
Sponsors