Research: Right-to-Know or Left-to-Wonder
RTK News - RTK Resources - Lost and Found
GIS Shapefile Store - for Beginners & Experienced GIS Users Alike. Geographic Names Information System, Nuclear Facilities, Zip Code Boundaries, School Districts, Indian & Federal Lands, Climate Change, Tornadoes, Dams - Create digital GIS maps in minutes.

Follow on Twitter
A Member of the
Reimagination Network
Didn't find what you are looking for? Email me and I'll find it for you.
Progressive Links
Federation of American Scientists
Physicians for Social Responsibility
Public Employees for Environmental Responsibility
Have a question or comment? Post them at the MapCruzin Blog.
MapCruzin Consulting
GIS and Google Maps Development, Website Creation and Hosting, Fast and Affordable.
REVIEW - Something in the Soil: Legacies and Reckonings in the New West by Patricia Nelson Limerick.
Fair Use Statement
About Buying Books Online
See Also --> The Legacy of Conquest: The Unbroken Past of the American West by Patricia Nelson Limerick.
BUY ONLINE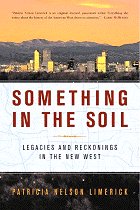 Something in the Soil: Legacies and Reckonings in the New Westby Patricia Nelson Limerick.
0195099915 A River Running West : The Life of John Wesley Powell by Donald Worster Editorial Reviews Kirkus Review, November 15, 2000 Another sublime contribution to the historical literature of the American West...generous in its intelligence, rich in context and anecdote Was this content helpful to you? John Vernon, New York Times, Feb. 18, 2001 more material .. than that contained in both previous biographies... splendid, vivid and prodigiously researched biography brings [Powell] back to life Was this content helpful to you? Book Description If the word "hero" still belonged in the historian's lexicon, it would certainly be applied to John Wesley Powell. Intrepid explorer, careful scientist, talented writer, and dedicated conservationist, Powell led the expedition that put the Colorado River on American maps and revealed the Grand Canyon to the world. Now comes the first biography of this towering figure in almost fifty years--a book that captures his life in all its heroism, idealism, and ambivalent, ambiguous humanity. In A River Running West, Donald Worster, one of our leading Western historians, tells the story of Powell's great adventures and describes his historical significance with compelling clarity and skill. Worster paints a vivid portrait of how this man emerged from the early nineteenth-century world of immigrants, fervent religion, and rough-and-tumble rural culture, and barely survived the Civil War battle at Shiloh. The heart of Worster's biography is Powell's epic journey down the Colorado in 1869, a tale of harrowing experiences, lethal accidents, and breathtaking discoveries. After years in the region collecting rocks and fossils and learning to speak the local Native American languages, Powell returned to Washington as an eloquent advocate for the West, one of America's first and most influential conservationists. But in the end, he fell victim to a clique of Western politicians who pushed for unfettered economic development, relegating the aging explorer to a quiet life of anthropological contemplation. John Wesley Powell embodied the energy, optimism, and westward impulse of the young United States. A River Running West is a gorgeously written, magisterial account of this great American explorer and environmental pioneer, a true story of undaunted courage in the American West. see also: 0195078063 Rivers of Empire : Water, Aridity, and the Growth of the American West by Donald Worster 0521468345 Nature's Economy : A History of Ecological Ideas (Studies in Environment and History) by Donald Worster
BUY ONLINE
See Also --> The Legacy of Conquest: The Unbroken Past of the American West by Patricia Nelson Limerick.
About Buying Books Online
Didn't find what you are looking for? We've been online since 1996 and have created 1000's of pages. Search below and you may find just what you are looking for.
---
MapCruzin.com is an independent firm specializing in the publication of educational and research resources. We created the first U.S. based interactive toxic chemical facility maps on the internet in 1996 and we have been online ever since. Learn more about us and view some of our projects and services.
If you have data, GIS project or custom shapefile needs send me an email.