Indoor Air Quality Research Needed
Californians spend 87% of their time indoors, 7% in a motor vehicle, and only 6% outdoors. Despite the small amount of time spent outdoors, air pollution control programs emphasize outdoor air quality, paying relatively less attention to indoor air pollution. Yet the same air pollutants covered by environmental laws outside are usually found at much higher levels in the average American residence.
In our homes and offices a variety of toxic pollutants such as volatile organic compounds evaporate from sources such as paint, dry cleaned clothes, solvents, certain cleaners, air fresheners, wallboard, adhesives, furniture stains, perfumes, electronic machines, and other sources. While each chemical might be harmless on its own, they can mix and react with one another to become much more powerful.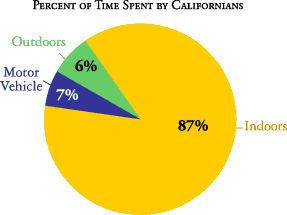 Data Source: "Everyday Exposure to Toxic Pollutants,"
Scientific American, 2/98.
The use of hazardous chemicals in the high technology industry is of particular concern due to the potential for exposures to Silicon Valley workers. For example, hundreds of chemicals are used in making semiconductors, some of them known or suspected carcinogens (cancer-causing). While the high technology industry generally rejects any link between working conditions and adverse health problems, some employees who have contracted cancer or suffered other medical problems have brought lawsuits against leading high-tech companies.
Far more research is needed to determine the quality of indoor air in Silicon Valley's work sites and homes. To protect public health, environmental laws should aim to reduce people's exposure to toxic pollutants. In the meantime, precautions are warranted including reducing and eliminating the use of hazardous chemicals in industry and common consumer products, conducting indoor air monitoring and personal monitoring, enacting protective measures and safety controls, providing education and proper warnings to workers and consumers, and taking simple measures such as removing one's shoes or wiping one's feet on a doormat before entering a home.
BACK | TOP | CONTENTS | 1999 ENVIRONMENTAL INDEX | SVEP HOME | NEXT
---
Copyright � 1999, Silicon Valley Environmental Partnership
All Rights Reserved
Website developed by Clary Meuser Research Associates