Fuel Leak Cases Drop, But MTBE Shows Up in Water Sources
Why Is This Important?
Roughly 40 percent of Santa Clara County's drinking water comes from groundwater. The County's groundwater has traditionally been of very high quality and was once considered relatively safe from pollution. Although soil filters out bacteria and most other pollutants, it cannot filter out everything. Chemicals may seep down into the groundwater from numerous sources including leaking underground storage tanks, illegal dumping, surface spills, landfills, septic systems, and improperly constructed and maintained wells. Once an aquifer becomes polluted, cleanup is difficult and very expensive.
In recent years, leaking underground tanks and industrial spills have threatened groundwater quality in some areas of the county. Motor fuel and other hazardous chemicals are discharged from leaks and spills. Motor fuel has contained methyl tertiary butyl ether (MTBE) on a statewide, year-round basis since 1996, when it was introduced to California's gasoline to meet federal smog regulations. Although the human health effects of MTBE are not fully understood, the U.S. Environmental Protection Agency classifies it as a possible human carcinogen (i.e., cancer-causing). If left unchecked, contaminants from leaks and spills could seep down into deep aquifers and become a major water quality problem.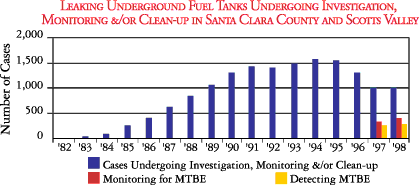 Data Sources: San Francisco & Central Coast Regional Water
Quality Control Boards, Santa Clara Valley Water District
How Are We Doing?
The number of motor fuel leak sites in Santa Clara County and Scotts Valley discovered and undergoing investigation, monitoring, and/or clean-up peaked at 1,557 in 1994 and has since decreased by 38% to 966 in 1998. This achievement is due to clean-ups, retrofits, upgrades, and case closures triggered by federal and state underground storage tank regulations enacted about 10 years ago. Motor fuel contamination from leaking tanks has been largely confined to the shallow groundwater aquifers which are not used for drinking water. However, about 71% of the fuel leak sites that monitored for MTBE in 1998 detected it, and small amounts of MTBE have been detected in Santa Clara County's drinking water supplies, including groundwater and local reservoirs. The detection levels of MTBE in Santa Clara County's drinking water are below California's drinking water standards.
Policy makers recently announced a plan to remove MTBE from California's gasoline by the end of year 2002. One lesson learned is the importance of taking a precautionary approach and considering how policy decisions will affect a variety of media, including air, water, and land. A 1998 study by the University of California estimated it would cost $36 million to clean California's drinking water wells that were shut down due to MTBE contamination. Cleaning up all groundwater could cost $1.5 billion.
In addition to the approximately 966 fuel leak cases undergoing investigation, monitoring, and/or clean-up during 1998 in Santa Clara County and Scotts Valley, 245 sites with hazardous chemical leaks are undergoing clean-up in Silicon Valley. Hazardous chemical leaks, which are largely comprised of solvents, pose a greater threat to groundwater than do motor fuel leaks because solvents are highly soluble (capable of being dissolved), mobile, and long-lasting.
BACK | TOP | CONTENTS | 1999 ENVIRONMENTAL INDEX | SVEP HOME | NEXT
---
Copyright © 1999, Silicon Valley Environmental Partnership
All Rights Reserved
Website developed by Clary Meuser Research Associates