Use of Most Toxic Pesticides Drops 51% in 6 Years (Excluding Residential Use)
Why Is This Important?
Widespread use of toxic pesticides can damage human health and the environment. The most toxic pesticides can cause cancer, pose reproductive hazards, disrupt hormone function, are nerve toxins, and/or pollute the air and water.
Pesticides applied to homes, gardens, buildings, agriculture, rights-of-way, and other places run off into our waterways, polluting water and threatening the health of wildlife. Organic food production (growing at 20 percent per year) and non-toxic pest management are emerging as alternatives to toxic pesticide use.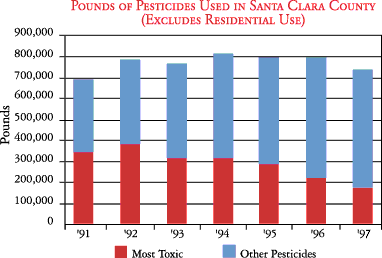 How Are We Doing?
Of the 740,533 pounds of pesticides applied in Santa Clara County during 1997 (excluding residential use) almost one-quarter is classified as most toxic. While total use of pesticides in Santa Clara County increased 6% from 1991 to 1997, use of the most toxic chemicals dropped 51% during the same timeframe. The decline in the use of most toxic pesticides is driven by sharp decreases in the use of methyl bromide (primarily used in agriculture) and chlorpyrifos (primarily used in structural pest control in Santa Clara County). However, these decreases were somewhat offset by an increase in the use of metam-sodium in agriculture and rights-of-way.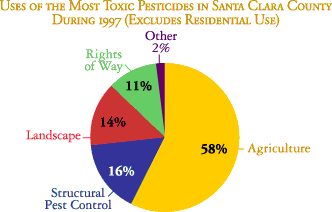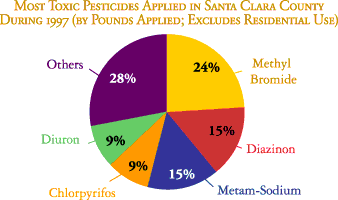 Data Source: California Department
of Pesticide Regulation
The majority of toxic pesticides used in Santa Clara County during 1997 (excluding residential use) was for agriculture. The following five pesticides account for almost three-fourths of the most toxic pesticides used in 1997: methyl bromide, diazinon, metam-sodium, chlorpyrifos, and diuron.

Hazardous Waste Generation Increases
Why Is This Important?
Inadequate control of hazardous waste can result in substantial risks to human health and the environment. Hazardous waste disposed to land or improperly managed may lead to risk of an increase in mortality or illness, and can pose a hazard to human health and the environment. Open dumping, spills, and leaks may be particularly harmful to health, contaminate drinking water, and pollute the land and air.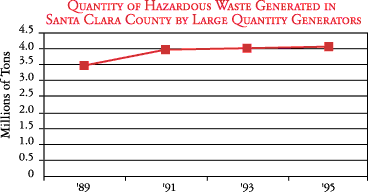 Data Source: Biennial Reporting System, Center for Environmental
Information and Statistics, U.S. Environmental Protection Agency

How Are We Doing?
Total tons of hazardous waste generated by Santa Clara County's large quantity generators increased from 3.4 million tons in 1989 to 4.1 tons in 1995, an 18% increase. These hazardous wastes were recycled, treated, or disposed.

Another important source of hazardous wastes (not included in the graph) is hazardous wastes generated by households, such as old paint, pesticides, and batteries.

BACK | TOP | CONTENTS | 1999 ENVIRONMENTAL INDEX | SVEP HOME | NEXT
---
Copyright © 1999, Silicon Valley Environmental Partnership
All Rights Reserved

Website developed by Clary Meuser Research Associates