Burrowing Owl Habitat Disappearing in Silicon Valley
Why Is This Important?
The Western burrowing owl is classified as a species of special concern by the California Department of Fish and Game. It is one of 78 species of concern in Santa Clara County. Species of concern do not receive specific habitat protection under the state or federal Endangered Species Acts, but impacts to these species must be mitigated under the California Environmental Quality Act.
The burrowing owl is an indicator of the presence of open space, especially grasslands, on Silicon Valley's floor. The owls nest on flat, open grasslands on Silicon Valley's alluvial plain, where land prices exceed $1 million an acre. These open grasslands are valuable recreation sites and improve our quality of life. But, because they are so highly prized for development, they are in danger of disappearing almost completely from the Valley floor.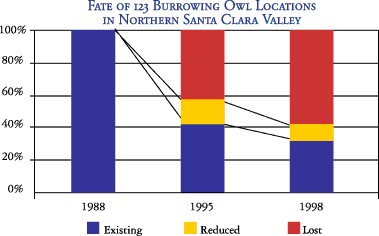 Data Source: Lynne Trulio, Ph.D., Environmental Studies Department,
San Jose State University
How Are We Doing?
The burrowing owl is facing local extinction in Silicon Valley, where it once flourished. A survey of 123 sites known to be occupied by burrowing owls (a subset of the total number of burrowing owl sites) shows a steady decline, with 57% of the open grassland patches lost since 1988. At this rate of loss, an average of almost 6% per year, the remaining privately-owned sites could be gone in only 7 years.
With declines in its habitat, the number of owls in Santa Clara County fell by half, to about 150 pairs, between the early 1980s and the early 1990s. A major reason for this decline is habitat loss to urban development. One-third of Silicon Valley's remaining owls live on government-controlled or semi-protected land, while the rest live on private land that is rapidly being developed.
The burrowing owl is likely to require Endangered Species Act protection in the future if proactive grassland protection measures are not implemented.
BACK | TOP | CONTENTS | 1999 ENVIRONMENTAL INDEX | SVEP HOME | NEXT
---
Copyright © 1999, Silicon Valley Environmental Partnership
All Rights Reserved
Website developed by Clary Meuser Research Associates