Waste Reduction Progress is Threatened by Increases in Waste Disposal
Why Is This Important?
Disposed products were originally made from raw materials, which were extracted from natural resources. Long-term sustainability requires that we use natural resources no faster than they can be renewed, and to generate waste no faster than it can be naturally broken down and assimilated by nature.
In 1989, California passed the Integrated Waste Management Act (AB 939), which requires municipalities to cut waste in half by the year 2000. Achieving this goal entails reducing consumption, reusing materials, recycling, composting, and buying products made from recycled material.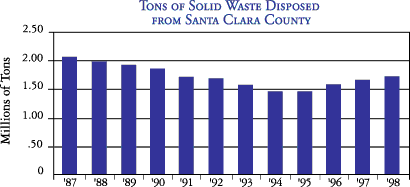 How Are We Doing?
Santa Clara County has reduced its annual disposal tonnage by 17% since 1987, sending about 357,500 fewer tons to the landfill than 11 years ago. However, total tons disposed has been increasing since 1994 due to population growth and increased economic activity. In 1998 one ton of solid waste was disposed for each person in Santa Clara County, down from 1.44 tons per person in 1987.
Even though total tons disposed has dropped by 17% since 1987, the County is estimated to be diverting 44% of its waste for purposes of measuring progress toward the state law requiring a 50% cut in waste. This means that 44% more waste would have been disposed in 1998 (taking into account population growth and economic expansion) without the reductions achieved by local waste prevention and recycling programs.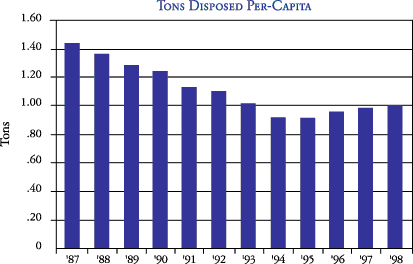 Data Source: Santa Clara County Integrated Waste Management Program
BACK | TOP | CONTENTS | 1999 ENVIRONMENTAL INDEX | SVEP HOME | NEXT
---
Copyright © 1999, Silicon Valley Environmental Partnership
All Rights Reserved
Website developed by Clary Meuser Research Associates