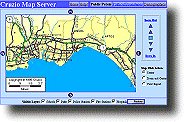 NOW ONLINE
Please visit the new GIS Mapserver we developed for Cruzio, our local ISP. Note that this is just a beginning, a preliminary version, but already the power of fully interactive GIS is apparent. Also, visit our recent toxic mapping projects that are not yet GIS enabled (EDF Chemical Scorecard, Silicon Valley Toxics Coalition, and Santa Cruz TRI and you can begin to visualize the potential power of environmental mapping on the WWW that true GIS interactivity affords. We welcome your comments. Please contact us for more information about how we can add GIS capabilities to your website.
Cruzio Community GIS Server and WWW Mapping Solutions Test & Demonstration Site - In May, 1998 we began the installation of a community GIS Webserver at Cruzio, our local Santa Cruz internet service provider. Cruzio has chosen Caliper's® Internet Mapserver. The server features full zoom and pan controls and hittable census tract, school, police, fire, hospital, and park (all point layers with the exception of census tracts) layers. The server also allows the user to locate themselves by entering an address. In phase II we added templates that the client uses to modify the attributes associated with the point layers.
In phase III, planned for March 1999, we will be adding Monterey County (the geography is now restricted to Santa Cruz county only). Also, we will add new layers. Current possible candidates include land parcels, crime incidence, parks (polygon), park trails, flood zones, and bus routes and intend to upgrade the address locating feature.