REVIEW - Carbon Dreams by Susan M. Gaines.
Fair Use Statement
BUY ONLINE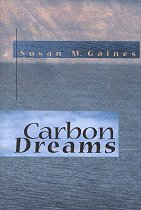 Carbon Dreams by Susan M. Gaines.
Editorial Reviews
Booklist:
"Skillfully written and deftly plotted, this novel of science set in the early 1980s is unexpectedly compelling."
Book Description:
At an oceanography institute in northern California, geochemist Tina Arenas studies climates of the distant geologic past. Heedless of life beyond her circle of scientists, Tina is immersed in a world of dinosaurs and shifting continents, where time is measured in ten-million-year spans—but when both her research and an extracurricular love affair take off in directions she has not anticipated, she is catapulted into the late twentieth century world of people and politics.
Set in the early 1980s, when the problem of global warming had yet to garner much public concern, Carbon Dreams tells the story of one scientist's struggle to come to terms with her conflicting responsibilities to science and to society.
From the Inside Flap:
ADVANCE PRAISE FOR "CARBON DREAMS"
"At last, a book that integrates authentic scientific inquiry with the character-driven magic of good literary fiction. In her remarkable debut novel, Susan Gaines fascinates with her lucid and thorough understanding of ancient geological mysteries, while simultaneously engaging us with the all-too-human, often paradoxical world of modern-day academia. A captivating story that places romantic love side-by-side with the love of sublime ideas." Frederick Reiken, Author of "The Odd Sea" and "The Lost Legends of New Jersey"
"Carbon Dreams is more than a novel, it's also a profound education in earth science. To read it is to be carried deep into the mind of a young scientist, and just as deep into the mysteries of global warming phenomena past and future. The most detailed technical discussions become matters of suspense." Louis B. Jones, Author of "Ordinary Money", "Particles and Luck",and "California's Over"
"A highly engrossing examination of scientific inquiry.... Just as the best historical fiction affords us a better understanding of both history and humanity, so this remarkable book rewards us with a deeper appreciation of geology and oceanography at the same time that we're engaged with a young woman scientist's personal and ethical dilemmas.... With this particular blend of fiction and science Susan Gaines comes thrillingly close to inventing a fascinating new genre." Jean Hegland, Author of "Into the Forest"
About the Author:
Susan Gaines's short stories have been published in various literary magazines, twice nominated for the Pushcart Prize, and selected for the anthologies "Best of the West" and "Sacred Ground: Writings About Home." She holds degrees in chemistry and oceanography. Currently at work on another novel, she divides her time between northern California and Uruguay.
BUY ONLINE