REVIEW - No Logo: Money, Marketing, and the Growing Anti-Corporate Movement by Naomi Klein.
Fair Use Statement
BUY ONLINE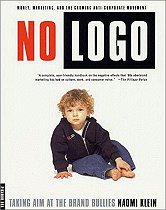 No Logo: Money, Marketing, and the Growing Anti- Corporate Movement by Naomi Klein.
Inspiring! Handbook for the new anti-globalization movement, May 7, 2000
Reviewer: A reader from Northern California:
Naomi Klein has written a well-researched, comprehensive overview of the New World Order, dominated by brands like Nike, Starbucks and McDonalds. Backed by detailed statistics as well as onsite reporting, she captures the essence of the pervasive brand-building pushed globally by the transnationals, including the very real human and environmental costs. What I really appreciated was her extensive coverage of the growing resistance to the "brand bullies" in so many different forms. I read most of this while in Washington DC recently protesting the IMF and World Bank (A16). As a long-time activist as well as historian, I strongly recommend this book to anyone interested in educating themselves about globalization-related issues. --This text refers to the Hardcover edition.
A logo rejecter rejoices!, February 4, 2000
Reviewer: A reader from Boston:
It's been years since I bought anything from The Gap, Starbucks, Old Navy, Wal-Mart(Never), and Nike and I'm proud of it. This book describes why we shouldn't buy things from companies that look at greed as an attractive trait over human decency. This book is sometimes hard to read because you see your city turning into all that Ms. Klein describes. Until society as a whole, rejects these megabrands we have no one to blame but ourselves for human rights abusues we all say are unacceptable. Shame on them, shame on us.
A call to resist, October 26, 2000
Reviewer: Educator for Justice from Chicago:
I'm impressed with Ms. Klein's book. She has delved into (and maybe nearly drown) in the most pervasive creature of the new millenium: the corporation and its brand name. She conclusively shows that the brand name is everywhere, and that the multinational now defines our attitudes, culture, and value systems. The brand name no longer piggy backs on music, art, geographical space, sports, and schools for exposure, but rather they increasingly CREATE these things. And that's dangerous. Dignity, meaning, relevance are all undermined by corporate "business as usual". But the best, and most inspiring part of No Logo is Klein's recognition of a swelling movement: anticorporatism. Folks are identifying the problem, and they're complaining, rebelling, and culture jamming. Imagine the successes of the civil rights and feminist movement, and consider that this next sweep of consciousness and activism is about to begin. Klein's book documents its inception, and we'll all want to hop on board.
Solid and stolid, October 5, 2000
Reviewer: A reader from Claremont, CA United States:
Sometimes I get the feeling that our so-called postindustrial society is trying to invent a new kind of person, one without soul, inner life or creative center. A special, new kind of creature, that mirrors consumer culture in being nothing more than a one-dimensional reflection. Klein's book reinforces that suspicion. Not that she tries to feed low-level paranoia like mine. Her work is solidly sensible, humane, and in the best tradition of heart-felt expose'. In this book, she's not 'into' evolutionary reversals, science fiction psychology or the mind of the consumer. Instead she exposes over and over to a fault, the merciless political economy of an industry based on sweat shops, enterprise zones, and celebrity prostitution. In short, it's the dirty truth behind the divine logo.
I don't know why the book didn't leave me as riled-up as I think it should. Maybe I wanted her to ask: what's wrong with these people who worship logos, who build their lives around the graven images of capitalism, what is missing that they so confuse appearance with reality. Then I think of myself. My own perceptions and preferences and I know I've been colonized too. These insidious agencies of commercialism work their way into every facet of life, like it or not. This is a mindsnatching world we're creating and Klein is helping to hold up a mirror. Reality isn't just another 'sign' in an endless parade of postmodern logos. It's real and for those who can't find it, reality is there in the sweatshops of Cavite, in the desperation of union organizers, in the plight of people trying to buy an identity for the price of a corporate symbol. Ours is not a promising new world, it's a cruel disconnected world that no longer tells the difference between heart-break and market-share. The temperature of our internal thermometer is nearing comatose. Like the ad-busters of Klein's book, let's fight back.
Editorial Reviews
Amazon.com:
We live in an era where image is nearly everything, where the proliferation of brand-name culture has created, to take one hyperbolic example from Naomi Klein's No Logo, "walking, talking, life-sized Tommy [Hilfiger] dolls, mummified in fully branded Tommy worlds." Brand identities are even flourishing online, she notes--and for some retailers, perhaps best of all online: "Liberated from the real-world burdens of stores and product manufacturing, these brands are free to soar, less as the disseminators of goods or services than as collective hallucinations."
In No Logo, Klein patiently demonstrates, step by step, how brands have become ubiquitous, not just in media and on the street but increasingly in the schools as well. (The controversy over advertiser-sponsored Channel One may be old hat, but many readers will be surprised to learn about ads in school lavatories and exclusive concessions in school cafeterias.) The global companies claim to support diversity, but their version of "corporate multiculturalism" is merely intended to create more buying options for consumers. When Klein talks about how easy it is for retailers like Wal-Mart and Blockbuster to "censor" the contents of videotapes and albums, she also considers the role corporate conglomeration plays in the process. How much would one expect Paramount Pictures, for example, to protest against Blockbuster's policies, given that they're both divisions of Viacom?
Klein also looks at the workers who keep these companies running, most of whom never share in any of the great rewards. The president of Borders, when asked whether the bookstore chain could pay its clerks a "living wage," wrote that "while the concept is romantically appealing, it ignores the practicalities and realities of our business environment." Those clerks should probably just be grateful they're not stuck in an Asian sweatshop, making pennies an hour to produce Nike sneakers or other must-have fashion items. Klein also discusses at some length the tactic of hiring "permatemps" who can do most of the work and receive few, if any, benefits like health care, paid vacations, or stock options. While many workers are glad to be part of the "Free Agent Nation," observers note that, particularly in the high-tech industry, such policies make it increasingly difficult to organize workers and advocate for change.
But resistance is growing, and the backlash against the brands has set in. Street-level education programs have taught kids in the inner cities, for example, not only about Nike's abusive labor practices but about the astronomical markup in their prices. Boycotts have commenced: as one urban teen put it, "Nike, we made you. We can break you." But there's more to the revolution, as Klein optimistically recounts: "Ethical shareholders, culture jammers, street reclaimers, McUnion organizers, human-rights hacktivists, school-logo fighters and Internet corporate watchdogs are at the early stages of demanding a citizen-centered alternative to the international rule of the brands ... as global, and as capable of coordinated action, as the multinational corporations it seeks to subvert." No Logo is a comprehensive account of what the global economy has wrought and the actions taking place to thwart it. --Ron Hogan
The New York Times Book Review, James Ledbetter:
Klein is a gifted writer; her paragraphs can be as seductive as the ad campaigns she dissects.
Mark Kingwell, author of Comprehensive, passionate, and witty:
No Logo is the best book yet on the culture of branding. But Klein expands the focus beyond mere consumerism and asks what we must do, as global citizens, to reclaim our public spaces and private selves. So add another adjective: inspiring. --This text refers to the Hardcover edition.
Book Description:
This book, Naomi Klein's searing analysis of corporate power, has been shortlisted for the Guardian First Book Award, which aims to recognise and reward new writing across fiction and non-fiction.
About the Author:
Naomi Klein is a journalist whose work has appeared in The Toronto Globe & Mail, The Village Voice, and The Baffler.
BUY ONLINE