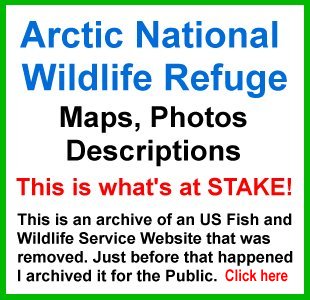 GIS Shapefile Store - for Beginners & Experienced GIS Users Alike. Geographic Names Information System, Nuclear Facilities, Zip Code Boundaries, School Districts, Indian & Federal Lands, Climate Change, Tornadoes, Dams - Create digital GIS maps in minutes.

Follow on Twitter
Didn't find what you are looking for? Email me and I'll find it for you.
Progressive Links
Federation of American Scientists
Physicians for Social Responsibility
Public Employees for Environmental Responsibility
MapCruzin Consulting
Data Research and GIS Specialists.

Refuge Information | Wildlife | Habitat | People
Home | New | Feedback | Index | Search
Why we archived the ANWR website at MapCruzin.com
[This information was originally produced by Beverly Skinner, wildlife biologist at Innoko National Wildlife Refuge (in west central Alaska), for radio broadcast on Public Radio stations throughout Alaska.]
Bear and Dog Ancestors
Scientists tell us that bears and dogs share a common ancestor. About 38 million years ago, the bear and dog lines separated into two distinct groups. The bear group began to walk on the soles of their feet while the dog group (called "canids" which includes modern day dogs, wolves and foxes) continued to walk on their toes. As bears evolved into omnivores, which means they began to include plant material in their diet, their gut became longer. Since plants take longer to digest than meat, plant eating animals need longer guts than carnivores. The bears teeth also changed over time. Canids tear their food when they eat, and have typical carnivorous teeth - small pointed front teeth and pointed molars. But bears crush and grind their food and therefore have short front teeth and rounded molars.
Bears differ from the canids in other ways too. We have all grown up with the story of how when fall comes, the temperatures begin to drop and bears go into hibernation for the winter. Hibernation is a way for animals to avoid many of the stresses of winter. But bears are not true hibernators. Their body temperatures and heart rates do drop while in their winter dens but if disturbed, unlike true hibernators such as arctic ground squirrels, bears may awaken.
It is during January and February of this winter dormancy period that the young baby bears arrive. Born naked and blind, newborn cubs weight as little as a half a pound. But the young cubs grow quickly underground in their winter den, feeding on their mothers milk which is rich in fat and protein. As warmer spring weather approaches, mother and cubs emerge from their winter shelter to resume their life above ground and their search for food.
For Alaska Naturally and the Innoko National Wildlife Refuge, this is Beverly Skinner. Bears move to their winter dens at different times in the fall depending on their age, sex and the weather. In some areas of Alaska, during mild winters, bears may not move into a den at all. Be aware then, especially in mild winters, that bears can and do emerge from their dens at any time. It is a good idea to always follow safe and common sense bear practices even during the times we assume all bears are asleep underground.
Refuge Information | Wildlife | Habitat | People
Home | New | Feedback | Index | Search
Text and graphics by USFWS staff
Last modified 28 July 2000
Why we archived the ANWR website at Mapcruzin.com

Note: This is the MapCruzin.com archive of the FWS Arctic National Wildlife Refuge website. In December, 2001 FWS took this website offline, making it unavailable to the public. It includes 90 plus pages of information and many maps. As of 2006 the important information contained in this, the original "unsanitized" version of the FWS website, has yet to return to the internet, so we will continue to maintain it here as a permanent archive to help inform activists and concerned citizens. If you find any broken links, please report them to me at [email protected] and I will attempt to make the repairs. January, 2008 update - A small part of the original information that was present in 2001 has made it back into the current ANWR website. There is also an archive that contains a small amount of the original information, but it is not readily available from the main website.

Click here to visit our homepage. Click here for NRDC's message about ANWR from Robert Redford.

For more information on why this website was "pulled," Check here. And, you can also view the maps of caribou calving areas that the FWS did not want you to see here.

January 29, 2008: Visit Our New ANWR News for Updates
---
This page should be cited as follows:
U.S. Fish and Wildlife Service. 2001. Potential impacts of proposed oil and gas
development on the Arctic Refuge's coastal plain: Historical overview and
issues of concern. Web page of the Arctic National Wildlife Refuge,
Fairbanks, Alaska. 17 January 2001. http://arctic.fws.gov/issues1.html
---
Archived by MapCruzin.com. Visit us at mapcruzin.com.
MapCruzin.com is an independent firm specializing in the publication of educational and research resources. We created the first U.S. based interactive toxic chemical facility maps on the internet in 1996 and we have been online ever since. Learn more about us and view some of our projects and services.