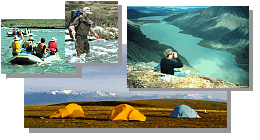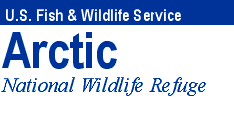 Refuge Information | Wildlife | Habitat | People
Home | New | Feedback | Index | Search
Why we archived the ANWR website at MapCruzin.com
Arctic Adventure: Wilderness Camping
Arctic Alaska, with its delicate balance of tundra, boreal forest, coastal wetlands, and mountains, contains some of the greatest wilderness in the world. Although it is vast, the arctic ecosystem is extremely fragile, easily impacted by human activities.
Certain standards of behavior are required to preserve the Arctic ecosystem - standards unnecessary in areas with more resilient systems. The techniques presented here will help ensure your safety and minimize your impact on the environment.
Preparations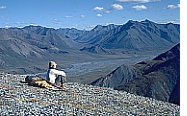 The arctic wilderness requires that you be well-prepared and self-sufficient. Equipment, supplies, and emergency services may not be readily available. In many areas, it can be weeks or months before you encounter another person.

Your equipment should be sturdy and functional, with adequate repair kits. First aid knowledge and supplies are a must. Signaling devices (smoke flares, mirrors, strobes, signal cloths) should be carried for emergencies.
Leave your itinerary with a dependable person and make firm arrangements with an air taxi operator. Planes may be delayed several days due to weather, so carry extra food. Consult a good backpacking guide for more information.
Groups
Sharing enhances a wilderness trip. However, groups should be small enough to enrich the wilderness experience. Large groups have especially noticeable and lasting impacts on arctic ecosystems.
Trails
Trails can form quickly in the arctic, scarring the land. Healing, if it occurs at all, can take years. Groups should travel in fan pattern whenever possible to limit trail formation. Use game trails, but be alert for wildlife in brushy areas. Leave your route unmarked.
Campsites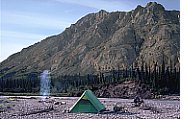 Campsite selection is the most critical part of minimizing your impact. Gravel bars make excellent campsites. They are durable, well-drained, and often have fewer mosquitoes than upland sites. High water in the spring will also erase signs of your presence. Remember that high water can occur at any time, so locate your camp well above current water levels.

If you mist choose a vegetated site, select a location with hardy vegetation such as moss or heath plants, rather than fragile lichens. Soft-soled shoes will help minimize impacts. Trenching around tents and using branches for beds or caches are unnecessary.
Move your camp every 2-3 days, or before signs of your presence become noticeable. Make every effort to return the campsite to its natural appearance.
Water
Water sources may contain Giardia lamblia or other intestinal parasites. Take preventive measures by treating or boiling your water. use a collapsible water jug - fewer trips for water reduces trail formation. Bathe and wash dishes at least 100 feet from water sources, and use biodegradable soaps.
Urinate and bury human feces at least 150 feet from all potential water sources. On the tundra, remove a fist-full of vegetation and scoop out a small depression. Mosses, leaves, and snow are natural toilet papers. Burn or pack out all paper products, including tampons and sanitary napkins. Replace the tundra.
Fires
Trees grow slowly in the arctic; a spruce tree only inches in diameter may be hundreds of years old. this and other factors makes wood scarce or nonexistent in some areas. Gas or propane stoves are recommended for cooking and emergencies.
If you need an open fire, build it on exposed, inorganic soil. Fire at other locations will kill plants and create long-term scars. Burn only dead and downed wood.
Erase all traces of the fire before you leave. Remove all foil, wire, and other unburned materials from the ashes, and pack them out. Deposit ashes and charcoal in the main current of a river, if possible. Return rocks to their original locations. Using a fire pan will prevent fire scars.
Litter
You can help keep the arctic pristine. Please pack out what you pack in. If you find litter, carry it out if possible. Do not bury garbage, as it will resurface due to frost action or curious animals. Bears that dig up garbage can begin associating people with food, a potentially dangerous situation. Check with local residents before disposing of garbage in a rural community.
Private Property
Private lands and property are scattered throughout remote Alaska. Check with the area land manager to determine land status.
Private cabins, caches, traplines, and fishnets should not be disturbed. The use of cabins in emergencies is acceptable. If you use supplies or firewood, you must notify the cabin owner and replace the items. The owner may depend on them, especially in winter.
Prehistoric or historic sites usually hold great significance for the local Native people. Respect their heritage and leave the sites undisturbed.
If you visit a rural community during your trip, remember that community privacy is important to many residents. Be sensitive to their lifestyle and activities. Obtain permission to use community facilities and to photograph residents or private property.
Wildlife
Observing wildlife in its natural habitat can be one of the most rewarding aspects of your trip. Remember that you are a visitor. Help ensure your safety and protect the wildlife by following these practices:
Cook and cache food away from sleeping areas.
Avoid strong smelling foods and keep yourself free of food odors.
Select campsites away from game trails and fresh bear sign. If a bear repeatedly visits or shows unusual interest in a campsite, move to another area.
Give wildlife the right-of-way on game trails.
Avoid bears with cubs and moose with calves.
Make noise and stay alert in bear county.
The arctic produces fewer fish than other areas. Take only what you will eat; practice catch and release.
Use binoculars, spotting scopes, and long lenses for watching and photographing wildlife.
Keep away from nests and dens.
Natural Heritage
Wilderness areas belong to everyone. By using them wisely and gently, we can preserve their remote, pristine nature for both ourselves and future generations.

Refuge Information | Wildlife | Habitat | People
Home | New | Feedback | Index | Search
Text and graphics by USFWS staff
Last modified 28 July 2000
Why we archived the ANWR website at Mapcruzin.com

Note: This is the MapCruzin.com archive of the FWS Arctic National Wildlife Refuge website. In December, 2001 FWS took this website offline, making it unavailable to the public. It includes 90 plus pages of information and many maps. As of 2006 the important information contained in this, the original "unsanitized" version of the FWS website, has yet to return to the internet, so we will continue to maintain it here as a permanent archive to help inform activists and concerned citizens. If you find any broken links, please report them to me at [email protected] and I will attempt to make the repairs. January, 2008 update - A small part of the original information that was present in 2001 has made it back into the current ANWR website. There is also an archive that contains a small amount of the original information, but it is not readily available from the main website.

Click here to visit our homepage. Click here for NRDC's message about ANWR from Robert Redford.

For more information on why this website was "pulled," Check here. And, you can also view the maps of caribou calving areas that the FWS did not want you to see here.

January 29, 2008: Visit Our New ANWR News for Updates
---
This page should be cited as follows:
U.S. Fish and Wildlife Service. 2001. Potential impacts of proposed oil and gas
development on the Arctic Refuge's coastal plain: Historical overview and
issues of concern. Web page of the Arctic National Wildlife Refuge,
Fairbanks, Alaska. 17 January 2001. http://arctic.fws.gov/issues1.html
---
Archived by MapCruzin.com. Visit us at mapcruzin.com.
MapCruzin.com is an independent firm specializing in the publication of educational and research resources. We created the first U.S. based interactive toxic chemical facility maps on the internet in 1996 and we have been online ever since. Learn more about us and view some of our projects and services.