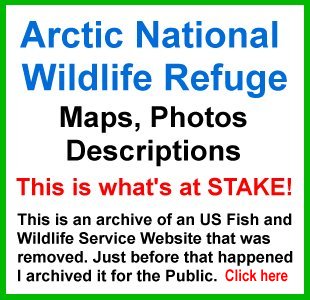 GIS Shapefile Store - for Beginners & Experienced GIS Users Alike. Geographic Names Information System, Nuclear Facilities, Zip Code Boundaries, School Districts, Indian & Federal Lands, Climate Change, Tornadoes, Dams - Create digital GIS maps in minutes.

Follow on Twitter
Didn't find what you are looking for? Email me and I'll find it for you.
Progressive Links
Federation of American Scientists
Physicians for Social Responsibility
Public Employees for Environmental Responsibility
MapCruzin Consulting
Data Research and GIS Specialists.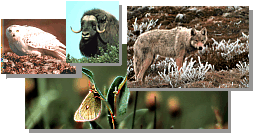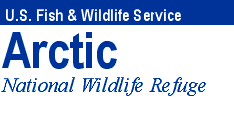 Refuge Information | Wildlife | Habitat | People
Home | New | Feedback | Index | Search
Why we archived the ANWR website at MapCruzin.com
Coffee
[This information was originally produced by Beverly Skinner, wildlife biologist at Innoko National Wildlife Refuge (in west central Alaska), for radio broadcast on Public Radio stations throughout Alaska.]

What one thing can be found in practically every eating establishment - large or small, fast food, take out or sit in, in all 50 states including Alaska? You've probably already guessed - coffee. Coffee is important not only to the millions of Americans who drink cups full every day but also to the people and wildlife of the developing world where it is produced.

Coffee was first domesticated for human use in Ethiopia. Wild coffee plants were small, understory plants that grew in the shade of the tall tropical forest trees. Even after domestication, coffee plants continued to be grown in shade because the temperature fluctuations of direct sunlight weakened the shrubs and made them more susceptible to disease. Along with protecting the low growing coffee plants from rain and sun and providing food, wood and extra income for the farmers and their families, this overstory of up to 40 different species of trees also helps maintain soil quality, reduces the need for weeding and aids in pest control. The leaves of overstory trees are also a source of natural mulch which reduces the need for chemical fertilizers and reduces erosion.

During a time when deforestation is at an all time high in many parts of the developing countries of the world, traditional coffee farms provide a refuge for forest loving birds including most of Alaska's neo-tropical migrants. In fact, it has been found that traditionally managed coffee farms support over 180 species of birds - more than any other agricultural habitat anywhere in the world. Only completely undisturbed tropical forests support more bird species.

Things are changing though. To provide more coffee and therefore make more money, many farmers have been encouraged to modernize their traditional coffee farms. A modern sun grown coffee farm has fewer or even no shade trees and consequently requires intensive management including the addition of chemicals such as fertilizers, insecticides, herbicides and fungicides to maintain the health and vitality of the coffee plants. Sun grown coffee is having many impacts on the coffee growing regions of the world. Small family owned and managed shade grown coffee farms are quickly being displaced and taken over by large land owners and corporations. The resulting habitat changes have resulted in a 94 to 97 percent decline of bird species in these areas. There is also a loss of critical habitat for other tropical wildlife.

For Alaska Naturally and the Innoko National Wildlife Refuge, this is Beverly Skinner. Making an effort to find and buy shade grown coffee not only helps prevent the further destruction of rain forests and bird habitat but can also help increase the self-sufficiency of traditional shade grown coffee farmers and their families. Since Americans drink almost 1/3 of the coffee produced in the world, we can have a major impact on the continuation of family owned shade grown coffee farms throughout the world. Ask for shade grown coffee next time you buy coffee. Do it for the birds. For more information, check out the Smithsonian Institute's shade grown coffee web site at www.si.edu/smbc.coffwhit.

Refuge Information | Wildlife | Habitat | People
Home | New | Feedback | Index | Search
Text and graphics by USFWS staff
Last modified 28 July 2000
Why we archived the ANWR website at Mapcruzin.com

Note: This is the MapCruzin.com archive of the FWS Arctic National Wildlife Refuge website. In December, 2001 FWS took this website offline, making it unavailable to the public. It includes 90 plus pages of information and many maps. As of 2006 the important information contained in this, the original "unsanitized" version of the FWS website, has yet to return to the internet, so we will continue to maintain it here as a permanent archive to help inform activists and concerned citizens. If you find any broken links, please report them to me at [email protected] and I will attempt to make the repairs. January, 2008 update - A small part of the original information that was present in 2001 has made it back into the current ANWR website. There is also an archive that contains a small amount of the original information, but it is not readily available from the main website.

Click here to visit our homepage. Click here for NRDC's message about ANWR from Robert Redford.

For more information on why this website was "pulled," Check here. And, you can also view the maps of caribou calving areas that the FWS did not want you to see here.

January 29, 2008: Visit Our New ANWR News for Updates
---
This page should be cited as follows:
U.S. Fish and Wildlife Service. 2001. Potential impacts of proposed oil and gas
development on the Arctic Refuge's coastal plain: Historical overview and
issues of concern. Web page of the Arctic National Wildlife Refuge,
Fairbanks, Alaska. 17 January 2001. http://arctic.fws.gov/issues1.html
---
Archived by MapCruzin.com. Visit us at mapcruzin.com.
MapCruzin.com is an independent firm specializing in the publication of educational and research resources. We created the first U.S. based interactive toxic chemical facility maps on the internet in 1996 and we have been online ever since. Learn more about us and view some of our projects and services.