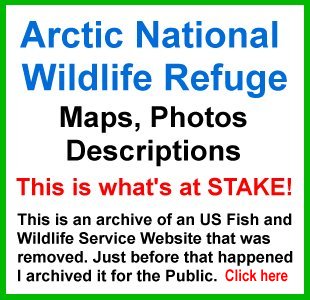 GIS Shapefile Store - for Beginners & Experienced GIS Users Alike. Geographic Names Information System, Nuclear Facilities, Zip Code Boundaries, School Districts, Indian & Federal Lands, Climate Change, Tornadoes, Dams - Create digital GIS maps in minutes.

Follow on Twitter
Didn't find what you are looking for? Email me and I'll find it for you.
Progressive Links
Federation of American Scientists
Physicians for Social Responsibility
Public Employees for Environmental Responsibility
MapCruzin Consulting
Data Research and GIS Specialists.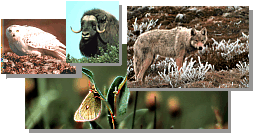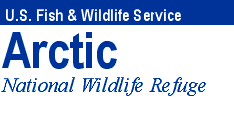 Refuge Information | Wildlife | Habitat | People
Home | New | Feedback | Index | Search
Why we archived the ANWR website at MapCruzin.com
Bald Eagles
[This information was originally produced by Beverly Skinner, wildlife biologist at Innoko National Wildlife Refuge (in west central Alaska), for radio broadcast on Public Radio stations throughout Alaska.]

One striking bird interior Alaskan residents should begin seeing in early spring is the bald eagle. Courting eagles are commonly seen chasing each other and swooping down sometimes with locked talons. It is hard to believe but many of the raptors or birds of prey such as the bald eagle are already beginning their breeding and nesting period. Early April is the typical time mature eagles begin nesting in interior Alaska.

With their conspicuous white head and tail, which they acquire at about 5 years of age, bald eagles are pretty distinct looking. Only the young brown and mottled birds under 3 to 4 years of age are hard to tell apart from our other interior eagle - the golden eagle. The bald eagle is Alaska's largest resident bird. Their wing span can reach up to 8 feet and they weigh between 10 and 14 pounds. Like most raptors, female bald eagles are bigger than the males.

The bald eagle was adopted as our national emblem in 1782 mainly because people at that time thought they were fierce looking. In reality, bald eagles are actually quite timid, are easily disturbed and spend most of their time looking for carrion or dead salmon and animals to eat. Only when they can't find their preferred food, dead or dying fish, will they hunt for themselves.

At one time Alaska had a bounty on eagles because fox farmers and fishermen thought the birds were killing too many foxes and fish. It took over 40 years before these claims were scientifically proven false and the bounty was removed in 1953. Meanwhile over 100,000 eagles were killed here in Alaska. Bald eagles numbers in Alaska have since recovered and are now felt to be at about the same level as before the bounty. Bald eagles are now protected under the Bald Eagle Protection Act and the Migratory Bird Treaty Act.

Bald eagles mate for life. They pick nesting sites that have early spring food available and will return to the same nest year after year. In interior Alaska, bald eagles usually nest in tall trees or on cliffs. While cliff nests can be made up of a few sticks, tree nests are composed of large sticks and are lined with soft materials. The nesting trees are usually the tallest tree in the area and since bald eagles continue to add nesting material each year to their nests, the tree limbs must be strong enough to hold large heavy nests.

For Alaska Naturally and the Innoko NWR, this is Beverly Skinner. Pesticides showing up in returning Alaskan salmon may become tomorrow's threat against our Bald eagles. But a more immediate threat is loss of nesting habitat by logging. In interior Alaska, bald eagles nest primarily in old growth timber along mainland rivers. By leaving buffer areas of uncut trees approximately 1/4 to 1/2 mile around Bald eagle nests, both loggers and bald eagles can coexist.

Refuge Information | Wildlife | Habitat | People
Home | New | Feedback | Index | Search
Text and graphics by USFWS staff
Last modified 28 July 2000
Why we archived the ANWR website at Mapcruzin.com

Note: This is the MapCruzin.com archive of the FWS Arctic National Wildlife Refuge website. In December, 2001 FWS took this website offline, making it unavailable to the public. It includes 90 plus pages of information and many maps. As of 2006 the important information contained in this, the original "unsanitized" version of the FWS website, has yet to return to the internet, so we will continue to maintain it here as a permanent archive to help inform activists and concerned citizens. If you find any broken links, please report them to me at [email protected] and I will attempt to make the repairs. January, 2008 update - A small part of the original information that was present in 2001 has made it back into the current ANWR website. There is also an archive that contains a small amount of the original information, but it is not readily available from the main website.

Click here to visit our homepage. Click here for NRDC's message about ANWR from Robert Redford.

For more information on why this website was "pulled," Check here. And, you can also view the maps of caribou calving areas that the FWS did not want you to see here.

January 29, 2008: Visit Our New ANWR News for Updates
---
This page should be cited as follows:
U.S. Fish and Wildlife Service. 2001. Potential impacts of proposed oil and gas
development on the Arctic Refuge's coastal plain: Historical overview and
issues of concern. Web page of the Arctic National Wildlife Refuge,
Fairbanks, Alaska. 17 January 2001. http://arctic.fws.gov/issues1.html
---
Archived by MapCruzin.com. Visit us at mapcruzin.com.
MapCruzin.com is an independent firm specializing in the publication of educational and research resources. We created the first U.S. based interactive toxic chemical facility maps on the internet in 1996 and we have been online ever since. Learn more about us and view some of our projects and services.