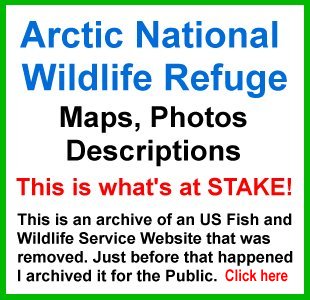 GIS Shapefile Store - for Beginners & Experienced GIS Users Alike. Geographic Names Information System, Nuclear Facilities, Zip Code Boundaries, School Districts, Indian & Federal Lands, Climate Change, Tornadoes, Dams - Create digital GIS maps in minutes.

Follow on Twitter
Didn't find what you are looking for? Email me and I'll find it for you.
Progressive Links
Federation of American Scientists
Physicians for Social Responsibility
Public Employees for Environmental Responsibility
MapCruzin Consulting
Data Research and GIS Specialists.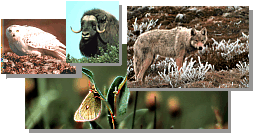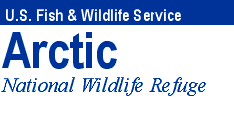 Refuge Information | Wildlife | Habitat | People
Home | New | Feedback | Index | Search
Why we archived the ANWR website at MapCruzin.com
Extinct Species in Alaska
[This information was originally produced by Beverly Skinner, wildlife biologist at Innoko National Wildlife Refuge (in west central Alaska), for radio broadcast on Public Radio stations throughout Alaska.]

The Endangered Species Act of 1973 protects numerous plant and animal species in the United States such as the bald eagle, the humpback whale and the small fragile Aleutian Shield-fern found only on Adak Island. But long before there was an Endangered Species Act, two of Alaska's unique animals species, the Spectacled cormorant and the Steller's sea cow disappeared forever. Both were wiped out even before a photograph could be taken of them. Both are now extinct.

The spectacled cormorant was a large, nearly flightless seabird. Because of the lack of natural predators on it's native islands on the western end of the Aleutian chain, the spectacled cormorant didn't need the power of flight in order to survive on land. Like the cormorants of today, they probably spent their time swimming underwater in pursuit of food; coming to land only to dry their feathers and to nest.

In 1741, Vitus Bering and his crew of explorers were shipwrecked on one of the cormorants' tiny islands in the western Aleutians. Bering and many of his men eventually died on that island but Georg Steller, the ship's naturalist, survived. The scientific world today is aware of the now extinct spectacled cormorant only because of Steller's careful observations of the birds. What killed off the spectacled cormorant? Being flightless and slow moving on land, these seabirds were easy for the shipwrecked sailors to kill and eat. Later, as the islands were visited by whalers, fur traders and transplanted Aleut Natives, the spectacled cormorant was quickly wiped out for food and for their water resistant feathers.

The Steller sea cow, Alaska's other extinct species, was also discovered by Georg Steller and was consequently named after him. Steller sea cows weighed almost 9,000 pounds and were 25 feet long and 22 feet around. They were found along the route Vitus Bering had charted past the Aleutian islands to the main lands of Alaska. The gentle sea cows were quickly wiped out by the sailors, seal hunters and fur traders who followed Bering's path. All total, - from discovery by Steller, to extinction forever, - took only 27 years.

For Alaska Naturally and the Innoko National Wildlife Refuge, this is Beverly Skinner. Plant and animals species have naturally gone extinct since the beginning of time. Because of this, many people ask - why try to save endangered species? This question is answered quite eloquently in the preamble to the Endangered Species Act. It states that endangered fish, wildlife, and plants - "are of esthetic, ecological, educational, historical, recreational and scientific value to the Nation and its people."

Refuge Information | Wildlife | Habitat | People
Home | New | Feedback | Index | Search
Text and graphics by USFWS staff
Last modified 28 July 2000
Why we archived the ANWR website at Mapcruzin.com

Note: This is the MapCruzin.com archive of the FWS Arctic National Wildlife Refuge website. In December, 2001 FWS took this website offline, making it unavailable to the public. It includes 90 plus pages of information and many maps. As of 2006 the important information contained in this, the original "unsanitized" version of the FWS website, has yet to return to the internet, so we will continue to maintain it here as a permanent archive to help inform activists and concerned citizens. If you find any broken links, please report them to me at [email protected] and I will attempt to make the repairs. January, 2008 update - A small part of the original information that was present in 2001 has made it back into the current ANWR website. There is also an archive that contains a small amount of the original information, but it is not readily available from the main website.

Click here to visit our homepage. Click here for NRDC's message about ANWR from Robert Redford.

For more information on why this website was "pulled," Check here. And, you can also view the maps of caribou calving areas that the FWS did not want you to see here.

January 29, 2008: Visit Our New ANWR News for Updates
---
This page should be cited as follows:
U.S. Fish and Wildlife Service. 2001. Potential impacts of proposed oil and gas
development on the Arctic Refuge's coastal plain: Historical overview and
issues of concern. Web page of the Arctic National Wildlife Refuge,
Fairbanks, Alaska. 17 January 2001. http://arctic.fws.gov/issues1.html
---
Archived by MapCruzin.com. Visit us at mapcruzin.com.
MapCruzin.com is an independent firm specializing in the publication of educational and research resources. We created the first U.S. based interactive toxic chemical facility maps on the internet in 1996 and we have been online ever since. Learn more about us and view some of our projects and services.