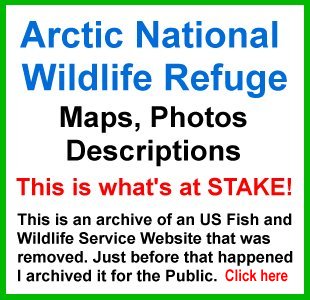 GIS Shapefile Store - for Beginners & Experienced GIS Users Alike. Geographic Names Information System, Nuclear Facilities, Zip Code Boundaries, School Districts, Indian & Federal Lands, Climate Change, Tornadoes, Dams - Create digital GIS maps in minutes.

Follow on Twitter
Didn't find what you are looking for? Email me and I'll find it for you.
Progressive Links
Federation of American Scientists
Physicians for Social Responsibility
Public Employees for Environmental Responsibility
MapCruzin Consulting
Data Research and GIS Specialists.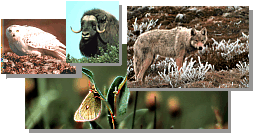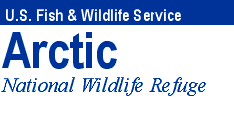 Refuge Information | Wildlife | Habitat | People
Home | New | Feedback | Index | Search
Why we archived the ANWR website at MapCruzin.com
Fireweed
[This information was originally produced by Beverly Skinner, wildlife biologist at Innoko National Wildlife Refuge (in west central Alaska), for radio broadcast on Public Radio stations throughout Alaska.]

There are certain plants that do very well in disturbed places such as roadsides, riverbanks and recently burned areas. Epilobium angustifolium, more commonly called fireweed, is one of these invader type plants. Fireweed earned its name because the plant can easily spread over an area in the years following a burn. It is a deep rooted plant and although the above-ground part of the plant is burned during a fire, it easily resprouts from the undamaged roots. Combine these deep roots with wind borne fluffy seeds and the fireweed becomes an ideal invader plant.

Fireweed plants can grow up to 8 feet tall in some areas. They have showy 4 petal flowers that can range from white to pale purple to the more common magenta color. The flowers are on a long stalk with the lowest ones opening first. They can start to bloom in early July and can continue blooming into August. When I first moved to McGrath, I was told that when the last flower opens at the top of the stalk, summer in interior Alaska is officially over.

Fireweed isn't just another pretty flower, though. There are dozens of fireweed related species and all of them, including the more common fireweed, are edible. In the spring the red colored asparagus-like stalks are excellent either raw, steamed or stir fried. The young tender leaves and unopened flower buds are a nice addition to any salad. As the fireweed matures in the summer, the stem can be split and the sweet inner marrow can be eaten. Fireweed jelly made from the flowers isn't just beautiful but is also very good tasting.

Fireweed also has many medicinal features. Fireweed tea can be used to help with an upset stomach or constipation. Fireweed has also traditionally been used for asthma, coughs, piles, and infected insect bites, as well as cuts and scratches. Even the seeds have been found to have other uses. They make good fire starters and in the past have even been mixed into wool for weaving blankets.

For Alaska Naturally and the Innoko National Wildlife Refuge, this is Beverly Skinner. As with most plants, fireweed has many different common names. What I call fireweed others might call blooming sally, wild asparagus or willow weed due to the long willow like leaves. That is one reason why scientists around the world use Latin genus and species names to describe living things. Epilobium angustifolium or fireweed is a strikingly beautiful addition to interior Alaska during our short summers.

Refuge Information | Wildlife | Habitat | People
Home | New | Feedback | Index | Search
Text and graphics by USFWS staff
Last modified 28 July 2000
Why we archived the ANWR website at Mapcruzin.com

Note: This is the MapCruzin.com archive of the FWS Arctic National Wildlife Refuge website. In December, 2001 FWS took this website offline, making it unavailable to the public. It includes 90 plus pages of information and many maps. As of 2006 the important information contained in this, the original "unsanitized" version of the FWS website, has yet to return to the internet, so we will continue to maintain it here as a permanent archive to help inform activists and concerned citizens. If you find any broken links, please report them to me at [email protected] and I will attempt to make the repairs. January, 2008 update - A small part of the original information that was present in 2001 has made it back into the current ANWR website. There is also an archive that contains a small amount of the original information, but it is not readily available from the main website.

Click here to visit our homepage. Click here for NRDC's message about ANWR from Robert Redford.

For more information on why this website was "pulled," Check here. And, you can also view the maps of caribou calving areas that the FWS did not want you to see here.

January 29, 2008: Visit Our New ANWR News for Updates
---
This page should be cited as follows:
U.S. Fish and Wildlife Service. 2001. Potential impacts of proposed oil and gas
development on the Arctic Refuge's coastal plain: Historical overview and
issues of concern. Web page of the Arctic National Wildlife Refuge,
Fairbanks, Alaska. 17 January 2001. http://arctic.fws.gov/issues1.html
---
Archived by MapCruzin.com. Visit us at mapcruzin.com.
MapCruzin.com is an independent firm specializing in the publication of educational and research resources. We created the first U.S. based interactive toxic chemical facility maps on the internet in 1996 and we have been online ever since. Learn more about us and view some of our projects and services.