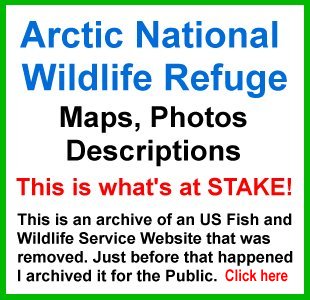 GIS Shapefile Store - for Beginners & Experienced GIS Users Alike. Geographic Names Information System, Nuclear Facilities, Zip Code Boundaries, School Districts, Indian & Federal Lands, Climate Change, Tornadoes, Dams - Create digital GIS maps in minutes.

Follow on Twitter
Didn't find what you are looking for? Email me and I'll find it for you.
Progressive Links
Federation of American Scientists
Physicians for Social Responsibility
Public Employees for Environmental Responsibility
MapCruzin Consulting
Data Research and GIS Specialists.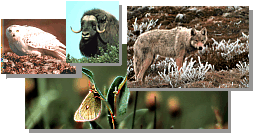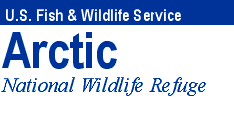 Refuge Information | Wildlife | Habitat | People
Home | New | Feedback | Index | Search
Why we archived the ANWR website at MapCruzin.com
Floods
[This information was originally produced by Beverly Skinner, wildlife biologist at Innoko National Wildlife Refuge (in west central Alaska), for radio broadcast on Public Radio stations throughout Alaska.]

The hot topic of conversation among residents of Interior Alaska this time of year is whether or not it is going to flood. Checking the river level becomes a daily occupance for most of us. Everyone has their own opinions about the significance of the ice's thickness, the level of the water in the fall, what were the effects of the cold spells, the warm spells, or the lack of snow during the past winter. We guess what day breakup will occur and we try to second guess how much we really need to do to prepare for the unpredictable flood water.

Many people in the lower 48 feel they have solved the problem of this annual flooding cycle. Over the years, dams have been built, and rivers have been straightened and channelized. These improvements have allowed people to use the landscape from river bank to river bank. Cities and towns have grown up on land across which flood waters once flowed. Yearly small floods over these broad flat lands have been replaced by 10 year, 100 year, and 500 year disastrous floods. Along with these alterations to the natural flow of spring flood waters have been the changes in fish and wildlife habitat. Irreplaceable river bottom wetlands are no longer available as fish nurseries. Large game animals also lose out.

Here in Interior Alaska we have yet to try and change our interior rivers. Instead, whole communities have moved to new sites in response to changes in the rivers' flooding. Maybe we have a sixth sense about the importance of our rivers and just can't bring ourselves to straighten or dam them. Civilize interior Alaska's rivers and we will lose our two most important subsistence food items - salmon and moose. Salmon will no longer be able to return to their spawning areas to breed. Moose will lose their critical winter habitat - the willow-covered gravel bars along rivers - which allow them to survive the long cold winters. The willow bars are maintained by the floods. Without the floods each year, willow areas will quickly follow the rules of succession and will turn into birch, cottonwood and white spruce. Over time, the lumber producing birch, cottonwood and white spruce areas will turn into black spruce trees and muskeg. We would lose much more. Aquatic animals such as the beaver, most waterfowl, and many others too numerous to mention would all disappear.

For Alaska Naturally and the Innoko NWR, this is Beverly Skinner. Although the thought of never having to worry about another spring flood has its merits, Interior Alaskans need to learn from mistakes made in other parts of the country. By altering our rivers, we lose what is most important to us - our forests, fish and wildlife. I hope to be able to visit with my neighbors to speculate on the year's breakup down by the Kuskokwim for many years to come.

Refuge Information | Wildlife | Habitat | People
Home | New | Feedback | Index | Search
Text and graphics by USFWS staff
Last modified 28 July 2000
Why we archived the ANWR website at Mapcruzin.com

Note: This is the MapCruzin.com archive of the FWS Arctic National Wildlife Refuge website. In December, 2001 FWS took this website offline, making it unavailable to the public. It includes 90 plus pages of information and many maps. As of 2006 the important information contained in this, the original "unsanitized" version of the FWS website, has yet to return to the internet, so we will continue to maintain it here as a permanent archive to help inform activists and concerned citizens. If you find any broken links, please report them to me at [email protected] and I will attempt to make the repairs. January, 2008 update - A small part of the original information that was present in 2001 has made it back into the current ANWR website. There is also an archive that contains a small amount of the original information, but it is not readily available from the main website.

Click here to visit our homepage. Click here for NRDC's message about ANWR from Robert Redford.

For more information on why this website was "pulled," Check here. And, you can also view the maps of caribou calving areas that the FWS did not want you to see here.

January 29, 2008: Visit Our New ANWR News for Updates
---
This page should be cited as follows:
U.S. Fish and Wildlife Service. 2001. Potential impacts of proposed oil and gas
development on the Arctic Refuge's coastal plain: Historical overview and
issues of concern. Web page of the Arctic National Wildlife Refuge,
Fairbanks, Alaska. 17 January 2001. http://arctic.fws.gov/issues1.html
---
Archived by MapCruzin.com. Visit us at mapcruzin.com.
MapCruzin.com is an independent firm specializing in the publication of educational and research resources. We created the first U.S. based interactive toxic chemical facility maps on the internet in 1996 and we have been online ever since. Learn more about us and view some of our projects and services.