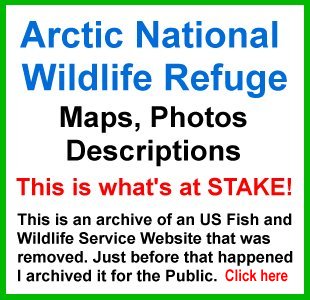 GIS Shapefile Store - for Beginners & Experienced GIS Users Alike. Geographic Names Information System, Nuclear Facilities, Zip Code Boundaries, School Districts, Indian & Federal Lands, Climate Change, Tornadoes, Dams - Create digital GIS maps in minutes.

Follow on Twitter
Didn't find what you are looking for? Email me and I'll find it for you.
Progressive Links
Federation of American Scientists
Physicians for Social Responsibility
Public Employees for Environmental Responsibility
MapCruzin Consulting
Data Research and GIS Specialists.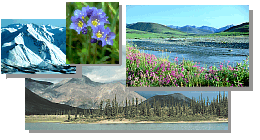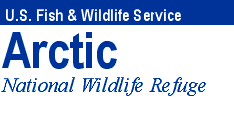 Refuge Information | Wildlife | Habitat | People
Home | New | Feedback | Index | Search
Why we archived the ANWR website at MapCruzin.com
The Founders' Vision
"America's Last Great Wilderness" – the phrase goes back to the early 1950s, to the thoughts of a group of prominent scientists and conservationists whose work led to establishment of the Refuge.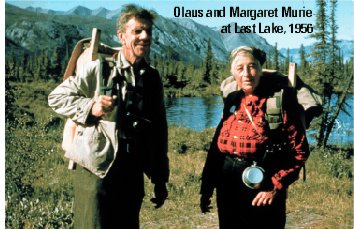 Refuge founders Olaus and Margaret Murie, George Collins, Lowell Sumner and Justice William O. Douglas recognized the value of this remote corner of Alaska for its renowned caribou herds, its moose, sheep, wolves, grizzly and polar bears. But their campaign to preserve this remnant landscape focused on a deeper, all-encompassing quality: wilderness. Here was one of the last large, wild and untrammeled systems remaining on American soil; a place where natural ecological and evolutionary processes continue as they have for millennia.

For biologist Lowell Sumner, this vast wilderness was an enduring symbol of freedom:
. . .freedom to continue, unhindered and forever if we are willing, the particular story of Planet Earth unfolding here . . . where its native creatures can still have freedom to pursue their future, so distant, mysterious. . .
This freedom is the essence from which wilderness values flow. The founders saw the Arctic Refuge as a touchstone to our cultural heritage. As park planner George Collins put it:
This area offers what is virtually America's last chance to preserve an adequate sample of the pioneer frontier, the Stateside counterpart of which has vanished.
Also recognized was the opportunity to experience a deeper, older connection. Biologist Olaus Murie described it as:
The urge to go places . . . to explore . . . to discover . . . This urge has come down to us from the earliest time and we must not ignore it if we believe in progress of the human spirit.
The Arctic Refuge is an adventuring ground; a place where the sense of unknown, of horizons unexplored, and of nameless valleys remains alive. It's a place that evokes humility, reverence and respect. The founders believed that modern society needs the vision such places inspire – to think outside the context of what we do, and beyond the boundaries of our life and lifetime. This was the inspiration for Supreme Court Justice William O. Douglas' pronouncement that:
. . . this last American living wilderness must remain sacrosanct.
No refuge was established for more visionary purposes. Here the founders discovered values that are enduring and that transcend physical boundaries. These values touch millions of Americans who might never visit, but who find inspiration and hope believing that the Refuge will always be wild and free.

Refuge Information | Wildlife | Habitat | People
Home | New | Feedback | Index | Search
Text and graphics by USFWS staff
Last modified 28 July 2000
Why we archived the ANWR website at Mapcruzin.com

Note: This is the MapCruzin.com archive of the FWS Arctic National Wildlife Refuge website. In December, 2001 FWS took this website offline, making it unavailable to the public. It includes 90 plus pages of information and many maps. As of 2006 the important information contained in this, the original "unsanitized" version of the FWS website, has yet to return to the internet, so we will continue to maintain it here as a permanent archive to help inform activists and concerned citizens. If you find any broken links, please report them to me at [email protected] and I will attempt to make the repairs. January, 2008 update - A small part of the original information that was present in 2001 has made it back into the current ANWR website. There is also an archive that contains a small amount of the original information, but it is not readily available from the main website.

Click here to visit our homepage. Click here for NRDC's message about ANWR from Robert Redford.

For more information on why this website was "pulled," Check here. And, you can also view the maps of caribou calving areas that the FWS did not want you to see here.

January 29, 2008: Visit Our New ANWR News for Updates
---
This page should be cited as follows:
U.S. Fish and Wildlife Service. 2001. Potential impacts of proposed oil and gas
development on the Arctic Refuge's coastal plain: Historical overview and
issues of concern. Web page of the Arctic National Wildlife Refuge,
Fairbanks, Alaska. 17 January 2001. http://arctic.fws.gov/issues1.html
---
Archived by MapCruzin.com. Visit us at mapcruzin.com.
MapCruzin.com is an independent firm specializing in the publication of educational and research resources. We created the first U.S. based interactive toxic chemical facility maps on the internet in 1996 and we have been online ever since. Learn more about us and view some of our projects and services.