GIS Shapefile Store - for Beginners & Experienced GIS Users Alike. Geographic Names Information System, Nuclear Facilities, Zip Code Boundaries, School Districts, Indian & Federal Lands, Climate Change, Tornadoes, Dams - Create digital GIS maps in minutes.

Follow on Twitter
Didn't find what you are looking for? Email me and I'll find it for you.
Progressive Links
Federation of American Scientists
Physicians for Social Responsibility
Public Employees for Environmental Responsibility
MapCruzin Consulting
Data Research and GIS Specialists.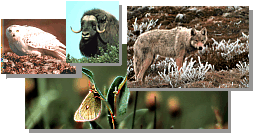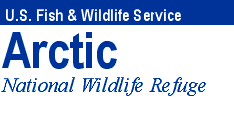 Refuge Information | Wildlife | Habitat | People
Home | New | Feedback | Index | Search
Why we archived the ANWR website at MapCruzin.com
Great Horned Owl
[This information was originally produced by Beverly Skinner, wildlife biologist at Innoko National Wildlife Refuge (in west central Alaska), for radio broadcast on Public Radio stations throughout Alaska.]

One of the largest and most powerful of all the owls is the great horned owl. At 18 to 25 inches long, and with a 3 to 5 foot wing span, this common interior Alaska owl is a sight to see. Great horned owls are brown in color, with darker brown spots, white throat feathers and dark cross-barring on the chest. They get their name from their two feathered ear tufts which are neither ears or horns. The sexes looked similar except that the females are larger than the males.

Great horned owls can be found throughout interior Alaska year round, although some may move out of an area during times when little food is available. They are mostly nocturnal, which means they normally hunt at night, but they will also hunt during the day, especially while feeding young. Like most owls, great horned owls are probably heard more than they are seen. Both males and females hoot - five to eight deep, soft, hoots at a time. They normally roost in thick spruce trees, staying close to the trunk, but they can also be spotted sitting in the tops of trees.

Because of their strong feet and talons, extremely good hearing and large eyes which enable them to see in the dark, great horned owls are very effective predators. They eat animals ranging in size from small shrews to large geese and swans. They also eat frogs, insects and fish. They will even go after other birds of prey such as hawks and other smaller owls. Regurgitated pellets, which contain the undigestible remains of the great horned owls' meals, can be found under favorite roosting spots.

Because of their great size, great horned owls have few natural enemies. In some areas of their range, a major cause of death is being hit by automobiles while flying close to roads in the dark. Others starve to death during times of low food availability. But the major cause of death for these magnificent birds remains being shot by humans. In one study of banded great horned owls in the lower 48, 86 percent of the banded birds were eventually shot by area residents.

For Alaska Naturally and the Innoko National Wildlife Refuge, this is Beverly Skinner. McGrath residents have had an opportunity this summer to watch a family of great horned owls in town. The parents have successfully raised two chicks to almost full size adults. It has been fun to watch the birds growing and changing all summer. The best part for me personally, though, has been the genuine interest and joy of other McGrath residents in watching and not harming these magnificent birds.

Refuge Information | Wildlife | Habitat | People
Home | New | Feedback | Index | Search
Text and graphics by USFWS staff
Last modified 28 July 2000
Why we archived the ANWR website at Mapcruzin.com

Note: This is the MapCruzin.com archive of the FWS Arctic National Wildlife Refuge website. In December, 2001 FWS took this website offline, making it unavailable to the public. It includes 90 plus pages of information and many maps. As of 2006 the important information contained in this, the original "unsanitized" version of the FWS website, has yet to return to the internet, so we will continue to maintain it here as a permanent archive to help inform activists and concerned citizens. If you find any broken links, please report them to me at [email protected] and I will attempt to make the repairs. January, 2008 update - A small part of the original information that was present in 2001 has made it back into the current ANWR website. There is also an archive that contains a small amount of the original information, but it is not readily available from the main website.

Click here to visit our homepage. Click here for NRDC's message about ANWR from Robert Redford.

For more information on why this website was "pulled," Check here. And, you can also view the maps of caribou calving areas that the FWS did not want you to see here.

January 29, 2008: Visit Our New ANWR News for Updates
---
This page should be cited as follows:
U.S. Fish and Wildlife Service. 2001. Potential impacts of proposed oil and gas
development on the Arctic Refuge's coastal plain: Historical overview and
issues of concern. Web page of the Arctic National Wildlife Refuge,
Fairbanks, Alaska. 17 January 2001. http://arctic.fws.gov/issues1.html
---
Archived by MapCruzin.com. Visit us at mapcruzin.com.
MapCruzin.com is an independent firm specializing in the publication of educational and research resources. We created the first U.S. based interactive toxic chemical facility maps on the internet in 1996 and we have been online ever since. Learn more about us and view some of our projects and services.