Research: Right-to-Know or Left-to-Wonder
RTK News - RTK Resources - Lost and Found
GIS Shapefile Store - for Beginners & Experienced GIS Users Alike. Geographic Names Information System, Nuclear Facilities, Zip Code Boundaries, School Districts, Indian & Federal Lands, Climate Change, Tornadoes, Dams - Create digital GIS maps in minutes.

Follow on Twitter
A Member of the
Reimagination Network
Didn't find what you are looking for? Email me and I'll find it for you.
Progressive Links
Federation of American Scientists
Physicians for Social Responsibility
Public Employees for Environmental Responsibility
Have a question or comment? Post them at the MapCruzin Blog.
MapCruzin Consulting
GIS and Google Maps Development, Website Creation and Hosting, Fast and Affordable.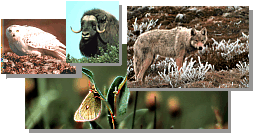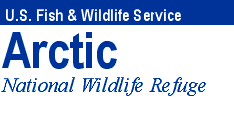 Refuge Information | Wildlife | Habitat | People
Home | New | Feedback | Index | Search
Sponsors
Why we archived the ANWR website at MapCruzin.com
Arctic Grayling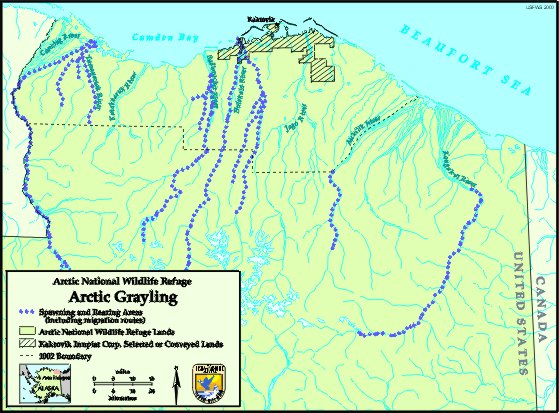 Blue dots show spawning, rearing, and migration areas.
---
Arctic grayling have adapted to the rigors of the climatic and physical environment of the arctic. For almost nine months of the year, grayling are confined to relatively small reaches of stream and river channels for overwintering. The available overwintering habitat is critical to their survival and is considered to be the major limiting factor for populations of arctic fishes. After break-up, which begins in late May or early June, Arctic grayling expand their distribution to include streams and rivers that were previously frozen. Glacial rivers are used as migration corridors to tundra streams where grayling spawn and rear. The fish appear to return and spawn in the same stream in which they were born. Young of the year fish emerge from the gravel in late June and early July. In August and September, Arctic grayling return to overwintering areas in river channels associated with year round springs and deep pools. Grayling mature between the age of six and nine years.
Sponsors
References
Daum, D., P. Rost, and M.W. Smith. 1984. Fisheries studies on the north slope of the Arctic National Wildlife Refuge, 1983. Pages 464-522 in G.W. Garner and P.E. Reynolds, editors. Arctic National Wildlife Refuge coastal plain resource assessment: 1983 update report, baseline study of the fish, wildlife, and their habitats. U.S. Fish and Wildlife Service, Anchorage, Alaska.
West, R.L., M.W. Smith, W.E. Barber, J.B. Reynolds, and H. Hop. 1992. Autumn migration and overwintering of Arctic grayling in coastal streams of the Arctic National Wildlife Refuge, Alaska. Transactions of the American Fisheries Society 121:709-715.
Wiswar, D.W. 1992. Summer distribution of arctic fishes in the Okpilak, Akutoktak, Katakturuk, and Jago rivers, Arctic National Wildlife Refuge, Alaska, 1990. U.S. Fish and Wildlife Service, Alaska Fisheries Technical Report Number 17, Fairbanks, Alaska.
Wiswar, D.W. 1994. Summer Distribution of Arctic Fishes in the 1002 Area of the Arctic National Wildlife Refuge, Alaska, 1991 with emphasis on selected lakes, tundra streams, and the Sadlerochit River drainage. U.S. Fish and Wildlife Service, Alaska Fisheries Technical Report Number 27, Fairbanks, Alaska.

Refuge Information | Wildlife | Habitat | People
Home | New | Feedback | Index | Search
Text and graphics by USFWS staff
Last modified 28 July 2000
Why we archived the ANWR website at Mapcruzin.com

Note: This is the MapCruzin.com archive of the FWS Arctic National Wildlife Refuge website. In December, 2001 FWS took this website offline, making it unavailable to the public. It includes 90 plus pages of information and many maps. As of 2006 the important information contained in this, the original "unsanitized" version of the FWS website, has yet to return to the internet, so we will continue to maintain it here as a permanent archive to help inform activists and concerned citizens. If you find any broken links, please report them to me at mike@learn2map.com and I will attempt to make the repairs. January, 2008 update - A small part of the original information that was present in 2001 has made it back into the current ANWR website. There is also an archive that contains a small amount of the original information, but it is not readily available from the main website.

Click here to visit our homepage. Click here for NRDC's message about ANWR from Robert Redford.

For more information on why this website was "pulled," Check here. And, you can also view the maps of caribou calving areas that the FWS did not want you to see here.

January 29, 2008: Visit Our New ANWR News for Updates
---
This page should be cited as follows:
U.S. Fish and Wildlife Service. 2001. Potential impacts of proposed oil and gas
development on the Arctic Refuge's coastal plain: Historical overview and
issues of concern. Web page of the Arctic National Wildlife Refuge,
Fairbanks, Alaska. 17 January 2001. http://arctic.fws.gov/issues1.html
---
Sponsors
Archived by MapCruzin.com. Visit us at mapcruzin.com.
MapCruzin.com is an independent firm specializing in the publication of educational and research resources. We created the first U.S. based interactive toxic chemical facility maps on the internet in 1996 and we have been online ever since. Learn more about us and view some of our projects and services.