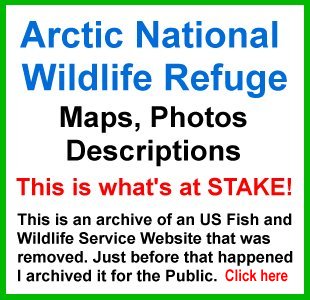 GIS Shapefile Store - for Beginners & Experienced GIS Users Alike. Geographic Names Information System, Nuclear Facilities, Zip Code Boundaries, School Districts, Indian & Federal Lands, Climate Change, Tornadoes, Dams - Create digital GIS maps in minutes.

Follow on Twitter
Didn't find what you are looking for? Email me and I'll find it for you.
Progressive Links
Federation of American Scientists
Physicians for Social Responsibility
Public Employees for Environmental Responsibility
MapCruzin Consulting
Data Research and GIS Specialists.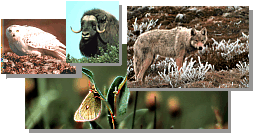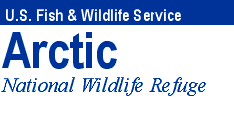 Refuge Information | Wildlife | Habitat | People
Home | New | Feedback | Index | Search
Why we archived the ANWR website at MapCruzin.com
Magpies
[This information was originally produced by Beverly Skinner, wildlife biologist at Innoko National Wildlife Refuge (in west central Alaska), for radio broadcast on Public Radio stations throughout Alaska.]

Black-billed magpies are one of interior Alaska's more striking and interesting birds. With their long tail and black and white colors, they are an easy bird for even young children to recognize. This winter as well as in past winters, I have noticed a pair of magpies hanging around McGrath. Although flocks of up to 40 magpies normally travel and roost together in the winter, McGrath is probably too small a town to support more than a couple of birds all winter long.

Magpies are primarily insect and invertebrate eaters. They also eat carrion (dead animals) and about 15 percent of their diet is made up of seeds and fruits such as berries left hanging on bushes. Magpies will also cache food when they find more than they can eat at one sitting. In this way they are able to take advantage of storing food away for times when it is more scarce. In some ways it is hard to believe magpies are able to survive our cold, snowy weather but by visiting the McGrath dump and cruising around area houses looking for dog food scraps, our one resident pair seems to do all right each year. One has to remember that although staying in McGrath for the winter has it's problems, migrating south also has it's own dangers.

Magpies are actually members of the Crow family. This family of birds, which also includes ravens, jays, and nutcrackers, has evolved the highest degree of intelligence among birds. Members of this family have learned to count, can solve puzzles, and can quickly learn to associate certain noises and symbols with food.

I'm sure most interior Alaska residents have heard the typical rapid nasal magpie call. Often times you hear them long before you see them in the shrub thickets they seem to prefer. Magpies are also capable of mimicking sounds uttered by other birds, animals, and even humans.

Magpies are usually gregarious, which means they like to live in groups. They breed in small colonies with scattered bulky dome shaped nests. These nests are often reused from year to year. Magpies will repair the old nests or even build a new nest on top of the old one. During spring courtship displays, male magpies strut before their potential mates flashing their wings before finally chasing them around. Once established, these pair bonds can last all year or even for a life time.

For Alaska Naturally and the Innoko NWR, this is Beverly Skinner. Like many wildlife residents of interior Alaska, magpies have their own story. They are members of a complex and intelligent group of birds, and have been prominently mentioned in traditional stories from many different cultures. Although killed by the thousands in the early 30's by people who felt they were pests, magpies have managed to survive and thrive in Alaska. Leave out a scrap of meat by your bird feeder this week and maybe a Magpie will come to call.

Refuge Information | Wildlife | Habitat | People
Home | New | Feedback | Index | Search
Text and graphics by USFWS staff
Last modified 28 July 2000
Why we archived the ANWR website at Mapcruzin.com

Note: This is the MapCruzin.com archive of the FWS Arctic National Wildlife Refuge website. In December, 2001 FWS took this website offline, making it unavailable to the public. It includes 90 plus pages of information and many maps. As of 2006 the important information contained in this, the original "unsanitized" version of the FWS website, has yet to return to the internet, so we will continue to maintain it here as a permanent archive to help inform activists and concerned citizens. If you find any broken links, please report them to me at [email protected] and I will attempt to make the repairs. January, 2008 update - A small part of the original information that was present in 2001 has made it back into the current ANWR website. There is also an archive that contains a small amount of the original information, but it is not readily available from the main website.

Click here to visit our homepage. Click here for NRDC's message about ANWR from Robert Redford.

For more information on why this website was "pulled," Check here. And, you can also view the maps of caribou calving areas that the FWS did not want you to see here.

January 29, 2008: Visit Our New ANWR News for Updates
---
This page should be cited as follows:
U.S. Fish and Wildlife Service. 2001. Potential impacts of proposed oil and gas
development on the Arctic Refuge's coastal plain: Historical overview and
issues of concern. Web page of the Arctic National Wildlife Refuge,
Fairbanks, Alaska. 17 January 2001. http://arctic.fws.gov/issues1.html
---
Archived by MapCruzin.com. Visit us at mapcruzin.com.
MapCruzin.com is an independent firm specializing in the publication of educational and research resources. We created the first U.S. based interactive toxic chemical facility maps on the internet in 1996 and we have been online ever since. Learn more about us and view some of our projects and services.