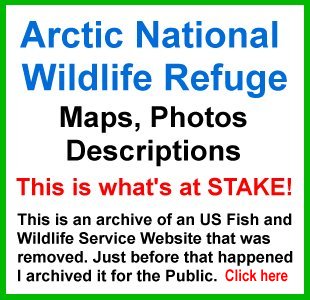 GIS Shapefile Store - for Beginners & Experienced GIS Users Alike. Geographic Names Information System, Nuclear Facilities, Zip Code Boundaries, School Districts, Indian & Federal Lands, Climate Change, Tornadoes, Dams - Create digital GIS maps in minutes.

Follow on Twitter
Didn't find what you are looking for? Email me and I'll find it for you.
Progressive Links
Federation of American Scientists
Physicians for Social Responsibility
Public Employees for Environmental Responsibility
MapCruzin Consulting
Data Research and GIS Specialists.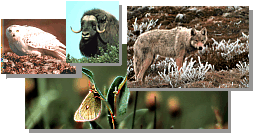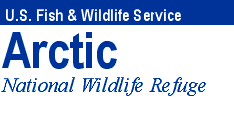 Refuge Information | Wildlife | Habitat | People
Home | New | Feedback | Index | Search
Why we archived the ANWR website at MapCruzin.com
Source: U.S. DEO.
DOE: Alaska North Slope Has Plenty of Potential for Natural Gas and Oil
Issued on: January 29, 2008
DOE Report: Alaska North Slope Has Plenty of Potential

Report Examines Future of Oil and Natural Gas Resources in Arctic Alaska

Washington, D.C. - The U.S. Department of Energy's Office of Fossil Energy has issued a comprehensive new report Alaska North Slope Oil and Gas: A Promising Future or an Area in Decline? To answer this question, the report examines the potential for Arctic Alaska to remain a major contributor to the Nation's domestic energy supply under different development scenarios.

MORE INFO

Future projections were viewed from two perspectives, an oil-centered near term (2005 to 2015) and a long term (2015 to 2050) marked by the emergence of gas as a major factor in exploration and development activities. Key findings of the report indicate that the future for Alaska North Slope oil and gas resources ranges from very promising to limited depending on how many of the following assumptions apply:
An Alaska North Slope natural gas pipeline is operational by 2016.
Oil and gas prices remain near current high values.
Federal and Alaskan fiscal policies remain stable and support the huge investments required.
Reserves in known fields increase through discovery of new pools, application of new technology, or higher oil prices.
The 1002 Area of Arctic National Wildlife Refuge is opened for exploration and development.
Exploration is allowed in the most prospective areas of National Petroleum Reserve Alaska.
The Beaufort and Chukchi Seas are available for exploration and development without major restrictions.
If all assumptions were to occur, an additional 36 billion barrels of oil and 137 trillion cubic feet of natural gas would be added over current reserve estimates. This result would help limit oil imports and increase America's energy security.
From an exploration perspective, the North Slope is not a mature petroleum province and may provide oil, and potentially natural gas, for years to come. Thus far, most natural gas produced during oil production has been reinjected to enhance oil recovery. With the decline in oil production and a stranded reserve of no less than 35 Tcf of recoverable natural gas, interest is building toward transporting the resource to domestic markets.
The contribution of North Slope oil has slipped from 25 percent of U.S. domestic production in 1988 to about 17 percent today. The certainty of a gas pipeline is expected to increase exploration across the North Slope and should result in new discoveries and infrastructure expansions that extend the life of the Trans Alaskan Pipeline System (TAPS) beyond 2050. An early shutdown of TAPS would potentially strand about one billion barrels of oil reserves from the fields analyzed.
The two-volume report, which was prepared by the Office of Fossil Energy's National Energy Technology Laboratory, consists of a summary report that offers a set of hypothetical scenarios and a full report that contains extensive detail. Together they outline the possible future for an area that covers the geographical region of Arctic Alaska north of the Brooks Range, from the Canadian border on the east to the Chuckhi Sea Outer Continental Shelf on the west.
Return to Top

Refuge Information | Wildlife | Habitat | People
Home | New | Feedback | Index | Search
Why we archived the ANWR website at Mapcruzin.com

Note: This is the MapCruzin.com archive of the FWS Arctic National Wildlife Refuge website. In December, 2001 FWS took this website offline, making it unavailable to the public. It includes 90 plus pages of information and many maps. As of 2006 the important information contained in this, the original "unsanitized" version of the FWS website, has yet to return to the internet, so we will continue to maintain it here as a permanent archive to help inform activists and concerned citizens. If you find any broken links, please report them to me at [email protected] and I will attempt to make the repairs. January, 2008 update - A small part of the original information that was present in 2001 has made it back into the current ANWR website. There is also an archive that contains a small amount of the original information, but it is not readily available from the main website.

Click here to visit our homepage. Click here for NRDC's message about ANWR from Robert Redford.

For more information on why this website was "pulled," Check here. And, you can also view the maps of caribou calving areas that the FWS did not want you to see here.

January 29, 2008: Visit Our New ANWR News for Updates
---
This page should be cited as follows:
U.S. Fish and Wildlife Service. 2001. Potential impacts of proposed oil and gas
development on the Arctic Refuge's coastal plain: Historical overview and
issues of concern. Web page of the Arctic National Wildlife Refuge,
Fairbanks, Alaska. 17 January 2001. http://arctic.fws.gov/issues1.html
---
Archived by MapCruzin.com. Visit us at mapcruzin.com.
MapCruzin.com is an independent firm specializing in the publication of educational and research resources. We created the first U.S. based interactive toxic chemical facility maps on the internet in 1996 and we have been online ever since. Learn more about us and view some of our projects and services.