GIS Shapefile Store - for Beginners & Experienced GIS Users Alike. Geographic Names Information System, Nuclear Facilities, Zip Code Boundaries, School Districts, Indian & Federal Lands, Climate Change, Tornadoes, Dams - Create digital GIS maps in minutes.

Follow on Twitter
Didn't find what you are looking for? Email me and I'll find it for you.
Progressive Links
Federation of American Scientists
Physicians for Social Responsibility
Public Employees for Environmental Responsibility
MapCruzin Consulting
Data Research and GIS Specialists.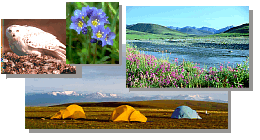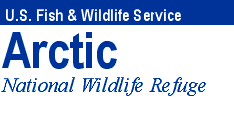 Refuge Information | Wildlife | Habitat | People
Home | New | Feedback | Index | Search
Why we archived the ANWR website at MapCruzin.com
Seismic Exploration for Oil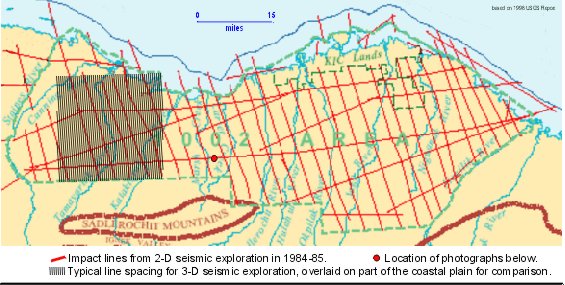 Seismic exploration involves sending sound waves into the ground, recording how they reflect back and interpreting the results to provide an image of subsurface geology to determine whether oil may exist.
Seismic exploration, authorized by Congress, was conducted on the coastal plain of the Arctic Refuge during the winters of 1984 and 1985. Exploration during winter causes less damage to tundra vegetation and soils than in summer, but damage does occur. Snow cover on the north slope of Alaska is normally shallow, usually less than one foot deep. Strong winds blow the snow into depressions, leaving higher areas with thinner snow cover, making them more susceptible to impacts from vehicle tracks.
As a result of the 1984-85 seismic exploration, known as 2-D seismic, 1400 miles of trails - made by drill, vibrator and recording vehicles - impacted the coastal plain tundra (see map above). Additional trails were created by D-7 Caterpillar tractors that pulled ski-mounted trailer-trains between work camps.
Refuge staff have monitored the recovery of the seismic trail damage on the Refuge. While many areas recovered well during the first 10 years after exploration, some trails had still not recovered by 1999, 15 years after the disturbance (see photographs below). Some of the trails have become troughs visible from the air. Others show changes in the amount and types of tundra plants. In some areas, permafrost (permanently frozen soil) melted and the trails remain wetter than they were previously. Some of these impacts are expected to persist for decades; refuge staff will continue to monitor the recovery.
A new technology used to create a 3-dimensional subsurface image, known as 3-D seismic, requires a much denser grid of trails than 2-D seismic. This new type of exploration currently is occurring on the north slope of Alaska, including an area within a half mile of the Refuge's western border. While the 1984-85 trails on the Refuge were usually four miles apart, the 3-D seismic trails currently impacting these other areas are one half mile or less apart (see map above).
A 1998 Environmental Impact Statement from the Bureau of Land Management states: "because 3-D seismic involves more tight turns by heavy equipment than does 2-D, the potential for vegetation damage is greater. For this reason, it can be assumed that the medium and high disturbance levels to tundra would occur in greater proportions from 3-D seismic lines than that presented for 2-D."
---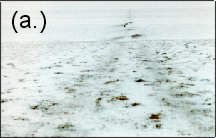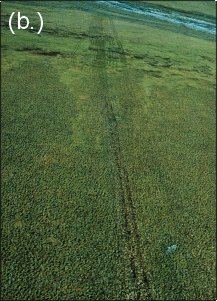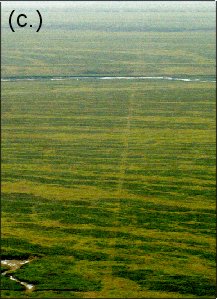 Seismic trail near Marsh Creek (red dot on map above).
(a) During exploration in winter 1984.
(b) Showing ruts of crushed sedge tussocks in July 1984.
(c) In June 1999, 15 years after disturbance.

Refuge Information | Wildlife | Habitat | People
Home | New | Feedback | Index | Search
Why we archived the ANWR website at Mapcruzin.com

Note: This is the MapCruzin.com archive of the FWS Arctic National Wildlife Refuge website. In December, 2001 FWS took this website offline, making it unavailable to the public. It includes 90 plus pages of information and many maps. As of 2006 the important information contained in this, the original "unsanitized" version of the FWS website, has yet to return to the internet, so we will continue to maintain it here as a permanent archive to help inform activists and concerned citizens. If you find any broken links, please report them to me at [email protected] and I will attempt to make the repairs. January, 2008 update - A small part of the original information that was present in 2001 has made it back into the current ANWR website. There is also an archive that contains a small amount of the original information, but it is not readily available from the main website.

Click here to visit our homepage. Click here for NRDC's message about ANWR from Robert Redford.

For more information on why this website was "pulled," Check here. And, you can also view the maps of caribou calving areas that the FWS did not want you to see here.

January 29, 2008: Visit Our New ANWR News for Updates
---
This page should be cited as follows:
U.S. Fish and Wildlife Service. 2001. Potential impacts of proposed oil and gas
development on the Arctic Refuge's coastal plain: Historical overview and
issues of concern. Web page of the Arctic National Wildlife Refuge,
Fairbanks, Alaska. 17 January 2001. http://arctic.fws.gov/issues1.html
---
Archived by MapCruzin.com. Visit us at mapcruzin.com.
MapCruzin.com is an independent firm specializing in the publication of educational and research resources. We created the first U.S. based interactive toxic chemical facility maps on the internet in 1996 and we have been online ever since. Learn more about us and view some of our projects and services.