GIS Shapefile Store - for Beginners & Experienced GIS Users Alike. Geographic Names Information System, Nuclear Facilities, Zip Code Boundaries, School Districts, Indian & Federal Lands, Climate Change, Tornadoes, Dams - Create digital GIS maps in minutes.

Follow on Twitter
Didn't find what you are looking for? Email me and I'll find it for you.
Progressive Links
Federation of American Scientists
Physicians for Social Responsibility
Public Employees for Environmental Responsibility
MapCruzin Consulting
Data Research and GIS Specialists.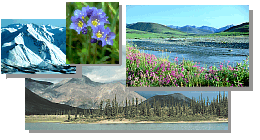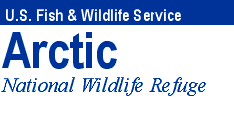 Refuge Information | Wildlife | Habitat | People
Home | New | Feedback | Index | Search
Why we archived the ANWR website at MapCruzin.com
Water and Water Rights
It stings as wind-driven snow, soaks as gentle rain and penetrates as thick fog. It piles up in fields of ice, fed by springs and river overflows during winter. In spring, its sparkling drops gather to flood the river corridors, washing gravel bars and nourishing plants. During summer, it courses through rivers and streams, the veins and arteries of the Refuge. Finally it reaches the coast, enriching the ocean with its load of minerals. All along the way, it provides life-sustaining habitats for invertebrates and fish; feeding, nesting and brood-rearing areas for birds; and refreshment for mammals, including people.

Water is the lifeblood of the Arctic National Wildlife Refuge. Ensuring water quality and quantity for fish and wildlife resources is one of the purposes of the Refuge. But water quantity is limited, especially on the coastal plain - technically a very dry area. Less than five inches of precipitation falls there each year. In addition, compared to areas west, where surface water is plentiful, the coastal plain has few lakes, and they are shallow and unevenly distributed.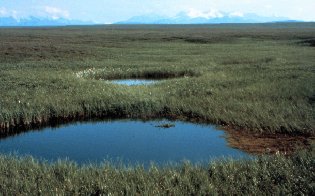 Most of the water available in summer comes from spring snowmelt. It pools on the surface of the land, soaking the tundra. The water doesn't percolate through the soil, as it does in most places, due to permafrost, which underlies most of the area about a foot down.

The Fish and Wildlife Service (Service) has federal rights to water on the Arctic Refuge. These federal reserved water rights were granted for Refuge purposes by laws which established the area.
Although the Service has federal water rights, agency policy is to apply for state water rights through state procedures whenever possible. Between 1994 and 1998, the Service filed water rights applications with the State of Alaska for 140 lakes and 12 river segments on the Refuge coastal plain. Action on those applications is still pending.
This process does not negate the Service's federal water rights. In fact, it helps the State and others know just how much water is needed to conserve Refuge fish and wildlife resources. This is important given the interest in other water-consuming activities on the coastal plain (ice roads, oil drilling, municipal needs).
While it awaits action on the applications and related needs, the Service continues to ensure that adequate water will be available long-term to sustain the wonderfully diverse fish and wildlife resources of the Arctic Refuge.

Refuge Information | Wildlife | Habitat | People
Home | New | Feedback | Index | Search
Text and graphics by USFWS staff
Last modified 28 July 2000
Why we archived the ANWR website at Mapcruzin.com

Note: This is the MapCruzin.com archive of the FWS Arctic National Wildlife Refuge website. In December, 2001 FWS took this website offline, making it unavailable to the public. It includes 90 plus pages of information and many maps. As of 2006 the important information contained in this, the original "unsanitized" version of the FWS website, has yet to return to the internet, so we will continue to maintain it here as a permanent archive to help inform activists and concerned citizens. If you find any broken links, please report them to me at [email protected] and I will attempt to make the repairs. January, 2008 update - A small part of the original information that was present in 2001 has made it back into the current ANWR website. There is also an archive that contains a small amount of the original information, but it is not readily available from the main website.

Click here to visit our homepage. Click here for NRDC's message about ANWR from Robert Redford.

For more information on why this website was "pulled," Check here. And, you can also view the maps of caribou calving areas that the FWS did not want you to see here.

January 29, 2008: Visit Our New ANWR News for Updates
---
This page should be cited as follows:
U.S. Fish and Wildlife Service. 2001. Potential impacts of proposed oil and gas
development on the Arctic Refuge's coastal plain: Historical overview and
issues of concern. Web page of the Arctic National Wildlife Refuge,
Fairbanks, Alaska. 17 January 2001. http://arctic.fws.gov/issues1.html
---
Archived by MapCruzin.com. Visit us at mapcruzin.com.
MapCruzin.com is an independent firm specializing in the publication of educational and research resources. We created the first U.S. based interactive toxic chemical facility maps on the internet in 1996 and we have been online ever since. Learn more about us and view some of our projects and services.