GIS Shapefile Store - for Beginners & Experienced GIS Users Alike. Geographic Names Information System, Nuclear Facilities, Zip Code Boundaries, School Districts, Indian & Federal Lands, Climate Change, Tornadoes, Dams - Create digital GIS maps in minutes.

Follow on Twitter
Didn't find what you are looking for? Email me and I'll find it for you.
Progressive Links
Federation of American Scientists
Physicians for Social Responsibility
Public Employees for Environmental Responsibility
MapCruzin Consulting
Data Research and GIS Specialists.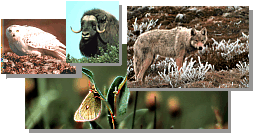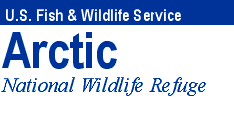 Refuge Information | Wildlife | Habitat | People
Home | New | Feedback | Index | Search
Why we archived the ANWR website at MapCruzin.com
Wood Frogs
[This information was originally produced by Beverly Skinner, wildlife biologist at Innoko National Wildlife Refuge (in west central Alaska), for radio broadcast on Public Radio stations throughout Alaska.]

Because of interior Alaska's extreme cold winters and short summers, it is hard to believe that frogs can and do live here. But we do have a resident frog species - the wood frog.

The wood frog is generally light brown or gray in color and has quite a variety of patterns. These patterns can include a dark eye mask, a light stripe down the back and scattered dark spots. Overall they seem to be darker the farther north they are, possibly enabling them to absorb more solar energy.

The wood frog's body temperature, like all other cold blooded animals, is dependant on outside temperatures. You might think our combination of cold weather and short summers would limit the numbers of wood frogs but in fact, they are quite abundant. In addition, their abundance means they are probably an important component of many animals diets - including other wood frogs.

Wood frogs get around the short summers by developing from egg to tadpole to adult frog at a very rapid rate. But how do these cold blooded animals survive the winter? In areas warmer than interior Alaska, adult frogs will overwinter in a state of hibernation in unfrozen mud beneath the water in ponds and lakes. But here in Alaska, wood frogs spend the winter in shallow depressions on land. They first bury themselves approximately one inch deep in the dead vegetation on the forest floor. They then receive extra layers of insulation when the snow comes. Wood frogs also have the ability to super-cool their bodies which means they are able to rid themselves of impurities that would allow ice to form in their cell walls.

Wood frogs are eaten by a variety of animals. Hopping around on the open ground, they make an easy, tasty morsel for wolves and birds like the Sandhill Crane. What wasn't known until recently was that wood frogs are cannibals, which means they eat each other. Because their usual food of insects and spiders becomes scarce in the fall just at the time the frogs need to fatten up for the winter, they turn to catching the abundant smaller young frogs in the area.

For Alaska Naturally and the Innoko NWR, this is Beverly Skinner. Wood frogs are all asleep by now in their warm little depressions under the snow. But early next spring, even when temperatures are barely above freezing, the males will be out singing for their mates insuring that there will be plenty of young frogs hopping about to feed another generation of animals - both warm blooded and cold blooded.

Refuge Information | Wildlife | Habitat | People
Home | New | Feedback | Index | Search
Text and graphics by USFWS staff
Last modified 28 July 2000
Why we archived the ANWR website at Mapcruzin.com

Note: This is the MapCruzin.com archive of the FWS Arctic National Wildlife Refuge website. In December, 2001 FWS took this website offline, making it unavailable to the public. It includes 90 plus pages of information and many maps. As of 2006 the important information contained in this, the original "unsanitized" version of the FWS website, has yet to return to the internet, so we will continue to maintain it here as a permanent archive to help inform activists and concerned citizens. If you find any broken links, please report them to me at [email protected] and I will attempt to make the repairs. January, 2008 update - A small part of the original information that was present in 2001 has made it back into the current ANWR website. There is also an archive that contains a small amount of the original information, but it is not readily available from the main website.

Click here to visit our homepage. Click here for NRDC's message about ANWR from Robert Redford.

For more information on why this website was "pulled," Check here. And, you can also view the maps of caribou calving areas that the FWS did not want you to see here.

January 29, 2008: Visit Our New ANWR News for Updates
---
This page should be cited as follows:
U.S. Fish and Wildlife Service. 2001. Potential impacts of proposed oil and gas
development on the Arctic Refuge's coastal plain: Historical overview and
issues of concern. Web page of the Arctic National Wildlife Refuge,
Fairbanks, Alaska. 17 January 2001. http://arctic.fws.gov/issues1.html
---
Archived by MapCruzin.com. Visit us at mapcruzin.com.
MapCruzin.com is an independent firm specializing in the publication of educational and research resources. We created the first U.S. based interactive toxic chemical facility maps on the internet in 1996 and we have been online ever since. Learn more about us and view some of our projects and services.