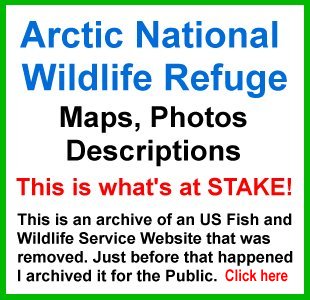 GIS Shapefile Store - for Beginners & Experienced GIS Users Alike. Geographic Names Information System, Nuclear Facilities, Zip Code Boundaries, School Districts, Indian & Federal Lands, Climate Change, Tornadoes, Dams - Create digital GIS maps in minutes.

Follow on Twitter
Didn't find what you are looking for? Email me and I'll find it for you.
Progressive Links
Federation of American Scientists
Physicians for Social Responsibility
Public Employees for Environmental Responsibility
MapCruzin Consulting
Data Research and GIS Specialists.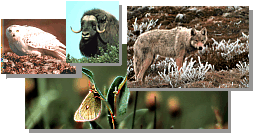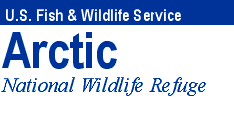 Refuge Information | Wildlife | Habitat | People
Home | New | Feedback | Index | Search
Why we archived the ANWR website at MapCruzin.com
Gray Wolf
Wolves have long been a lightning rod for controversy. They evoke passionate feelings in many of us. Some people love them, a few fear them, others prefer that they be shot. On the Arctic Refuge, however, these differences are seldom voiced. Why? The wolf is wild, beautiful, and inspiring. So is the Refuge. The two belong together. People know it and expect it.

Cousin to the dog, the gray wolf is a highly social animal, preferring to live in packs. The pack, dominated by a male/female pair, may include their pups of the year, wolves born the previous year, and other adults.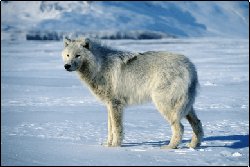 Gray wolves may be shades of gray, brown, black, or white. Wolves of all these colors roam the Refuge. Some five packs totalling 25 to 30 animals live on the Refuge's north slope east of the Canning River. The wolves are found primarily in the mountains and foothills along major rivers.

The makeup of wolf packs on the Refuge's north slope varies. In summer, many wolves hunt alone or in pairs. Some are "drifters." Others may switch packs or move to new areas, perhaps following the caribou migration. In winter the packs stay together more to hunt.
Gray wolves mate in late February and March. The pairs then move to maternity dens near rivers in the foothills and mountains. About four to seven pups are born in late May or early June. The pups are weaned during the summer, and the dens are abandoned in July or August. By early winter, the pups can travel and hunt with the adult wolves.
Although to date, no dens have been found on the Refuge coastal plain, wolves make frequent trips there from May to July when the Porcupine caribou herd is present. After the caribou leave the coastal plain, the wolves stay in the mountains and foothills hunting caribou, along with Dall sheep and moose. Wolves, however, are opportunistic feeders. They will catch small rodents, birds, and ground squirrels if they can.
Natural relationships between predator and prey still prevail on the Arctic Refuge. Here the wolf's connection to the caribou and the land continues as it has for centuries. Untamed and free, the wolf is a symbol for the Refuge - a truly remarkable place.

Refuge Information | Wildlife | Habitat | People
Home | New | Feedback | Index | Search
Why we archived the ANWR website at Mapcruzin.com

Note: This is the MapCruzin.com archive of the FWS Arctic National Wildlife Refuge website. In December, 2001 FWS took this website offline, making it unavailable to the public. It includes 90 plus pages of information and many maps. As of 2006 the important information contained in this, the original "unsanitized" version of the FWS website, has yet to return to the internet, so we will continue to maintain it here as a permanent archive to help inform activists and concerned citizens. If you find any broken links, please report them to me at [email protected] and I will attempt to make the repairs. January, 2008 update - A small part of the original information that was present in 2001 has made it back into the current ANWR website. There is also an archive that contains a small amount of the original information, but it is not readily available from the main website.

Click here to visit our homepage. Click here for NRDC's message about ANWR from Robert Redford.

For more information on why this website was "pulled," Check here. And, you can also view the maps of caribou calving areas that the FWS did not want you to see here.

January 29, 2008: Visit Our New ANWR News for Updates
---
This page should be cited as follows:
U.S. Fish and Wildlife Service. 2001. Potential impacts of proposed oil and gas
development on the Arctic Refuge's coastal plain: Historical overview and
issues of concern. Web page of the Arctic National Wildlife Refuge,
Fairbanks, Alaska. 17 January 2001. http://arctic.fws.gov/issues1.html
---
Archived by MapCruzin.com. Visit us at mapcruzin.com.
MapCruzin.com is an independent firm specializing in the publication of educational and research resources. We created the first U.S. based interactive toxic chemical facility maps on the internet in 1996 and we have been online ever since. Learn more about us and view some of our projects and services.