GIS Shapefile Store - for Beginners & Experienced GIS Users Alike. Geographic Names Information System, Nuclear Facilities, Zip Code Boundaries, School Districts, Indian & Federal Lands, Climate Change, Tornadoes, Dams - Create digital GIS maps in minutes.

Follow on Twitter
Didn't find what you are looking for? Email me and I'll find it for you.
Progressive Links
Federation of American Scientists
Physicians for Social Responsibility
Public Employees for Environmental Responsibility
MapCruzin Consulting
Data Research and GIS Specialists.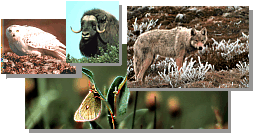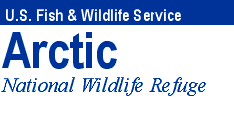 Refuge Information | Wildlife | Habitat | People
Home | New | Feedback | Index | Search
Why we archived the ANWR website at MapCruzin.com
Wolves
[This information was originally produced by Beverly Skinner, wildlife biologist at Innoko National Wildlife Refuge (in west central Alaska), for radio broadcast on Public Radio stations throughout Alaska.]

A couple of years ago, my family and I were out mushing when our dogs came to a halt, hair standing on end and noses pointing up in the air. It was then we noticed the huge tracks in the snow. Our dog's tracks were tiny in comparison and we have rather large sled dogs. What we had found were wolf tracks, and our dogs were letting us know in their own way that they also knew there were wolves in the area.

Wolves - much like dogs - have their own methods of communication. They use their eyes, ears, mouths, tails, and fur to share information as well as their feelings. Although we rarely get the opportunity to watch wolves interacting with each other, many of us have probably seen our dogs communicating. Of course, since they were communicating in dog language, we may not have understood the message.

I think everyone has seen a male dog urinating on a bush, tree or clump of grass. Wolves do the same thing. It is called scent marking and it is a way of letting trespassers know they are in someone else's area and they need to keep moving. This method of defending a territory from outsiders is simple and safer than having to fight the intruders each time they cross over that invisible line. Scent marking is a form of communication.

Another form of communication occurs when two strange wolves or dogs come face to face. Each wants to appear larger than the other so they can avoid a fight. With every fight comes the possibility of getting hurt, and a hurt wolf can't hunt. In order to appear larger, wolves will tense their legs and the fur on their back stands up. Even their tail and ears will stand straight up. Add to this show of largeness raised lips and a display of weapons or teeth, and most strangers get the message and leave.

The form of wolf communication we are most familiar with, and the only one most people will ever witness, is howling. Howling may occur day or night and allows pack members to locate each other when they are separated. It also strengthens family ties before and after hunts, as well as serving as a warning to outsiders to stay away. Many people find the sound of wolves howling sad but I have always found it beautiful, and it is one of the many reasons we have picked Alaska as our home.

For Alaska Naturally and the Innoko NWR, this is Beverly Skinner. Next time your dog bows to you with front legs extended, hindquarters in the air, tail wagging, and grinning with a big open smile - don't be alarmed. They aren't planning to attack you - they just want to play. Try bowing back and see what happens.

Refuge Information | Wildlife | Habitat | People
Home | New | Feedback | Index | Search
Text and graphics by USFWS staff
Last modified 28 July 2000
Why we archived the ANWR website at Mapcruzin.com

Note: This is the MapCruzin.com archive of the FWS Arctic National Wildlife Refuge website. In December, 2001 FWS took this website offline, making it unavailable to the public. It includes 90 plus pages of information and many maps. As of 2006 the important information contained in this, the original "unsanitized" version of the FWS website, has yet to return to the internet, so we will continue to maintain it here as a permanent archive to help inform activists and concerned citizens. If you find any broken links, please report them to me at [email protected] and I will attempt to make the repairs. January, 2008 update - A small part of the original information that was present in 2001 has made it back into the current ANWR website. There is also an archive that contains a small amount of the original information, but it is not readily available from the main website.

Click here to visit our homepage. Click here for NRDC's message about ANWR from Robert Redford.

For more information on why this website was "pulled," Check here. And, you can also view the maps of caribou calving areas that the FWS did not want you to see here.

January 29, 2008: Visit Our New ANWR News for Updates
---
This page should be cited as follows:
U.S. Fish and Wildlife Service. 2001. Potential impacts of proposed oil and gas
development on the Arctic Refuge's coastal plain: Historical overview and
issues of concern. Web page of the Arctic National Wildlife Refuge,
Fairbanks, Alaska. 17 January 2001. http://arctic.fws.gov/issues1.html
---
Archived by MapCruzin.com. Visit us at mapcruzin.com.
MapCruzin.com is an independent firm specializing in the publication of educational and research resources. We created the first U.S. based interactive toxic chemical facility maps on the internet in 1996 and we have been online ever since. Learn more about us and view some of our projects and services.