Research: Right-to-Know or Left-to-Wonder
RTK News - RTK Resources - Lost and Found
GIS Shapefile Store - for Beginners & Experienced GIS Users Alike. Geographic Names Information System, Nuclear Facilities, Zip Code Boundaries, School Districts, Indian & Federal Lands, Climate Change, Tornadoes, Dams - Create digital GIS maps in minutes.

Follow on Twitter
A Member of the
Reimagination Network
Didn't find what you are looking for? Email me and I'll find it for you.
Progressive Links
Federation of American Scientists
Physicians for Social Responsibility
Public Employees for Environmental Responsibility
Have a question or comment? Post them at the MapCruzin Blog.
MapCruzin Consulting
GIS and Google Maps Development, Website Creation and Hosting, Fast and Affordable.
Interactive Map of the Billions Spent on Military Equipment for Police in U.S.
Sponsors

Source: America's War Within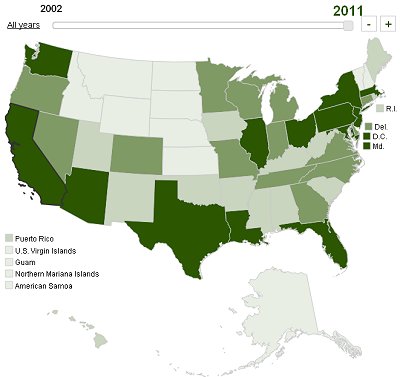 Sponsors
America's War Within: Homeland Security and the First 10 Years of the War on Terror
A project by NPR and the Center for Investigative Reporting
States spend billions on local homeland security
Dec. 21, 2011
The wars in Iraq and Afghanistan represent only a fraction of the billions spent to battle terrorists since Sept. 11, 2001. Lawmakers in Washington have shelled out some $34 billion over the last 10 years to state and local law enforcement. This map shows how much each state has raked in by grant program and fiscal year, based on data obtained from the Department of Homeland Security. Click on "per capita spending" to see how the rankings of those who came out on top dramatically shift when a state's population is taken into account.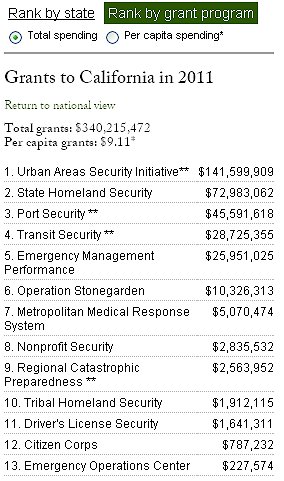 Didn't find what you are looking for? We've been online since 1996 and have created 1000's of pages. Search below and you may find just what you are looking for.
---
MapCruzin.com is an independent firm specializing in the publication of educational and research resources. We created the first U.S. based interactive toxic chemical facility maps on the internet in 1996 and we have been online ever since. Learn more about us and view some of our projects and services.
If you have data, GIS project or custom shapefile needs send me an email.
Sponsors