Militarization of the Police in the United States
Sponsors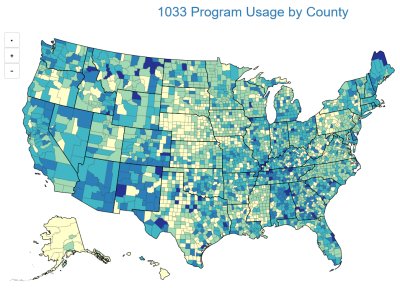 The Mapping Police Militarization (MPM) project is an effort to better understand the issues connected to the militarization of U.S. law enforcement. To do this, the project examines the connections between the military and local police departments in the U.S. by tracking the geographic location of surplus military equipment distributed to police departments under the federal government's Law Enforcement Support Program, also referred to as the 1033 Program.
The 1033 program allows police to acquire surplus military equipment at no direct cost to use in counter-drug and counter-terrorism activities. Available equipment includes general law enforcement supplies (e.g., handcuffs, riot shields, holsters, binoculars, and digital cameras), and general office materials (e.g., office furniture, kitchen appliances, exercise equipment) as well as specialized military equipment including armored vehicles, aircraft, and weapons.
The MPM data cover equipment transfers to law enforcement agencies under the 1033 program from 2006 through 2013. The MPM data are geocoded to U.S. counties or county equivalents. Each equipment transfer records the equipment details (type, amount), the date the equipment was provided, and the government's estimated value of the equipment. To streamline analysis, the data are also coded into one of six broad equipment types (Weapons, Protective Equipment, Communications/Surveillance, Non-armored Vehicles, Armored Vehicles, and Miscellaneous).
The Principle Investigator for the Mapping Police Militarization project is Steven M. Radil (Department of Geography, University of Idaho). Dr. Radil is a geographer with interests in the spatial politics of policing and law enforcement. Lanny D. McAden, M.S. student in Geography, is a graduate researcher on the project. Mr. McAden served as a law enforcement officer and military service member for over 22 years and researches police militarization.
Didn't find what you are looking for? We've been online since 1996 and have created 1000's of pages. Search below and you may find just what you are looking for.
---
Michael R. Meuser
Data Research & GIS Specialist
MapCruzin.com is an independent firm specializing in GIS project development and data research. We created the first U.S. based interactive toxic chemical facility maps on the internet in 1996 and we have been online ever since. Learn more about us and our services.
Have a project in mind? If you have data, GIS project or custom shapefile needs contact Mike.