Research: Right-to-Know or Left-to-Wonder
RTK News - RTK Resources - Lost and Found
GIS Shapefile Store - for Beginners & Experienced GIS Users Alike. Geographic Names Information System, Nuclear Facilities, Zip Code Boundaries, School Districts, Indian & Federal Lands, Climate Change, Tornadoes, Dams - Create digital GIS maps in minutes.

Follow on Twitter
A Member of the
Reimagination Network
Didn't find what you are looking for? Email me and I'll find it for you.
Progressive Links
Federation of American Scientists
Physicians for Social Responsibility
Public Employees for Environmental Responsibility
Have a question or comment? Post them at the MapCruzin Blog.
MapCruzin Consulting
GIS and Google Maps Development, Website Creation and Hosting, Fast and Affordable.
Will Climate Change Driven Hurricane Sandy-Like Frankenstorm Floods Result in Fukushima-Like Nuclear Power Plant Disasters in the U.S.?
The combination of Hurricane Sandy and cold arctic air, now dubbed the Frankenstorm, may present an increased risk of flooding and Fukushima-like disasters at our nuclear energy power plants in the Northeast.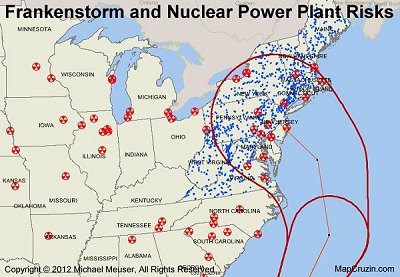 Recently, a leaked copy of a redacted Nuclear Regulatory Commission report indicates that flooding at dozens of nuclear reactors could result in a Fukushima-like disaster in the U.S. The report pointed to the many dams that were at risk of failure and the resulting flooding of the reactors.
Sponsors
Given the forecast extremes of the storm nearly upon the Northeast, the risk of dam failure will increase as these facilities are stressed with increased rainfall and in-stream flooding will increase as well.
You can take a closer look at the number of nuclear reactors in the Hurricane Sandy danger zone and nearby dams yourself using the following GIS shapefiles. If you are new to GIS, check out our Learn2Map GIS Tutorial and Atlas:
Download Hurrican Sandy 5 Day Forecast GIS Shapefiles from the NOAA National Weather Service Hurricane Center.

Download U.S. Nuclear Energy Power Plant Facilities Shapefile

Download U.S. Dams Shapefiles Download all regions or at least regions 1,2, and 3.
You can also download both the NRC redacted and the public reports.
Download the "Sanitized" Public NRC Report (PDF)
Related:
All Things Nuclear: News, Facilities, Reactors, Fallout Dispersion, Low Level Radiation...
Sponsors
<-- All Things Nuclear
<-- Geospatial Data Shapefile Downloads
Didn't find what you are looking for? We've been online since 1996 and have created 1000's of pages. Search below and you may find just what you are looking for.
---
MapCruzin.com is an independent firm specializing in the publication of educational and research resources. We created the first U.S. based interactive toxic chemical facility maps on the internet in 1996 and we have been online ever since. Learn more about us and view some of our projects and services.
If you have data, GIS project or custom shapefile needs send me an email.
Sponsors