Climate, Land Use, and Environmental Sensitivity (CLUES) Interactive Maps & Geospatial Data
<-- Geospatial Data Shapefile Downloads
ESRI ArcGIS ( Arc - GIS ) shapefiles are the industry standard and work with most all GIS programs including ESRI ArcView, ArcExplorer, ArcGIS, and Maptitude, Mapinfo, Manifold, Mapwindow, Mapguide and other free and open source software applications. Each shapefile set includes: roads, buildings, natural features, places, points of interest, railways, and waterways.
If you are new to GIS and shapefiles and want to learn more about cartography and digital geography, check this brief introduction. Also, you can use our free Learn2Map GIS Tutorial & Atlas and included free software to create your own GIS projects viewing and combining these and other free ArcGIS shapefiles.
Climate, Land Use, and Environmental Sensitivity (CLUES)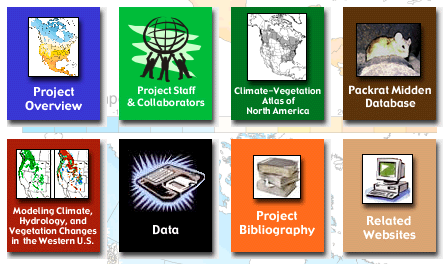 Vegetation changes caused by climatic variations and/or land use may have large impacts on forests, agriculture, rangelands, natural ecosystems, and endangered species. Climate modeling studies indicate that vegetation cover, in turn, has a strong influence on regional climates, and this must be better understood before models can estimate future environmental conditions. To address these issues, this project investigates vegetational response to climatic change, and vegetation-land surface impacts on climate change.
The project involves calibration of the modern relations between the range limits of plant species and climatic variables, relations that are then used: 1) to estimate past climatic fluctuations from paleobotanical data for a number of time periods within the late Quaternary; 2) to 'validate' climate model simulations of past climates; 3) to explore the potential influences of land cover changes on climate change; and 4) to estimate the potential future ranges of plant species under a number of future climate scenarios. Methodologies and data developed by this project are being used as part of the national global change assessment of potential impacts of future climate changes.
Visit the Climate, Land Use, and Environmental Sensitivity (CLUES) website.
<-- Geospatial Data Shapefile Downloads
Didn't find what you are looking for? We've been online since 1996 and have created 1000's of pages. Search below and you may find just what you are looking for.
---
Michael R. Meuser
Data Research & GIS Specialist
MapCruzin.com is an independent firm specializing in GIS project development and data research. We created the first U.S. based interactive toxic chemical facility maps on the internet in 1996 and we have been online ever since. Learn more about us and our services.
Have a project in mind? If you have data, GIS project or custom shapefile needs contact Mike.
Sponsors