The Ionia website provides access to a number of Earth Observation Level 3 and Level 4 products
<-- Geospatial Data Shapefile Downloads
ESRI ArcGIS ( Arc - GIS ) shapefiles are the industry standard and work with most all GIS programs including ESRI ArcView, ArcExplorer, ArcGIS, and Maptitude, Mapinfo, Manifold, Mapwindow, Mapguide and other free and open source software applications. Each shapefile set includes: roads, buildings, natural features, places, points of interest, railways, and waterways.
If you are new to GIS and shapefiles and want to learn more about cartography and digital geography, check this brief introduction. Also, you can use our free Learn2Map GIS Tutorial & Atlas and included free software to create your own GIS projects viewing and combining these and other free ArcGIS shapefiles.
The Ionia website provides access to a number of Earth Observation Level 3 and Level 4 products generated by ESA projects, using a variety of instruments, including non-ESA satellite data.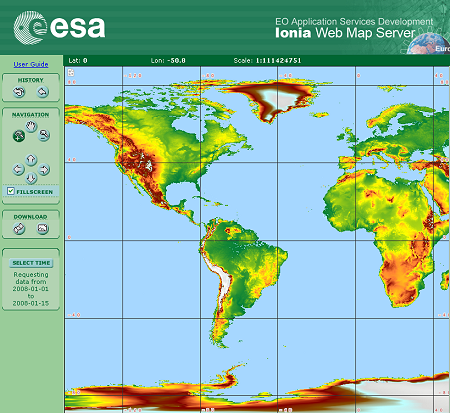 These products have been generated mostly as a result of projects run through the ESA Data User Programme (DUP) and Data User Element (DUE). In addition, some products were generated through ESA internal projects. This is the case in particular of the ATSR fire atlas products.
Why this name?
Ionia is the name of the Greek School of philosophy (VI-V th century BC) that made the radical step from mythological to scientific explanation of natural phenomena and formulated the theory of the cosmos as constituted by four basic elements:
The same four elements are now observed from space-born instruments and constitute the main fields of interest for Earth Observation. They have been used as a classification scheme for the Ionia products.
Visit the IONIA Earth Observation website.
Sponsors
<-- Geospatial Data Shapefile Downloads
Didn't find what you are looking for? We've been online since 1996 and have created 1000's of pages. Search below and you may find just what you are looking for.
---
Michael R. Meuser
Data Research & GIS Specialist
MapCruzin.com is an independent firm specializing in GIS project development and data research. We created the first U.S. based interactive toxic chemical facility maps on the internet in 1996 and we have been online ever since. Learn more about us and our services.
Have a project in mind? If you have data, GIS project or custom shapefile needs contact Mike.