Research: Right-to-Know or Left-to-Wonder
RTK News - RTK Resources - Lost and Found
GIS Shapefile Store - for Beginners & Experienced GIS Users Alike. Geographic Names Information System, Nuclear Facilities, Zip Code Boundaries, School Districts, Indian & Federal Lands, Climate Change, Tornadoes, Dams - Create digital GIS maps in minutes.

Follow on Twitter
A Member of the
Reimagination Network
Didn't find what you are looking for? Email me and I'll find it for you.
Progressive Links
Federation of American Scientists
Physicians for Social Responsibility
Public Employees for Environmental Responsibility
Have a question or comment? Post them at the MapCruzin Blog.
MapCruzin Consulting
GIS and Google Maps Development, Website Creation and Hosting, Fast and Affordable.
New from the Center for Global Development: Mapping the Impacts of Climate Change
Sponsors

<-- GIS News
<-- Climate Change Shapefiles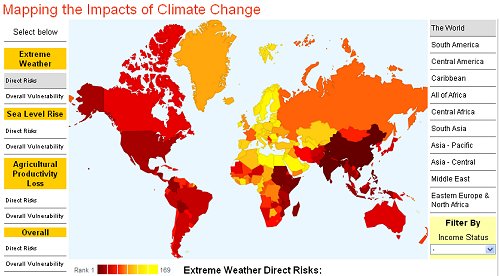 Theses interactive maps show rankings for 233 countries of the world based on the following:
Extreme Weather
Agricultural Productivity Loss
Sea Level Rise
Overall Indicator
Risks are adjusted for a country's ability to adjust to the effects of climate change and extreme weather.
The maps are based on data in Quantifying Vulnerability to Climate Change: Implications for Adaptation Assistance - Working Paper 240. You can download the data yourself here. Be sure to note the following:
Sponsors
This data set is made available under the terms of the Creative Commons Attribution-NonCommercial-ShareAlike 3.0 Unported license. You are free to copy, distribute, transmit, and adapt the work for noncommercial purposes only, with attribution given the Center for Global Development, preferably with a link to this page. Resulting work must be distributed under the same license or one similar.

Commercial use of this work requires prior written permission. Please email publications@cgdev.org to pursue this option or for other uses beyond the terms of this license.
View Mapping the Impacts of Climate Change.
<-- GIS News
<-- Climate Change Shapefiles
Didn't find what you are looking for? We've been online since 1996 and have created 1000's of pages. Search below and you may find just what you are looking for.
---
MapCruzin.com is an independent firm specializing in the publication of educational and research resources. We created the first U.S. based interactive toxic chemical facility maps on the internet in 1996 and we have been online ever since. Learn more about us and view some of our projects and services.
If you have data, GIS project or custom shapefile needs send me an email.
Sponsors