Research: Right-to-Know or Left-to-Wonder
RTK News - RTK Resources - Lost and Found
GIS Shapefile Store - for Beginners & Experienced GIS Users Alike. Geographic Names Information System, Nuclear Facilities, Zip Code Boundaries, School Districts, Indian & Federal Lands, Climate Change, Tornadoes, Dams - Create digital GIS maps in minutes.

Follow on Twitter
A Member of the
Reimagination Network
Didn't find what you are looking for? Email me and I'll find it for you.
Progressive Links
Federation of American Scientists
Physicians for Social Responsibility
Public Employees for Environmental Responsibility
Have a question or comment? Post them at the MapCruzin Blog.
MapCruzin Consulting
GIS and Google Maps Development, Website Creation and Hosting, Fast and Affordable.
Yosemite Closing Many of the Most Affordable Overnight Visiting accommodations Due to the Risk of Rock Falls
Sponsors

<-- GIS News

Why? Many more people die from falling on rocks than rocks falling on people!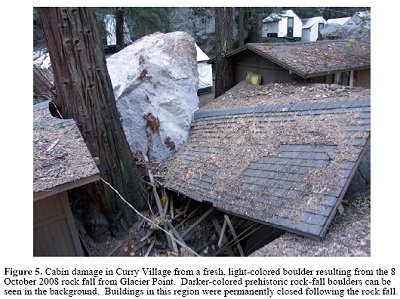 Though we're all worried about safety, it seems odd to me that the park would take this action. A little perspective is in order. According to the report, Quantitative rock-fall hazard and risk assessment for Yosemite Valley, Yosemite National Park, California (Download in PDF Format), "Since officials began keeping track in 1857, 15 people have died throughout the valley and 85 have been injured from falling rocks."
Doing the math, in 155 years 15 people have been killed by falling rocks. That's about one person every 10 years or 1/10th of a person per year.
According to the New York Times, 18 people lost their lives in Yosemite during 2011 - a single year. The majority of these deaths happened because people fell on rocks, not the other way around.
Sponsors
I don't mean to be cute or unmindful of the tragedy of death, but why, given all the other dangers, close any of the lodging facilities? 18 deaths in one year - compare that to 15 deaths in 155 years! Does this make sense? National Parks are dangerous places, the world is a dangerous place.
The closures effectively remove a major portion of the most affordable lodging in the valley. Gone will be the $5 per night rock climber's camp below El Capitan. Already gone are the affordable tent cabins at Camp Curry. What's left besides camping? Some cabins at Curry, high end rooms at Yosemite Lodge and very high end rooms and suites at the Awhanee.
National parks are already expensive to visit and many in our society cannot afford to visit and stay. The closures in Yosemite will further gentrify the park, making it less likely that low and moderate income people will be able to stay at the park and enjoy it fully.
Here are small reproductions of a few maps you will find in the following reports: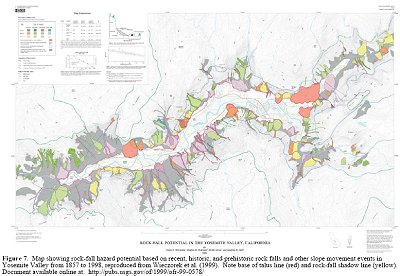 Downloads:
Quantitative rock-fall hazard and risk assessment for Yosemite Valley, Yosemite National Park, California
High-Resolution Imaging of Rock Falls in Yosemite National Park
<-- GIS News
Didn't find what you are looking for? We've been online since 1996 and have created 1000's of pages. Search below and you may find just what you are looking for.
---
MapCruzin.com is an independent firm specializing in the publication of educational and research resources. We created the first U.S. based interactive toxic chemical facility maps on the internet in 1996 and we have been online ever since. Learn more about us and view some of our projects and services.
If you have data, GIS project or custom shapefile needs send me an email.
Sponsors