KML Color Converter for Google Earth
Sponsors

<-- Google Earth Free Tools
<-- Google Earth & Maps Resources
<-- Free GIS Shapefile Downloads
<-- Free World Shapefile Downloads
<-- Free GIS Software & Tools
<-- Free Global, Regional, State, City Maps

KML COLOR CONVERTER - Color mixer, Color picker. Convert color's code to: RGB Hexa. Long VB, HTML, CMY, CMYK, HSL and Google Earth KML.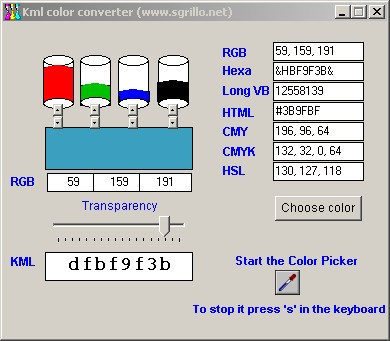 This freeware presents some unusual tools to help in the design of forms, web pages, presentations and other visual materials. The main form is a Tool Bar, presented above, that you can position in a corner of the screen for easy use of the tools. The Tool Bar can be placed as an Icon in the system tray (13K) and, as all the other tools, can be moved freely around the screen and minimized to the task bar.
From the Tool bar you can open the Rule, to measure horizontal and vertical distances in 7 different units (pixels, twips, inches, centimeters, himetrics, characters and points); the Magnifier to enlarge, up to 30 times, any image or text in the screen (you can make precise measurement and color pick with this tool ); the Angle Measurement Tool, to measures angles formed by lines in the screen, in degrees and radians; the Color Mixer/Picker to mix and pick colors and get the respective codes in 6 systems (RGB, VB, HTM, CMY, CMYK and HSL) and a small Calculator with some useful features.
Visit the KML COLOR CONVERTER website
About Quality, Accuracy and Suitability
This data, software, resources and tools may come from a variety of government and non-government sources. While we try to assure the quality, accuracy and suitability of this material, we cannot promise that it is. We do promise that using the resources available may be fun, entertaining or educational - perhaps agravating as well. We make no guarantee as to its suitability for any purpose or its accuracy. We assume no liability or responsibility your use. You are free to use it in any manner that you like. Please understand that you use these resources at your own risk with no guarantee whatsoever on our part.
Didn't find what you are looking for? We've been online since 1996 and have created 1000's of pages. Search below and you may find just what you are looking for.
---
Michael R. Meuser
Data Research & GIS Specialist
MapCruzin.com is an independent firm specializing in GIS project development and data research. We created the first U.S. based interactive toxic chemical facility maps on the internet in 1996 and we have been online ever since. Learn more about us and our services.
Have a project in mind? If you have data, GIS project or custom shapefile needs contact Mike.
Sponsors
<-- Google Earth Free Tools
<-- Google Earth & Maps Resources
<-- Free GIS Shapefile Downloads
<-- Free World Shapefile Downloads
<-- Free GIS Software & Tools
<-- Free Global, Regional, State, City Maps