MapCruzinTM Learn2MapTM Tutorial and Atlas
Copyright © 2006, Michael R. Meuser, All Rights Reserved
(ISBN 0-9713214-6-9)
---
Introduction - Startup - Sample Project - Your Project - Add More - Free GIS - Conclusion
2. GETTING STARTED

In this first section I have prepared a simple mapping project that will help to introduce you to digital mapping. It is based on U.S. Census Tiger 2000 files (more on this later) and ArcExplorer, a free GIS program from ESRI. The sample project covers my home county, Santa Cruz, California. We will work on this together - step-by-step. First you will download ArcExplorer, the free GIS from ESRI, and install it. Then you will download the mapping project that I have prepared. Later on you will learn how to create your own mapping project and add a variety of map layers.

One way to think about all of this is to imagine a paper map -- a base map -- that may have such features as the outline of county, perhaps some topography, major roads, etc. If you wanted a single map with more than that, some features might obscure others. The solution to this is to add map layers. Layers can be thought of as transparencies that you would place on top of your paper map allowing you to see the base map as well as the added features as you add, remove and change the order of the layers. As you work with ArcExplorer this will become clear.
Downloading ArcExplorer

The first thing to do is to download the GIS viewer, ArcExplorer. Note that ESRI is no longer supporting this version of ArcExplorer. Their new version is java-based and I will be updating the tutorial soon to take advantage of the features in this new version. Once you have gone through this tutorial, the new version of ArcExplorer will feel very familiar and friendly to you. You can add layers, query - do all that you have learned to do with ArcExplorer 2 so I encourage you to check it out.

Download ArcExplorer 2.0 to any directory that suits you (I like c:/mapcruzin_maps/downloads/). Once you have downloaded the program, go to the directory on your hard disk where you downloaded it, double-click on its icon and follow the installation steps.
Click here to download ArcExplorer 2
Downloading the Sample Project

The next step is to download the sample project for Santa Cruz County, California. Further along in the tutorial you will find instructions for downloading the files for your county. We will get to that later. The project includes the map layers, listed below, in a single file archive (scruz.exe). Click here to download scruz.exe (1.6mb).

Map layers included in the Santa Cruz County project (check the readme.html included in scruz.exe for layer details).
Census Tracts 2000

Congressional Districts

Designated Places

Key Geographic Locations

Landmark Points

Landmark Polygons

Line Features - Hydrography

Line Features - Misc. Transport

Line Features - Non-visible

Line Features - Physical

Line Features - Rails

Line Features - Roads

School Districts - Elementary

School Districts - Secondary

School Districts - Unified

Urban Areas

Water Polygons

Go to the file archive, "scruz.exe," on your hard disk.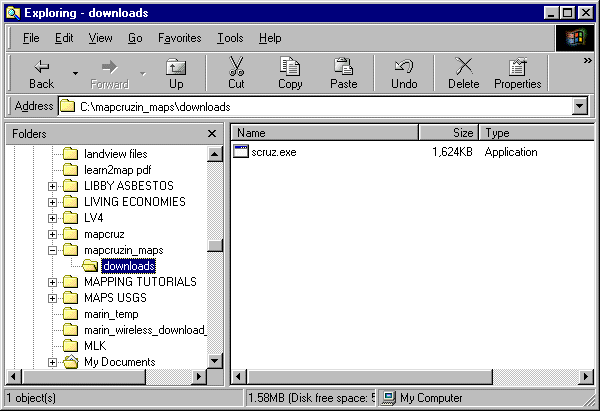 Double-click on the file name and a dialogue box will open.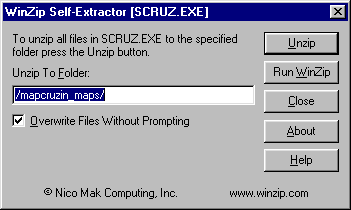 Click on "unzip" and the file archive will automatically unzip creating 56 new files in a new directory on your hard disk named "mapcruzin_maps" (c:/mapcruzin_maps).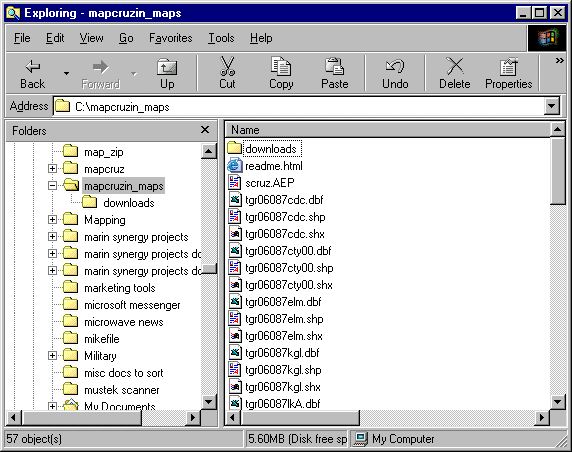 If you wish, you can over ride this default and unzip the maps to any directory that you prefer.
Continue --> 3. RUNNING ARCEXPLORER WITH A SAMPLE PROJECT