Natural Disaster Series: Significant United States Earthquakes 1568 - 2004 Shapefile
Sponsors

<-- Download ArcGIS Shapefiles
<-- More Natural Disaster Shapefiles

See Also:
New to GIS? Read about it here and learn the basics with our free Learn2Map GIS Tutorial and Atlas.

View Metadata
Download the Significant United States Earthquakes Shapefile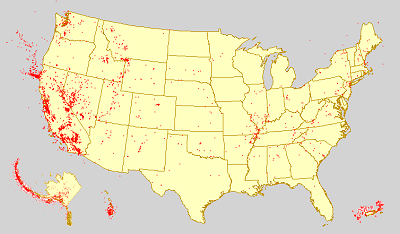 What this map layer shows:
The locations of significant earthquakes in the United States, Puerto Rico, the Virgin Islands of the United States, and in adjacent portions of Canada and Mexico from 1568 to 2004.
The National Earthquake Information Center (NEIC) manages, disseminates, and archives earthquake information. The NEIC is part of the Earthquake Hazards Program at the U.S. Geological Survey (USGS). The NEIC focuses its efforts on mitigating the risks of earthquakes to mankind. Toward this goal, the NEIC works to determine the location and size of all destructive earthquakes, pursues an active earthquake research program, and collects and provides an extensive earthquake database that serves as a solid foundation for scientific research to scientists and to the public. This map layer was produced by the Geology Discipline of the USGS using data derived from the online earthquake database maintained by the NEIC.
Sponsors
The Significant United States Earthquakes 1568 - 2004 map layer shows the location of earthquakes in the United States, Puerto Rico, the Virgin Islands of the United States, and in adjacent portions of Canada and Mexico from 1568 to 2004. Significant earthquakes are defined as those that caused deaths, property damage, or geological effects, or that were experienced by populations in the epicentral area. Detailed descriptive information about each earthquake is provided including the date and time of occurrence, the location in both geographic coordinates and narrative form, and the magnitude according to several different measures. Additional earthquake information can be found on the USGS Earthquake Hazards Program home page and the Earthquake Hazards Program Maps page.
View Metadata
Download the Significant United States Earthquakes Shapefile
See Also:
New to GIS? Read about it here and learn the basics with our free Learn2Map GIS Tutorial and Atlas.
<-- Download ArcGIS Shapefiles
<-- More Natural Disaster Shapefiles
Sponsors
About Quality, Accuracy and Suitability
This data may come from a variety of U.S. government and self-reporting private sources. While we try to assure the accuracy of this material, we cannot promise that it is absolutely accurate. We do promise that using the map layer will be fun, entertaining or educational. Beyond this, we make no guarantee as to its suitability for any purpose. We assume no liability or responsibility for errors or inaccuracies. Please understand that you use these map layers at your own risk.
Didn't find what you are looking for? We've been online since 1996 and have created 1000's of pages. Search below and you may find just what you are looking for.
---
Michael R. Meuser
Data Research & GIS Specialist
MapCruzin.com is an independent firm specializing in GIS project development and data research. We created the first U.S. based interactive toxic chemical facility maps on the internet in 1996 and we have been online ever since. Learn more about us and our services.
Have a project in mind? If you have data, GIS project or custom shapefile needs contact Mike.