Environmental Jihad "Exposed"
Fair Use Statement
<-- Return To GREENWASH
Source: O'Dwyer's PR Daily.
Note that envirotruth.org is sponsored by The National Center for Public Policy Research. Click here for links to the many other conservative groups and websites that they sponsor.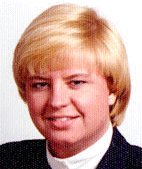 May 6, 2002
ENVIRONMENTAL GROUPS TARGETED
Conservative activist Amy Ridenour plans to expose the "distorted facts, misinformation" and acts of terrorism committed by environmental groups to capture the world's attention and fill their coffers. That's the message from her National Center for Public Policy Research, which distributed a release on Internet Wire today to announce the launch of envirotruth.org, a group that plans to inject "badly needed balance in the debate about the environment."
Amy Ridenour
The website will provide details about the "jihad" that environmental organizations are waging against corporate America. It will provide details about how group's such as Greenpeace have "built fundraising machines" by running what the Center believes are scare campaigns based on the threats posed from global warming and bioengineering.
The Center claims the environmental movement has been able to double donations to the $3.5 billion mark via "high-powered fundraising, litigation and a PR machine."
The Center describes its mission as "providing free market solutions to public policy problems." Ridenour, who runs the Center with her husband David, formed the Center in 1982 to provide the conservative movement with a "versatile and energetic organization capable of responding quickly and decisively to late-breaking issues."
Its initial focus was on supporting the Reagan Administration policies on the USSR, arms control and Central America.
The Center now focuses on the environment, national defense, legal/regulatory reform and "new leadership for Black America." It says 93 percent of its $5.2 million income in 2000 came from individuals.
Ridenour has published op-ed pieces in the Washington Times, Fort Lauderdale Sun-Sentinel, Dallas Morning News, USA Today, Houston Chronicle, and has appeared on CNN, CNBC and the Fox News Channel.
Responses:
A Pack of Lies, Poorly Executed (5/9):
Well, a cursory check of all of Envirotruth.org's sections reveals problems... on EVERY page:
On its "The Truth on the Use of Chlorine" page, NCPPR quotes the American Council on Science and Health as an expert source. Here's a partial list of industries that fund ACSH: http://www.prwatch.org/prwissues/1998Q4/kellogs.html.
On its "The Truth About Biotech Foods" page, NCPPR states that "If a biotech crop is found to contain a human allergen, then it will not be approved for human consumption."
But what about Starlink corn, the genetically-engineered corn approved for use as animal feed and explicitly NOT for human consumption that wound up in hundreds of food products such as corn chips, forcing a massive recall? http://www.cnn.com/2000/FOOD/news/11/01/
biotech.corn.recall/.
On its "Climate Change" page, there's a truly hysterical gaffe. Their headline reads "The Envirotruth: THE POLAR ICE CAPS ARE NOT MELTING." But a Washington Post article from March 20, 2002 has this headline "Antarctic Ice Shelf Collapses Into Sea." But that was way back in March. Here's a story from today, May 9, on CNN's front page: "Monster iceberg breaks off Antarctic ice shelf" http://www.cnn.com/2002/TECH/space/05/09/ iceberg.satellite/index.html.
The climate change page also quotes the Exxon and coal industry funded Science and Environmental Policy Project. Take a look: http://www.heatisonline.org/contentserver/
objecthandlers/index.cfm?id=3645&method=full.
And on its "The Truth on PVC and Our Environment" page, NCPPR goes right back to quoting ACSH -- whose funders include the makers of the very plastic that ACSH deems safe.
Ms. Ridenour, care to respond?
A passionately patriotic New England science educator (5/9): I, too, am curious about the intellectual and educational qualifications of Ms. Ridenour and her husdand to "inform" America about the questionable validity of environmental issues and concerns. I resent the implication that we Americans need reality interpretations from self-appointed "experts" who sell their propaganda services to extremely questionable clients (including our present executive branch) with shortsighted, tunnel-visioned, greed-oriented, immediate-gratification fiscal interests in not addressing our environmental oncoming train of nightmares.
If corporate America is so able and willing to voluntarily rectify their environmental offenses, why haven't the majority of them done so? And, yes, those of us who invest in corporate America need to address our own sense of responsibility to the future, rather than to our wallets.
Nothing in thirty years of study has convinced me that we are not in ecological trouble and that our grandchildren will live in a very different world. I am amazed that some people with influence and public forum still attach themselves to tiny, unrelated success stories and report the whole environmental plight as an inflated concern when the compromised health of our planet is so blatantly apparent.
Using all the recently popularized anti-terrorism rhetoric to inspire us is particularly offensive and condescending. I know the difference between a fanatical suicide mission and American political activism for a just cause.
JHC, a repulsed reader (5/8):
It is very interesting to me that for all of Ridenour's claims about where enviros get funding and information, there is nothing about where she gets HER funding. (Nor does the CPPR site, for that matter).
ALso, from reading her bio, it looks like Ridenour has NO DEGREE WHATSOEVER. She "studied economics ... in 1959." Big deal! For someone who purports to rely on credentialed academics, she is certainly not one herself!
Where is the shame? (5/7):
What do people like Ridenour see when they look in the mirror?
RightWingNutTruth (5/6):
Leave it to the Ridenours to take a bad idea a couple of steps too far. I particularly like the terms they use to describe environmentalists and their efforts: "acts of terrorism" and "jihad."
It's that kind of hype that keeps NCPPR hidden in the right wing's dusty basement, especially after 9/11.
I am fascinated by the Ridenour's implications that enviro groups can hold a budgetary candle to the largest corporations in the world. Exxon-Mobil? Monsanto? ADM? Please. I don't think it will pass the laugh test with anyone but their eleven members.
For more on NCPPR, I recommend the website below. And don't forget to do a search for the "experts" cited at envirotruth.org, such as ACSH, Fred Singer or Michael Fumento.
From www.prwatch.org:
"A 1995 memo from Philip Morris staffer Francis Gomez describes NCPPR president Amy Moritz Ridenour as "a willing ally," noting that she had just called his office "offering to use any information we can provide [regarding] the current anti-tobacco onslaught. . . . Tom Borelli and I have both been in touch with Amy on various issues and are awaiting proposals for use of an internet website as an accessible repository of PM-related information.""
(Note: The actual document quoted above is linked at prwatch.org/prwissues/2000Q3/usual.html)
Note that envirotruth.org is sponsored by The National Center for Public Policy Research. Click here for links to the many other conservative groups and websites that they sponsor.
<-- Return To GREENWASH
Didn't find what you are looking for? We've been online since 1996 and have created 1000's of pages. Search below and you may find just what you are looking for.
---
Michael R. Meuser
Data Research & GIS Specialist
MapCruzin.com is an independent firm specializing in GIS project development and data research. We created the first U.S. based interactive toxic chemical facility maps on the internet in 1996 and we have been online ever since. Learn more about us and our services.
Have a project in mind? If you have data, GIS project or custom shapefile needs contact Mike.