Risky Business: the Probability and Consequences of a Nuclear Accident
Fair Use Statement
<-- Return To NukeWatch
Full Report: Click here for executive summary, full reports, and maps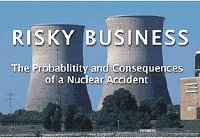 FOR IMMEDIATE RELEASE
NOVEMBER 15, 2001, 9:58 AM
CONTACT: Greenpeace USA
Greenpeace Media Dept. 202-319-2494
Feds Downplayed Threat Posed by U.S. Nuclear Plants Report Reveals Nuclear Plants One of the Biggest Threats to Homeland Security
WASHINGTON - November 15 - Although the U.S. government knew that terrorists were targeting nuclear plants, the industry has not addressed the risk of sabotage and the Nuclear Regulatory Commission has downplayed security risks to the public and key government agencies, according to a Greenpeace report released earlier today. While the United States was warned of possible attacks on nuclear plants as early as the 1990's, the Nuclear Regulatory Commission repeatedly attempted to kill the government's program for testing security.
"The United States cannot be on high alert and then ignore the biggest threat sitting within its own borders." said Jim Riccio, Greenpeace Nuclear Campaign Coordinator. "The only way to secure our nuclear plants from terrorist sabotage or an accident is to immediately implement an emergency phase out plan for all reactors."
In its report entitled Risky Business: the Probability and Consequences of a Nuclear Accident, Greenpeace analyzes each of this country's 103 nuclear reactors and includes detailed maps of the consequences and fall out of the 12 worst reactors including sites in Florida, Illinois, New Jersey, New York, Pennsylvania and Tennessee.
According to the government's own studies, an accident at one of the reactors in the United States would kill or injure tens of thousands of people, costs billions of dollars and render many communities uninhabitable. In addition safety system failures have contributed to the shutdown of several nuclear reactors since the 1990s, including sites in Connecticut, Maine and Michigan.
"Ironically now that the risk posed by nuclear power plants is greater than ever, the Bush/Cheney Energy plan is promoting this dangerous industry" continued Riccio. "Nuclear plants now constitute a national security threat and their continued operation is unacceptable."
Based on Greenpeace's analysis in this report, the international environmental group is calling for the following:
The federal government must phase out nuclear power in the United States, shutting down the reactors that cause the greatest risk first. The Nuclear Regulatory Commission must not extend the licenses of nuclear reactors and rescind those licenses that have already been renewed.
New construction of nuclear reactors in the United States must be prohibited.
Full Report: Click here for executive summary, full reports, and maps
<-- Return To NukeWatch
Didn't find what you are looking for? We've been online since 1996 and have created 1000's of pages. Search below and you may find just what you are looking for.
---
Michael R. Meuser
Data Research & GIS Specialist
MapCruzin.com is an independent firm specializing in GIS project development and data research. We created the first U.S. based interactive toxic chemical facility maps on the internet in 1996 and we have been online ever since. Learn more about us and our services.
Have a project in mind? If you have data, GIS project or custom shapefile needs contact Mike.