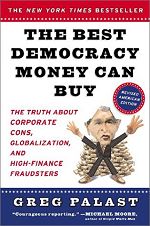 The Best Democracy Money Can Buy: An Investigative Reporter Exposes the Truth about Globalization, Corporate Cons, and High Finance Fraudsters by Greg Palast.
Editorial Reviews
The Best Money Democracy Can Buy, has fast become a cult fave among progressives. -Sarah Ferguson, Village Voice
Greg is one of the last of a dying breed of real investigative reporters. He has more courage than most, and exposes the truth behind so many of the things we NEVER get to hear about. From the stolen election in 2000 to Lobbygate, Greg mixes documents, facts and his own particular brand of humor in one excellent book. A must. -Meria Heller, Meria recommends
Sponsors
Palast is angry, opinionated and armed with a tireless desire to expose the truth. His stories about Bush's election theft and intelligence agency cover-ups -- backed with smoking gun documents, inside sources and candid interviews -- will shock even the most informed reader. -Working Assets, Shopping for Change Selection
Palast, who now reports for the Guardian and Observer in London, as well as the BBC, distinguishes himself from many other advocacy journalists both left and right with his near obsession with documentary evidence--memos, correspondence, e-mail, briefing reports and raw data, much of it stamped confidential--and his painstaking research methods. -Eric Zorn, Chicago Tribune
Sponsors
Five years ago he hired on with London's Guardian and Observer, and with the BBC, for which he's since scored a string of astonishing scoops, many of them never making it into American papers. He sniffed out Enron before it was cool, went undercover exposing the cash-for-access scandal in Tony Blair's cabinet, and collected piles of secret documents from whistleblowers in the World Bank, the IMF and the WTO. -Mike Sula, The Chicago Reader
Dare we call this loose network the new shadow media? And can it do the job the mainstream press could do--if it only would--with Greg Palast's brand of investigative journalism? -Alice Cherbonnier, Baltimore Chronicle
The saying, "comfort the afflicted, afflict the comfortable," sometimes floats around newsrooms. For some, that's bias. For others, it's media's ultimate purpose: To hold power accountable in our society. In a time when Americans have been reminded of the importance of news, the hard questions that Greg Palast raises are worth asking. -Michelle Chihara, Alternet.org
Because he is unimpressed by the worldliness commonplace in journalism, Palast's capacity for outrage is undiminished, and with it his tenacity in unearthing facts. -Mike Marqusee, The Independent
Muckraking has a long, storied tradition, and Palast is evidently proud to be part of it. In this polemical indictment of globalization and political corruption, Palast (a reporter with the BBC and London's Observer) updates the muckraking tradition with some 21st-century targets: the IMF, World Bank and WTO, plus oil treaties, energy concerns and corporate evildoers of all creeds. Some of Palast's reports are downright shocking (if familiar). He shows, for example, how the WTO prevents cheap AIDS drugs from reaching victims in Africa and how World Bank loan policies have crippled the economies of Tanzania and other developing countries. On the home front, he details Exxon's horrific safety record before the Valdez disaster and reveals the price-gouging by Texas power companies during the California energy crisis. In Britain, Palast exposes the "cash for access" policies of the Blair administration, and blasts the legal system for shielding Pfizer Pharmaceuticals from lawsuits by victims who had defective Pfizer valves installed in their hearts. These are all good, important stories. Most of them, however, have been published before. This book is essentially a collection of Palast's newspaper articles, hastily stitched together with some commentary and exposition. As such, it lacks cohesiveness and the depth his subjects deserve. In addition, Palast's bombastic style and one-sided perspective do much to undermine his own credibility. How seriously should readers take a journalist who labels former U.S. Treasury Secretary Larry Summers an "alien" and dismisses Wal-Mart shareholders as "Wal-Martians"? There is much of value here, but readers who want a full-bodied, serious analysis of how globalization is affecting developing countries or how corporate giants pay for political favors should look elsewhere. -Publishers Weekly. Copyright 2002 Cahners Business Information, Inc.
"Palast is astonishing, he gets the real evidence no one else has the guts to dig up." -Vincent Bugliosi, author of "None Dare Call it Treason and "Helter Skelter"
" The last of the great journalists." -C-Span TV
"He is America's journalist hero of the Internet." -Alan Colmes, Fox Television network
"...his book provides a road map for other journalists...Let's hope more DIY muckrakers heed the call." -Village Voice, May 24, 2002
Book Info
(Pluto Press) In this polemical indictment of globalization and political corruption, Palast, (a reporter with the BBC and London's Observer) updates the muckraking tradition with some 21st century targets: the IMF, World Bank and WTO, plus oil treaties, energy concerns and corporate evildoers of all creeds.
Book Description
Award-winning investigative journalist Greg Palast digs deep to unearth the ugly facts that few reporters working anywhere in the world today have the courage or ability to cover. From East Timor to Waco, he has exposed some of the most egregious cases of political corruption, corporate fraud, and financial manipulation in the US and abroad. His uncanny investigative skills as well as his no-holds-barred style have made him an anathema among magnates on four continents and a living legend among his colleagues and his devoted readership.
This exciting new collection brings together some of Palast's most powerful writing of the past decade. Included here are his celebrated "Washington Post" exposÚ on Jeb Bush and Katherine Harris's stealing of the presidential election in Florida, and recent stories on George W. Bush's payoffs to corporate cronies, the payola behind Hillary Clinton, and the faux energy crisis. Also included in this volume are new and previously unpublished material, television transcripts, photographs, and letters.
About the Author
Greg Palast is an investigative journalist whose articles have appeared in the New York Times, the Washington Post, The Nation, Salon.com, and numerous other international newspapers, magazines, and online publications. He writes the "Inside Corporate America" column for The Observer (UK) and has been the subject of several documentaries, an NPR profile, and an upcoming "60 Minutes" feature. Greg won the prestigious Financial Times David Thomas Prize, in 1997 and the Industrial Society Investigative Story of the Year, in 1998, and he was nominated by the UK Press Association as Business Writer of the Year, in 1999. In 2000, Salon.com selected his report on the US elections as politics story of the year.
Reader Reviews
The Best Democracy Money Can Buy, April 8, 2003
Reviewer: A reader from Salem, Or United States
This book will make you wonder why blacks stand to suffer in the south and why you bother to vote at all.
From the Bush brothers to the Koch brothers, this book tells it all. The New World Order is upon us and Greg Palast shows us how we got here, and how the people have been duped by the ultra-rich, ultra-right... oh, and don't bother voting, ES&S and Jr. will do that for you.
Mr Miller
One of the Best Books Money Can Buy, April 3, 2003
Top 500 Reviewer Reviewer: www.stunning-reversal.com from Caracas
"The Best Democracy Money Can Buy" is a must read for anyone-conservative or liberal-who wants to get a different perspective on what is happening in the world than the one that is consistently portrayed by the consolidated corporate media. While the controversial title of this book implies a liberal critique of Western values and institutions, it actually accomplishes something very different. Veteran investigative reporter, Greg Palast publishes some of the news stories that the consolidated corporate media refuses to report. While some may blanch at the targets of Palast's investigations, which include corrupt politicians, crooked companies, world finance organizations, and the consolidated corporate media, few can deny the accuracy and integrity of his reports. Palast is an independent reporter who originally specialized in racketeering investigations. His methods include scrupulously studying corporate documents, and examining the testimony of whistleblowers, many of whom approach him personally out of disgust toward their parent organizations. Palast does not work for a for-profit media company and is not beholden to corporate interests. This makes him one of the few honest voices in public life.
Chief among Palast's exposÚs is the illegal manner in which Florida Secretary of State, Kathleen Harris, and Governor Jeb Bush illegally denied tens of thousands of African American citizens their right to vote in the 2000 presidential election in Florida. Palast details the methods used by Bush and Harris to exclude eligible African American from voting such as manipulating database records to wrongfully categorize thousands of African Americans as felons, or wrongfully claiming that convicted felons who has completed their sentences in other states could not vote in Florida.
Palast also exposes the presidential instructions from the Clinton and Bush (Jr.) administrations that forced dedicated FBI agents to ignore any leads to Saudi terrorists that implicated the Saudi royal family, or people from that region with influential ties to the U.S. government. When it came to investigating Saudi terrorist links, according to Palast, under Clinton investigators were ordered to turn a blind eye, while under bush they were ordered to shut both eyes. While both Clinton and Bush were concerned about alienating a key American ally in the Middle East, Palast demonstrates, that the latter took more excessive steps to suppress the investigation of Saudi terrorists, since many of them had tentative links to his own family business, including those who invested in his first oil company, Arbusto, and those-mainly members of the Bin Laden family-who sat with his father (the first President Bush) on the board of the Carlysle Group. Palast does not believe George W. Bush was complicit in the attacks of September 11th, but he argues that had Clinton and Bush Jr. not interfered in FBI anti-terrorist investigations, the attacks of September 11th might well have been prevented.
The most heartbreaking chapter of this book is the one that details how the IMF, the WTO, and the World Bank work in concert to systematically destroy vulnerable countries. In nation after nation, Palast details the insidious four-step program these organizations employ ostensibly to provide aid to economically beleaguered nations, when in fact the opposite occurs. In the first step, on condition of providing aid, these organizations demand that countries privatize public infrastructure components such gas, electricity, and water. In the second step, powerful banks buy up the infrastructure components and immediately make them "more efficient" by laying off the bulk of their workers. In the third step, the financiers drastically raise the cost basic materials such as water to an unaffordable level. In the third step, riots predictably occur to protest unaffordable costs of basic living material, and in the fourth step, this becomes an excuse for capital flight, which in turn severely devalues these privatized components. The end result, according to Palast is a few banks and companies get richer from being handed a cost free monopoly that they can squeeze and then discard, while countries that once had a sustainable way of life are rendered destitute.
There are, of course some exceptions to this unhappy process. Botswana, for example, simply rejected the IMF altogether. When Venezuelan president Hugo Chavez, did the same thing, according to Palast, he faced an American sponsored coup that was reinforced by false or nonexistent coverage in the American consolidated corporate media.
What might astound most readers is that predatory acts of privatization in the name of progress are not limited to vulnerable third world nations. In fact, corporate and financial moguls have preyed upon Europe and the United States with mixed results. When privatization of public water works sent prices up several hundred percent in Britain, the citizens of that country simply paid their bills. In San Diego California, however, consumers simply refused to pay their drastically marked up electric bills after that utility was deregulated. Instead, they effectively boycotted their own robbery by paying bills at the old rate and organizing a political movement around the process. Unlike Ecuador, where people were shot and beaten for protesting drastic hikes in the price of drinking water, San Diegans successfully opposed the scheme.
The implied conclusion of Palast's research, as noted in the ironic title, is that America and global capitalism are hardly democratic. Their behavior, according to Palast's example is frighteningly similar to that of a loan shark. No matter what they give you, they will always wind up extracting more than you can possibly return. As a result we may be on the verge of experiencing an odd form of historical determinism: the decent from capitalism, back to feudalism.
Be warned that much of that material in this book is depressing, as Palast readily acknowledges. But along side the corruption and abuses chronicled here are the stories of countless individuals who either oppose such practices or who covertly assist those who do so. At the end of the book Palast provides numerous resources for anyone who wants to help oppose predatory institutional practices in their communities or other parts of the world.
Incredible., March 28, 2003
Reviewer: 718 Session (see more about me) from Brooklyn, NY United States
Wow. By the time I got a quarter of the way through this book, I was already shocked and stunned. I'd pretty much had enough of hearing about the 2000 election and planned on skipping the first chapter; but holy cow if it didn't blow my mind. Palast has done more then lift a rock to show you what's underneath; he's move mountains to get to all the things people are trying to hide.
Greg Palast: More Power To You.
I don't care who you are or what your thoughts are about politics, corporations, or taxes: pick this up.
Outstanding, impotant information, March 25, 2003
Reviewer: craig234 from Hayward, CA USA
This is an outstanding book, with a lot of very important information on a wide variety of topics.
I thought I had a reasonable awareness of the 2000 elections, of the Exxon-Valdeez, of globalization, and more, but again and again I found a lot of new information that was quite important to understanding the events.
Any one of a number of topics in the book would not be disappointing as its own book.
He has great sources - for example, a former top official in globalization who was pushed out gives him a lot of information.
I very much recommend this book to anyone who has some curiosity about some information that's not well known, but should be.
The biggest criticism I have: his style is sometimes - and I wonder if this is to make it more mainstream, the same way Rush Limbaugh puts a lot of entertainment with his politics - pretty sarcastic or over-stylized with name-calling and criticism, to the point it doesn't help his credibility, though I continue to see no real problems with his credibility from what I've read.
Highly recommended.
eye opener, March 25, 2003
Reviewer: Matt Shortridge from Takoma Park, MD United States
Packed with detail and concrete evidence. This is an expose of the Florida elections and how they were fixed before the "chad" stuff even began. Jim Crow is alive and well under the hand of the Bush family. Wake up call of the first order. Also a powerful description of the disasterous results of privatization of utilities: ie Enron etc... Connected to the Bush family as well. Clinton doesn't escape Palast's critiques either. Aggressive and passionate.
This book needs to be longer..., March 23, 2003
Reviewer: A reader from Wilmington, NC
... Palast has done his homework and his sources are valid from what i can tell. he is not a "muckraker"; he exsposes truths that are hard to swallow, as stated previously. many people/critics don't want to hear about the political corruption of our country and others, but that does not change the facts. if you want to keep an open mind and want to see "the other side of the coin", then you need to read this book....
Educational for aware students of geopolitics, March 16, 2003
Reviewer: A reader from Pennsylvania USA
Did you ever wonder who owned the World Bank? Did you ever wonder how the Bush stole the election? Did you ever wonder how Enron and "the Power Pirates" fleece the public?
The answers are in this book and it is stunning. As usual, money and power are the goals of these ruthless people.
Must read for an american, March 11, 2003
Reviewer: Donald Padelford from Seattle, WA United States
If you are thinking that this is just another one of those conspiracy books you may want to look again. Greg Palast knows his stuff and has resources to back up many of his claims. The book is an enjoyable read, he provides humor mixed in and he pokes fun at himself. If you think investigative reporting is dead then you should read this book because it exemplifies how a reporting with a little determination is able to discover many eye opening information.
This information is almost impossible to get in America so the book is a welcome edition to my library.
You should read this if you are:
-A liberal or even a conservativelooking for information
-A journalist
-Studying politics or reporting
-In government
-Looking to read a good book that is not sugar coated
Even better in paperback., March 5, 2003
Reviewer: Anthony D Ravenscroft from Santa Fe, NM United States
I received the hardcover in 2002 as a birthday gift. Now that it's out in paper... I have to go & buy it myself! This is not merely a reissue, but a new edition, including updated material on events since publication -- and material that had been deleted because it violated certain United Kingdom libel laws (which is where the book was first printed) (the story is complicated, but those of you who read the original will recall the footnote).
In a different world, I'd consider myself moderate, if not conservative, and Palast an interesting nutball. However, beginning with the elections of 2000, events have proven him correct time & again. I have developed much respect for his research, and can only recommend him to anyone of any political stripe -- yes, for you dittoheads, he doesn't spare the Clintons either.
This is one great book!, March 1, 2003
Reviewer: Kathryn M Auringer from Eagle Lake, MN (I think)
Everyone interested in what really goes on behind closed doors and elsewhere absolutely must read this book! It is great! Very in-depth but yet very reader friendly! Keep the antacids handy though because it might make you sort of nauseous to find out what crooks we are working with!
Connecting the dots..., February 28, 2003
Reviewer: A reader from Rochester, NY
When you've got the feeling that you're continuously "being had" by the angle that "news" are being portrayed (or NOT portrayed) in mass media, this book is for you.
9/11 was for me the peak event that started to make me question the 'status quo' and look for alternative views on current and historical issues. Greg Palast was one of those sources that started to open my eyes. During one of his book signings during a "VoterMarch" event, he actually showed the audience the database that was used to scrub tens of thousands of black (mostly democratic) Florida voters from the voting lists. Lots of other goodies in the book that will shock you and will leave you thirsting for more.
...
We've all got to ASK THE RIGHT QUESTIONS - and this book will greatly empower you to do so.
Thank You Greg!, February 26, 2003
Reviewer: drbillthomson (see more about me) from Prescott, NY
Understand upfront that you will not enjoy reading this book. But you owe it to yourself to do so anyways. Greg Palast skewers the American Press, providing details of their unwillingness to publish controversial, but critcally important, information. And everything he says is documented with facts, facts, and more facts. In this new edition, information is provided to prove that over 50,000 eligible voters were blocked from voting in Florida, and the proof was provided by none other than faxed information from Katherine Harris! Details of the Bush family dealing with the Saudis is equally disquieting.
Greg Palast now publishes his stories exclusively in Europe, since the US media is unwilling to publish stories they consider too controversial. This book will shake your faith in the media, and open your eyes to stories you'll wish you had seen when they were originally published.
Hidden Risks to Corporate Value, February 15, 2003
Reviewer: A reader from London United Kingdom
This is an important, deep, and interesting book. I especially liked the expose on fraudulent practices. Some of the new products like total return swaps, off shore vehicles, and derivatives have contributed to the ability to create the appearance of profits without the reality. People with a finance backgound will enjoy "Credit Derivatives" by Tavakoli, which explains how all kinds of risk can be taken and it is all off-balance sheet.
I don't know about you, but I hate reading long reviews., January 26, 2003
Reviewer: A reader from OH
Some selections are weaker than others. There are enough strong ones to make you sit up and take notice. This is an important book.
Be Very Afraid, October 3, 2002
Reviewer: anotherportal3 from Spokane, WA United States
Remember all those great things you were taught to believe about America when you went to school? Well, until you're prepared to have your illusions blown away, stay away from this book.
I was not one to be blinded by propaganda and lies, or at least so I thought. I thought the Supreme Court was a bastion of rationality and reason, an impartial body of law. I thought that we had a representative democracy. Well, only the events of sElection 2000 could've prepared my mind to read this book. And even still, the documented facts and evidence that Greg Palast presents in "Best Democracy Money Can Buy" kept me up at night.
This book is not about left or right, conservative or liberal. It's about who really runs things on this planet, about who has the power and who does not. In chapter after chapter, media myth after government lie is laid bare before the reader, and it's a wonder that Mr. Palast is still among the living. For anyone who wants true freedom, truly free markets, and a safe world for his or her children, you better read this book. Or turn on the TV and stay comfortably sedated.
The beginning of the book is a bit clunky, but once Palast gets in his groove - look out! The scales will fall from your eyes.
stars You want to be informed look elsewhere., September 22, 2002
Reviewer: Eldon Krosch Jr. from Duluth Mn
This has to be about the worst book I have ever read on a political subject. The Author is so one sided and creative in his accusations that you would not only have to be on the extreme side of the Green Party but in need of a biased brain washing to further reinforce your ideals. If your conservative I suggest reading this book if you want to be ...off and motivated into action. If your liberal I would suggest skipping it and reading something to inform you better on issues or find something that is ultra conservative to...you off and get you motivated into action. If you are looking for something to inform you better on the issues skip this book and pick up something with a few more facts and a balanced approach. Knowing the rants of one side without the facts will do you no good.
The Last Reporter, September 14, 2002
Reviewer: A reader from Brooklyn, NY USA
Greg Palast won't shut up. He won't shut up about how Jeb Bush and his lieutenant stole the election from Gore through a vicious manipulation of the voter rolls. He won't shut up about how cheaply Tony Blair's government can be bought. He won't shut up about how mainstream journalism is in thrall to the prevailing free market corporate ethos. He won't shut up about the Big Lie perpertreated by Milton Friedman and his gang that markets promote democracy, that markets are engines of viture. He shows with unshakable research that instead that instead of breeding virture and freedom, markets breed corruption, inequality, and through a politically moribund media, moral complacency.
The opening chapter on the high-tech mechanism that the Bush camp in Florida put in place before the elections in 2000 to expunge African-Americans from voter rolls is worth the price of the book. Palast tells us how Jeb's gang reinstated Jim Crow laws in the New South by hiring a database firm with strong ties to the Texas Republican party to compare lists of voters with lists of felons and purge names from the rolls that "matched" in only the most tenous ways. Roughly 60,000 voters, most of them Black (because the prison archipelago in the United States imprisons mostly Blacks) were stripped of the fundamental right of voting. Why take blacks off the rolls? Because, as Palast notes, better than 9 in 10 Blacks vote for Democrats. He personalizes these facts in the person of a Black minister who had met and broken bread with Jeb Bush on numerous occasions. The minister showed up to vote at his local precinct where he had been voting for over 20 years and discovered that his name had vanished from rolls. Palast goes into stunning detail on how the scam was perpertrated and shows conclusively that the Bush camp stacked the deck well before the election. Further, he proves even under these circumstances that Gore actually won in Florida.
Palast reported this high-tech lynching of Black voters rights in the Guardian (funded by public monies) before the actual election. No mainstream American media picked up on the story. When the Washington Post finally reported it, they did so months later under the cover of the Federal Election Commisions investigation into the manipulation of the election. Slate, to its credit, picked up on the story and helped with hard work of investigating the chicanery in Florida in the immediate aftermath of the elections, but as Palast notes, Slate is not the New York Times, or the Washington Post. He shows in lurid detail how the Republican power structure, including of course, the Supreme Court, swung into action under the guidance of James Baker and ended the counting on the basis of the flimsiest of legalistic doctrine. He depicts the almost comical ineptitude of a Democratic Party as it tries to take on the Repulicans. While the Democrats play by the Marquess of Queensbury rules, the Republicans play to win. Anti-nausea medicine is strongly recommended for this chapter.
Palast as a young activist attended lectures by Milton Friedman at the University of Chicago to better understand this radical restatement of Adam Smith's 18th century economic laws. In this regard Palast undoubtedly agrees with media historian Robert McChesney's analysis of Milton Friedman's faulty understand of democracy: "As Milton Friedman puts it in his seminal "Capitalism and Freedom," because profit-making is the essence of democracy (!), any government that puruses antimarket policies is being anit-democratic, no matter how much informed popular support they might enjoy. [Under this logic] Therefore it is best to restrict governments to the job of protecting private property and enforcing contracts, and to limit polictical debate to minor issues."
Palast is particularly angry at his peers in the media. At the same time he understands that they have very little freedom to report on anything that would pose a challenge to the values of the marketplace. He notes that it is only because the Guardian and the BBC is publicly funded can he explore venality and corruption in government and business. And by the way, he takes on the left as well as the right. His chapter on Tony Blair's government and how cheaply it can be bought demonstrates that the influence of corporate money has become so pervasive that even so-called Liberals must feed at the trough in order to fund their expensive media campaigns. The Clintonites hated him, too.
But Palast's work is invigorating, not demobilizing. The news he reports doesn't invite fatalistic acceptance of a corrupt system, rather it invites activism. This is probably why he is feared on both sides of the aisle. Someday, he just might get people mad enough to do more than just stand up and say I'm not going to take it anymore, but to take the next step and take back their governments from the cynical oligarchy which equates speech with money, which believes that suffrage should be defined as one dollar, one vote instead of one person, one vote.
Where's the gratuitous liberal bashing?, September 7, 2002
Reviewer: thrashbluegrass from Washington, DC
Seeing as most other books written by leftist/progessive authors usually receive scathing reviews by conservatives as being "socialist," "communist," or "anti-American," why hasn't this been the target?
Perhaps because they're afraid to face the truth contained within?
Intensely difficult to get through..., September 3, 2002
Reviewer: ianarmstrong from Laguna Niguel, CA USA
... Not because of the subject, grammer, or writing style -- but because every page absolutely jolts you with one disturbing fact or revelation after another. It's one thing for this to occur in a Stephen King novel -- you're reassured to know that it's a work of fiction.
This book is not a work of fiction. With each page, I felt the rug being pulled from under my firmly held notions of "the truth", and our supposedly free and fair access to information in this country. Whether from our various news media, or our elected government, which is supposed to be accountable to us.
As hard as this book was to read, I feel better for the knowledge. But why does it take an American investigative journalist, living in virtual exile in the UK, to tell us these things?
If you're happy in your ignorance, I don't recommend you buy this book. If you think inconvenient truths, injustice, and atrocities should by shut up in an attic like a crazy old uncle -- stick with popular fiction. This book can change you, I promise. It changed me.
Damn you, and thank you Greg Palast.
The Best Democracy Money Can Buy, September 3, 2002
Reviewer: A reader from Atlanta, GA United States
A collection of the no-holds-barred journalist's best pieces from the past decade. National author tour, advertising campaign.
Listening to industry??, September 3, 2002
Top 500 Reviewer Reviewer: stephen a. haines from Ottawa, Ontario Canada
Years ago, we watched, through blurred vison, Peter Sellers in Doctor Strangelove. The blurring was either from the hilarity or the grief the film inspired. The dialogue could double us over with mirth, while the story directly confronted us with our mortality and that control of our fate resided with such devious leaders. Greg Palast evokes an identical response. He chronicles the stolen election of the world's most powerful leader, how the International Monetary Fund and World Band exercise immense control over national destinies, and how the rich increase their influence and income at our expence. He keeps us charmed with his wit, while reminding us of our near-helplessness in the face of mighty, but hidden, forces.
Every essay in this collection jolts the reader. It's like turning over a rock or breaking open a rotten log - the ugly grubs exposed bring revulsion and dismay. How does life produce such distasteful creatures? Palast exposes the putrid path of the Bush dynasty, the betrayal of the British voters by "New Labour" and the intrigues of international corporations in Asia, Africa, Latin America. How, he asks, do we allow these people to gain their ascendancy over our lives? One answer lies within our favourite ideal community - the small, rural, American town. There, he notes, avaricious investors have overturned local attempts to retain their values to instil the symbols of corporate enterprise - McArches, Wal-malls and chiming tacos. These blights on our landscape are made welcome - "they boost the economy"!
Palast's concluding set of essays, how the Blair government sold out the British populace would bring tears to the hardiest. He shows how corporate executives and their agents have become an "arm of government" in policy making and implemetation. The arm has a long reach, extending from New York banks and government offices in Washington. Centre to these revealing articles is the overthrow of a tax on shopping mall car parks. The deal, engineered by a major corporation was part of an overall plan to "head the [Labour] government in a different direction." In other words, reverse the policies that were the foundation of Labour's successes at the polls. Blair's real foundation is "America's enterpreneurialism," the drive for global markets which "projects corporate powers onto one tiny, cold island" welcomed by its "always-grinning native chief." Blair prides himself on "listening to industry" before formulating policy.
Palast has few peers as an investigative journalist. Of necessity, he must shield his sources, which keeps us mildly suspicious. Are things really THAT bad? Unfortunately, as time passes, his assertions are substantiated, restoring our faith in his reporting. As an investigative journalist, the solutions for many of the social ills he reports are lacking here. And so they should - the solutions lie with his readers. This book isn't a prescription for what besets us, but a learning tool. He notes cases of how success against corporate indifference has been achieved. Find out how to tap in to $1.04 TRILLION available to those without adequate local banking services. Read this book to understand what is happening around you and take the first steps to implement the cure. It's your choice.
A lesson in British grammar, August 11, 2002
Reviewer: R. Stanton from New York, NY United States
Originally posted by Susan Nunes (3rd customer review listed): "There are numerous spelling and punctuation errors, for example. Was the proofreader/editor (assuming there was one) aware that the title "Dr." has a period after the "r"? Sometimes the commas and periods are inside the quotation marks and sometimes they are outside the quotation marks."
1) "Dr" and "Mr" are by convention not punctuated with a period in British English, though the American convention of doing so has crept in. The reason is that they are not abbreviations (like "Pres.") but contractions. 2) In British English, the punctuation marks go inside the quotation marks ONLY IF THEY ARE PART OF THE QUOTATION (i.e., if they appeared in the original text being quoted). If you think about it, this is in fact a more logical--and responsible--convention than the American practice of always putting commas and periods inside the quotation marks, even if they did not appear in the original text.
I am guessing that, since Palast had to move to England to find an audience and employer for his brand of investigative journalism, he has also adopted English punctuation--which, of course, would be perpetuated rather than "corrected" [Americanized] by an English editor.
Sincere But Sloppy, July 24, 2002
Reviewer: Susan Nunes from Reno, NV United States
Greg Palast is a well-known American-born reporter who has spent most of his career reporting for the British media. He is best-known among political watchers as the reporter who broke the story on the purging of the voter rolls in Florida, helping to make the presidential election there in 2000 much closer than it should have been. This story is covered in the first section, titled "Jim Crow in Cyberspace." This section is perhaps the strongest in the book and the one readers will most likely be interested in.
There are other sections in this book of interest to readers, including chapters on globalization and an especially good section about televangelist CEO Pat Robertson's diamond interests.
Unlike other reviewers, I cannot give this book a higher rating. The main problem with it is the sloppiness on the part of the editors if there were any at all on this book. There are numerous spelling and punctuation errors, for example. Was the proofreader/editor (assuming there was one) aware that the title "Dr." has a period after the "r"? Sometimes the commas and periods are inside the quotation marks and sometimes they are outside the quotation marks. Now this may seem trivial to some readers, but I found it seriously hampers any reading of the book. It detracts from Palast's message. I know the book is published by an obscure publisher who apparently couldn't afford to have a professional editor go over the manuscript. But I feel a writer of Palast's reputation should at least care that his book presents a professional appearance. After all, if a writer wants to be taken seriously as a professional, he or she must present their work in a professional manner or see to it his or her editor does.
A Must read for Developing Countries, July 8, 2002
Reviewer: xirsi from Ohio
There are many dictators and so called Presidents of developing countries who have naively embraced the disastrous Nation destroying policies of the heartless IMF and World Bank.
This book exposes the IMF and World Bank agendas: To benefit from the death and suffering of others. Why else would the IMF and World Bank prescribe destructive policies that guarantees the rapid downward spiral of a country's already reeling economy.
How would "selling" (Privatising) a local company to a giant powerful company from overseas help the local economy when the greedy giant would most definetely hike the prices to astronomical scales?
The book exposes the 4 steps to instant death and destruction of a country evangelized by the IMF and World bank. The few counties that have rejected the policies and "loans" of the IMF and World Bank are successful and rapidly developing.
Sadly the same cannot be said for those who take the lethal prescription of the IMF and World Bank naively hoping that the bitter pill would cure their mismanaged economies so that they can rob it all over again.
No patient of the IMF and World Bank has ever left the operating table alive! That is some serious record. Any decent Doctor with such a record would get out of the healing process and be avoided at all costs.
For some inexplicable reason third world dictators always look to the IMF and World Bank to further erode and rob their country of what little is left.
An analogy may help in this regard: Say you call upon your local banker for a loan and the banker walks into your house and ask you to sell your bedroom and kitchen and refrigerator to the rich guy in the next block. The rich guy would now charge your family members to use the restroom, stock the refrigerator and sleep in their own beds. How would this setup help your family move on to better themselves. How long before the family runs out of money to use the bathroom or pay for a place to sleep?
This is a great book that should be read by all especially the greedy third world dictators who look to the Western world to "rescue" their mismanaged and corrupt economies and end up to be the poorest nations on earth. Never mind that the countries have enough natural resources and fertile land to feed not only themselves but a sizable portion of their neighbors.
Didn't find what you are looking for? We've been online since 1996 and have created 1000's of pages. Search below and you may find just what you are looking for.
Michael R. Meuser
Data Research & GIS Specialist
MapCruzin.com is an independent firm specializing in GIS project development and data research. We created the first U.S. based interactive toxic chemical facility maps on the internet in 1996 and we have been online ever since. Learn more about us and our services.
Have a project in mind? If you have data, GIS project or custom shapefile needs contact Mike.