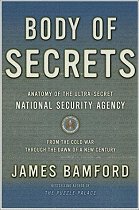 Body of Secrets: Anatomy of the Ultra-Secret National Security Agency from the Cold War Through the Dawn of a New Century by James Bamford.
Editorial Reviews
Amazon.com
Everybody knows about the CIA--the cloak-and-dagger branch of the U.S. government. Many fewer are familiar with the National Security Agency, even though it has been more important to American espionage in recent years than its better-known counterpart. The NSA is responsible for much of the intelligence gathering done via technology such as satellites and the Internet. Its home office in Maryland "contains what is probably the largest body of secrets ever created."
Sponsors
Little was known about the agency's confidential culture until veteran journalist James Bamford blew the lid off in 1982 with his bestseller The Puzzle Palace. Still, much remained in the shadows. In Body of Secrets, Bamford throws much more light on his subject--and he reveals loads of shocking information. The story of the U-2 crisis in 1960 is well known, including President Eisenhower's decision to tell a fib to the public in order to protect a national-security secret. Bamford takes the story a disturbing step forward, showing how Eisenhower "went so far as to order his Cabinet officers to hide his involvement in the scandal even while under oath. At least one Cabinet member directly lied to the committee, a fact known to Eisenhower." Even more worrisome is another revelation, from the Kennedy years: "The Joint Chiefs of Staff drew up and approved plans for what may be the most corrupt plan ever created by the U.S. government. In the name of anticommunism, they proposed launching a secret and bloody war of terrorism against their own country in order to trick the American public into supporting an ill-conceived war they intended to launch against Cuba."
Body of Secrets is an incredible piece of journalism, and it paints a deeply troubling portrait of an agency about which the public knows next to nothing. Fans of The Sword and the Shield will want to read it, as will anybody who is intrigued by conspiracies and real-life spy stories. --John J. Miller
Sponsors
From Publishers Weekly
The National Security Agency (NSA), writes Bamford, has made the United States an "eavesdropping superpower," capable of capturing, deciphering and analyzing "signal intelligence"communicationsin whatever form it may exist and from whatever nation it may be transmitted. Yet with a budget ($4 billion a year) and staff (numbering in the tens of thousands) that dwarf its more famous cousin, the CIA, and with a headquarters, known as "Crypto City," that is its own self-contained community, little is known of NSA among the public and, more troublingly, even within other parts of government. Uncovering the secrets of NSA, its history and operations, has become Bamford's life's work, first begun in his now classic The Puzzle Palace (1982) and continued in this significantly revised and expanded present volume. With remarkable access to highly sensitive documents and information, Bamford takes the reader from the beginnings of NSA during the early cold war, through its roles in such watershed events as the Cuban Missile Crisis and the Vietnam War, to the amazingly sophisticated developments in information technology taking place within NSA today. What Bamford discovers is at times surprising, often quite troubling but always fascinating. In his conclusion, he is at once awed and deeply disturbed by what NSA can now do: ever more sophisticated surveillance techniques can mean ever greater assaults on the basic right of individual privacy. In a computer system that can store five trillion pages of text, anyone and everyone can be monitored. Writing with a flair and clarity that rivals those of the best spy novelists, Bamford has created a masterpiece of investigative reporting. (On-sale date: Apr. 24)Forecast: Bamford will be doing national media, including NBC's Today show and NPR's Fresh Air. This is the stuff spy thrillers are made from: The Puzzle Palace was a bestseller, and this will be, too. Copyright 2001 Cahners Business Information, Inc.
Book Description
A no-holds-barred examination of the National Security Agency packed with startling secrets about its past, newsbreaking revelations about its present-day activities, and chilling predictions about its future powers and reach.
The NSA is the largest, most secretive, and most powerful intelligence agency in the world. With a staff of thirty-eight thousand people, it dwarfs the CIA in budget, manpower, and influence. Recent headlines have linked it to the economic espionage throughout Europe and to the ongoing hunt for the terrorist leader Osama bin Laden.
James Bamford first penetrated the wall of silence surrounding the NSA in 1982, with the much-talked-about bestseller The Puzzle Palace. In Body of Secrets, he offers shocking new details about the inner workings of the agency, gathered through unique access to thousands of internal documents and interviews with current and former officials. Unveiling extremely sensitive information for the first time, Bamford exposes the role the NSA played in numerous Soviet bloc Cold War conflicts and discusses its undercover involvement in the Vietnam War. His investigation into the NSA's technological advances during the last fifteen years brings to light a network of global surveillance ranging from on-line listening posts to sophisticated intelligence-gathering satellites. In a hard-hitting conclusion, he warns that the NSA is a two-edged sword. While its worldwide eavesdropping activities offer the potential for tracking down terrorists and uncovering nuclear weapons deals, it also has the capability to listen on global personal communications.
Like the breakout bestsellers on Cold War espionage The Sword and the Shield and Blind Man's Buff, Body of Secrets is must-reading for people fascinated by the intrigues of a shadowy underworld. As one of the most important works of investigative journalism to come out of Washington in years, it should be read by everyone concerned about the inevitability of Orwell's Big Brother.
From the Back Cover
Praise for The Puzzle Palace:
"There have been glimpses inside the NSA before, but until now no one has published a comprehensive and detailed report on the agency Mr. Bamford has emerged with everything except the combination to the director's safe." -- New York Times Book Review
About the Author
James Bamford is the author of The Puzzle Palace, a national bestseller when it was first published and now regarded as a classic. He was until recently Washington Investigative Producer for ABC's World News Tonight with Peter Jennings and has written investigative cover stories for the New York Times Magazine, the Washington Post Magazine, and the Los Angeles Times Magazine.
Reader Reviews:
James Bamford--NSA Cheerleader or Detractor?, November 13, 2001, Reviewer: Kenneth R. Kahn (see more about me) from Baltimore, MD United States
I have not read "Puzzle Palace" James Bamford's first and much acclaimed work on the inner workings of the National Security Agency (NSA) so I come to his work with an open mind and hoping for an expose of this most undemocratic of federal super-secret agencies. I was hoping for what I might write--a book utilizing and publishing a plethora of primary source documents showing NSA for what it is--an anomaly in a supposedly democratic society.
Based on pre-publication publicity exposing a crack-brained plot by the Joint Chiefs of Staff in 1962 to create false pretexts for an invasion of Cuba--including fake terrorist attacks on Washington--whetted my appetite.
Yet, when it came down to it, I could not tell whether Bamford was a cheerleader or detractor for NSA. In some places, he exposed their participatory malfeasance as a voyeur and participant in many cold war events. In other places, he criticizes them.
Bamford writes with a certain aura of respect for the work done by NSA and the deprivations endured by employees to fulfill the covert espionage missions assigned to them. He states that many important discoveries of activities by Amerika's enemies would never have been uncovered had it not been for the work of NSA.
Any criticism of the agency is, I think, nothing more than a mild rebuke. The tone of the book does not indicate that he questions their place in a supposedly democratic society, the need to spy on friend and foe. Like many in the corporate media, he fails to question the assumptions underlying American foreign policy. I certainly would have begun this ponderous tome by questioning the need for, or basis for, the existence of NSA. He does cover briefly the history of Truman signing the National Security Act of 1947 which began both NSA and the CIA. One has to wonder whether his failure to question their existence and to provide copies of interesting primary source documents was done at the behest of his publishers or because of fear of alientating his NSA sources.
I do recommend reading this book but am disappointed at the lack of outrage at the conduct of NSA and its consequences to American foreign policy and the perception of Americans worldwide.
A good read, October 21, 2001 Reviewer: Mark Mascolino (see more about me) from Cincinnati, OH United States
This book is sort of like Bamford's Inside the Puzzle Palace. Some of the events are covered in both books (that is why i give it 4 stars instead of 5). All in all, its a good read and the slow parts are kept to a minimum.
Read this review! (The NSA probably has.), October 16, 2001, Reviewer: Andrew S. Rogers (see more about me) from Seattle, Washington USA
With the great attention being paid now to America's intelligence agencies and their alleged 'failures,' James Bamford's breakthrough 'Body of Secrets' has become a more important, interesting, and rewarding read than ever.
'Body of Secrets' is a fascinating mix of technical history, behind-the-scenes revelations, and action-packed storytelling. Much ink, and many more bytes, have been spilled about Bamford's description of the Israeli attack on the USS Liberty, but his depictions of Cold War confrontations, or 'sigint' (signals intelligence) work on the front lines of Viet Nam, are equally vivid. As with Robert Stinnett's 'Day of Deceit,' people may disagree about the conclusions drawn, but it's much harder to dispute the accounts and impressions of those who witnessed the events first-hand.
In nearly every chapter, Bamford uncovers new facts -- or draws old facts out of the shadows. A friend who recently commented that America 'won the Cold War without losing a life' would no doubt be shocked by Bamford's counting the cost, in blood and treasure, of America's secret wars. Others may be amazed or appalled by NSA's ability, amply explained in this book, to snoop on communications seemingly anywhere in the world -- including information, like this review, sent through cyberspace. (The recent revelation that the US government listened in on Osama bin Laden's cell phone conversations shortly before the 9-11 attacks came as no surprise to anyone who has read this book.)
NSA may or may not be America's most super-secret spy agency any more (the National Reconnaissance Office competes for that title too, and who knows how many others we haven't even heard of?), but it is clearly still a huge player in US defense and foreign policy circles. It also receives boatloads of tax money. All that makes Bamford's exhaustive discussion of NSA's history and current activities a must-read for any American concerned about the world and our nation's role in it.
Good Book Turned Okay, September 27, 2001, Reviewer: A reader from Maryland United States
Thank you to James Bamford for taking an interest in the NSA, which is seldom talked about, aka "No Such Agency". I found the book a good read in most places. However, the book gets banal with lengthy details of step-by-step attacks and lots of equipment descriptions. Honestly, the book is 600 pages (100 pages of biblography) the book should have been around 300 pages.
Also, I think Bamford does an excellent job with the titles of the chapters, relating to the human body (brain, blood, etc). That certailny gives an over-view as to what the chapter will contain.
Overall, I think it's a good book and worth it, if you skim over the less-intersting pages. Now I feel like i'm on the ground walking and the NSA is in a tall buidling, watching us like ants.
What Citizens Should Know About Intelligence Gathering, September 23, 2001, Reviewer: Pedro Salas (see more about me) from Hixson, TN United States
This book does an excellent job in explaining the role the National Security Agency in our government structure. The terrorist attacks to the World Trade Center and the Pentagon highlight the necessity of intelligence for the protection of our modern world. This book helped me understand how our tax dollars get invested.
What Citizens Should Know About Intelligence Gathering, September 23, 2001, Reviewer: Pedro Salas (see more about me) from Hixson, TN United States
This book does an excellent job in explaining the role the National Security Agency in our government structure. The terrorist attacks to the World Trade Center and the Pentagon highlight the necessity of intelligence for the protection of our modern world. This book helped me understand how our tax dollars get invested.
Real Time Revelations, September 18, 2001, Reviewer: Carter Rila (see more about me) from Gaithersburg, MD USA
I am not going to repeat all the arguments given above on whether or not the Lemnitzer group was right or wrong or the other revelations in this book. I have my opinions but having spent my adult hood in the period since 1960 can remember the Red Scare when I was a child in the forties and fifties, I can see on both sides.
What I feel comfortable with is the increasing realization at Fort Meade that they must explain to the US taxpayers and the world just what they are up to and whether or not they should be doing it now that the Cold War at least is over and we have a new series of international problems. Can they help or not? And without violating the Constitution and the general public's sense of fairness. All this is addressed and is well set out. Finally there is alot of information on the complex and the field units and some of the past triumphs and failures which is of interest. Together with the author's previous book Puzzle Palace, this is about as much as we will get on our national SIGINT until 40 years on when today's activities can be revealed in detail.
NSA, September 18, 2001, Reviewer: A reader from United Kingdom
Very Interesting and informative but like other reviewers have said- towards the end it becomes monotanus and Bamford goes into way to much detail. But I do recomend the first 9 or so chapters when Bamford talks about WW1, WW2 and Vietnam ect.
Body of Secrets in Need of a Good Editor, September 8, 2001, Reviewer: Michael J. Muller (see more about me) from Queensbury, New York USA
The author presents many little known secrets of the inner workings of espionage, code-breaking, scheming and such in and around the National Security Agency. It is very informative and enlightening but the book could have used a good editing to tighten up and streamline the author's tendency to digress into minutae.
A Hard Read, September 6, 2001, Reviewer: Robert H. from Pebble Beach, CA USA
There is no question the author did a hugh amount of research. I enjoyed the first quarter of the book. After that it got tedious with too much information, much of it unimportant except to experts in the field, and a seemingly slanted view that our government and the people in codebreaking committed wrongdoing. Too many of his interviews were with people who had an axe to grind. I stopped reading it with a quarter of the book remaining.
Very well documented piece of investigative journalism, May 6, 2001, Reviewer: Kevin Brady from Austin, Texas
I just finished the book this evening. First of all, Bamford appears to have thoroughly researched and documented this book, quoting from formerly classified sources, newspapers such as The New York Times, and from those who work or have worked within the intelligence community. Bramford has been investigating the NSA for 20-odd years now, and his persistence and trustworthiness as a journalist and writer has evidently paid off by earning him the respect and trust of NSA employees and higher-ups, both previous and current. Though I found the book dry on ocassion--more of the personal and less of the technical would have made the book a more exhilerating "read"--I would recommend a look at it to anyone interested in government policy and history, for this book, in many ways, reveals the veiled inner workings and limitations of those deep in power.
Some of the previous comments here have focused on the USS Liberty revelations. In fact, Bamford has said little that hasn't already appeared in print and substantiated by the Liberty crew themselves repeatedly. What this book did reveal for the first time was the fact that NSA had made recordings of Israeli jet pilots during the bombing during a surveillance mission by a Navy EC-121 ferret, a recording that demonstrates Israeli awareness of a U.S. flag flying on the ship in clear view. (Israel, which admitted to carrying out the bombing and paid reparations to family members of the deceased crew, attributed the incident to mistaken identification and has repeatedly claimed that the pilots never saw the Liberty's American flag.) According to crew members, Israeli jets flew over the ship at least a dozen times before initiating their attack, giving them plenty of opportunities to see the flag.
To hear the same tired attacks directd at Bamford, accusing him of being a nazi and an anti-semite, are not surprising to anyone in the know. Unfortunately, many who register complaints against Israel are often pegged as "anti-semitic." Such criticism is a typical reactionary ploy: Attack and smear the messenger in order to avoid addressing the message, thereby discrediting both. For those who have complaints about Bamford's book, I suggest that you demonstrate the convictions of your beliefs by refuting his book with evidence and facts to the contrary, instead of resorting to emotional hyperbole. If you feel he is an anti-semite, show us. I tend to give him credence since he has documented his book with ample evidence. I cannot lend the same credence to you for simply stating that your grandparents survived the Holocaust. Besides, there are over 600 pages in this book and only a small portion of it is addressed to the Liberty attack. Please read the rest, then say something intelligent and thoughtful. You learned how to write--as evidenced by your postings here--now please learn how to read.
Allegations of High Crimes, Murder, and Fatal Negligence, September 2, 2001, Reviewer: Donald Wayne Mitchell (see more about me) from a management consultant in Boston
A book like Body of Secrets is impossible to rate accurately this soon after publication. If its claims were all true, it would deserve beyond five stars. If its claims were all untrue, it would not deserve one star. With so many sensational claims, surely the truth lies somewhere in between. But where? On the one hand, I don't know. On the other hand, I sure would like to know. These allegations are so serious that they demand verification or refutation by objective parties. To properly reflect my ignorance, I have split the difference and given the book three stars. The only thing I know for sure is that this is the wrong rating for the book. I apologize to the author and to readers for my inability to do better.
From the book's title, a reader might imagine that the subject is a history of the National Security Agency (often referred to as "No Such Agency"). This organization provides the bulk of signal and electronic intelligence gathering and code breaking for the United States.
I was attracted to the book because I love reading about how codes are broken and countermeasures developed. Well, there's almost nothing about the details of either subject here. But the book got off to a fast start for me by identifying that the United States had a commanding edge in code breaking between 1945 and 1948 due to piggy backing on the expertise of captured Germans who had broken the main Soviet codes and those of many other countries. In many other places in the book, there are excellent descriptions of how technology was used to capture electronic information and the locations of defensive bases in the former Soviet Union. I was especially fascinated by how signals could be captured from stray reflections from the moon, and other far away locations could sometimes listen in very effectively to what was occurring thousands of miles away.
The book primarily addresses the major international relations issues the United States has dealt with since 1945, with as much of a focus as is possible on whatever connection the NSA had to the event. Here's where the reader's attention is attracted. I could outline over 30 places where significant issues were raised that I had never heard about before.
Let me list just a few where high-level U.S. policy decisions were involved.
(1) General MacArthur was alerted by the NSA that Communist Chinese intervention in Korea was almost certain if he proceeded north. General MacArthur told President Truman that this was highly unlikely. If true, this meant that much of the dying and wounding in Korea on all sides was unnecessary.
(2) President Eisenhower ordered his cabinet to lie under oath about his involvement in the U-2 overflights over the Soviet Union.
(3) The Joint Chiefs failed to let President Kennedy know that the CIA's Bay of Pigs invasion plan had no chance so they would have the opportunity to propose a U.S. invasion of Cuba.
(4) The Joint Chiefs recommended to President Kennedy that an incident be staged in the United States involving murders of U.S. citizens to provide an excuse to invade Cuba.
(5) President Johnson refused to hold an inquiry into the Israeli destruction of the electronic surveillance ship, USS Liberty, during the 1967 Arab-Israeli War as part of a cover-up of Israeli atrocities in the Sinai. Please note that a number of reviewers have challenged the accuracy of this allegation.
(6) Putting another electronic surveillance ship, USS Pueblo, into Korean waters represented an unacceptable potential danger to U.S. intelligence secrets and the crew of the Pueblo.
(7) During the Vietnam War, U.S. forces routinely transmitted signals in clear or using homemade codes that were easily broken. This meant that most offensive and defensive plans were compromised, and often turned into ambushes. Despite warnings by the NSA, senior military officials continued to ignore the need to enforce basic signal security precautions. Once again, this suggests that hundreds of thousands may have died or been wounded unnecessarily as a result.
The book has some obvious weaknesses. First, where there is a lot of information available, the reader also gets a lot of information. For example, the attacks on the USS Liberty and USS Pueblo are quite long sections. Also, Mr. Bamford seems to have picked up a lot of random statistics on Crypto City, and I think they are all in this book. I didn't really need to know that there's a Taco Bell there. Second, with allegations as fundamental as these, any author would assume that challenges would follow. I found that the arguments were usually presented without much of an attempt to balance the likely counter-arguments. Third, how can you wri Didn't find what you are looking for? We've been online since 1996 and have created 1000's of pages. Search below and you may find just what you are looking for.
---
Michael R. Meuser
Data Research & GIS Specialist
MapCruzin.com is an independent firm specializing in GIS project development and data research. We created the first U.S. based interactive toxic chemical facility maps on the internet in 1996 and we have been online ever since. Learn more about us and our services.
Have a project in mind? If you have data, GIS project or custom shapefile needs contact Mike.