REVIEW - Into the Buzzsaw: Leading Journalists Expose the Myth of a Free Press by Kristina Borjesson (Editor), Gore Vidal (Foreword)
Fair Use Statement
About Buying Books Online
BUY ONLINE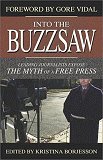 Into the Buzzsaw: Leading Journalists Expose the Myth of a Free Press by Kristina Borjesson (Editor), Gore Vidal (Foreword)
Editorial Reviews
From Publishers Weekly
In this uneven yet illuminating anthology, editor Borjesson succinctly explains the journalist's predicament: "The buzzsaw is what can rip through you when you try to investigate or expose anything this country's large institutions be they corporate or government want kept under wraps." Indeed, if members of the general public read this book, or even portions of it, they will be appalled. To the uninitiated reader, the accounts of what goes on behind the scenes at major news organizations are shocking. Executives regularly squelch legitimate stories that will lower their ratings, upset their advertisers or miff their investors. Unfortunately, this dirt is unlikely to reach unknowing news audiences, as this volume's likely readership is already familiar with the current state of journalism. Here, Murrow Award-winning reporter Borjesson edits essays by journalists from the Associated Press to CBS News to the New York Times. Each tells of their difficulties with news higher-ups as they tried to publish or air controversial stories relating to everything from toxic dump sites and civilian casualties to police brutality and dangerous hospitals. Some, like BBC reporter Greg Palast's, are merely rants against "corporate" journalism, but others, like New York Observer columnist Philip Weiss's, will serve as meaningful lessons to nascent and veteran writers alike. Most of the sentiments here are especially relevant given the current reports of the war in Afghanistan and questions of their validity, making this timely and essential reading for students and scholars of journalism. (Mar.)Forecast: With Bernard Goldberg's Bias riding high on bestseller lists, Borjesson's offering on news media manipulation is bound to attract serious attention and sales. Copyright 2002 Cahners Business Information, Inc.
From Booklist
Award-winning journalists reveal the disturbing fact that the press in the U.S. isn't as free as the public would like to believe. Nearly two dozen reporters, at some risk to their careers, disclose run-ins with corporate or government powers-that-be which have prompted them to reevaluate the significance of journalism in a free and open society. Greg Palast, an American working for the Guardian in Britain, recounts his paper's investigation of voting irregularities in the 2000 U.S. presidential election, long before the lethargic U.S. press took up the story. Borjesson, an independent producer and the editor of this collection, recalls efforts to disclose the cause of the explosion of TWA Flight 800 in New York in 1996. Jake Akre, a television reporter, recounts actions taken by milk producers to thwart a report on the questionable quality of milk from cows fed with growth hormones. These reporters see a troubling trend toward self-censorship as more of their colleagues fear reprisals for the content of their reporting. This is a disturbing but fascinating collection that will appeal to readers interested in the media. Vanessa Bush Copyright © American Library Association. All rights reserved
From Library Journal
Significant stories by investigative reporters do not always reach the air or find their way into print; some of them get caught in "the buzzsaw" that rips through both their reporting and their reputations. Borjesson, an Emmy Award-winning reporter, pulls together 18 essays written by journalists who have either personally experienced this buzzsaw or who have closely observed the media industry. Her own reporting on TWA Flight 800 for CBS made her a target of the FBI, who interfered with her investigative work. She was harassed, her computer and reporter's notebook were stolen, and in the end CBS fired her. The experience changed her perception of the media establishment. Her colleagues here detail accounts of their own buzzsaw encounters covering such stories as Florida's voting in the recent presidential election, Tailwind, a massacre during the Korean War, and CIA involvement with the drug trade. A biographical sketch precedes each piece. This book would have benefited from a more substantial introduction to provide adequate context, but Robert McChesney's closing essay on the history of professional journalism does underscore the fragile state of reporting. Recommended for all academic journalism collections and public libraries where media books circulate well. Judy Solberg, George Washington Univ. Lib., Washington, DC Copyright 2002 Cahners Business Information, Inc.
American Journalism Review, June 2002
"...reaffirm[s] the worth of both the bark, and occasional bite, of the muckrakers."
Book Description
Most journalists work behind the scenes and want to keep it that way. They don't ever want to be the story; they only want to tell it. More important, there are plenty of big and little dirty secrets journalism's "powers-that-be" don't want publicized, particularly by those who work for them and know those secrets. Reporters who tattle risk losing their jobs and being blacklisted in the business.
That should tell you something about the news you're getting. It's been written countless times that the press is our nation's last line of defense for keeping our leaders honest and our government democratic. If you believe this to be true and are concerned, you should read this book very, very carefully.
From the Inside Flap
Here for the first time in the history of American journalism, almost two dozen award-winning print and TV journalists have collaborated to produce a book of devastating essays about the dangerous state of American journalism today. Writing in riveting, often gut-wrenching detail about their personal experiences with the "buzzsaw"--concerted corporate and/or government efforts to kill their controversial stories and their careers--the contributors to INTO THE BUZZSAW reveal the awesome depth and breadth of censorship in America today. Their essays portray a press corps that regularly engages in self-censorship and attacks reporters who come under fire for not doing so. They describe a Fourth Estate that has largely relinquished its watchdog role and that has been coopted by corporate and government powers. The bigger picture is that of a press actively contributing to the demise of democracy in America.
Collectively, these essays paint a picture that is as vivid and shocking as it is utterly credible. Riveting first-person accounts detail what these investigative reporters risked and what they uncovered about the government's investigation into the crash of TWA Flight 800; the CIA's involvement in the War on Drugs; the U.S. military's efforts to cover up the massacre of hundreds of civilians during the Korean War, and the conspiracy to court-martial a returning POW from Vietnam; the writing on the wall foreshadowing the terrorist attacks of September 11, 2001; and much, much more.
If you want to know what's really going on in our nation's corridors of power, or if you read or watch the news on a regular basis, this book is indispensable. One thing is certain: after finishing INTO THE BUZZSAW, you will never again see or hear the news in the same way.
About the Author
Kristina Borjesson, an Emmy and Murrow Award-winning investigative reporter, has worked for CBS and CNN.
Reader Reviews
Missing Stories, July 12, 2002
Reviewer: A reader from USA
For the stories it covers the book is good and somewhat depressing. However, what I noticed was the lack of stories on organizations dear to the heart of liberals. There are more than enough stories that could be done on the UN and other NGO's as an example. So while the book tells us about stories that were squashed or limited it negleted to even mention the range of stories that are (apparantly) never considered by the media because of their view of the world.
When, in the '70's, a film critic at the NY Times commented that she couldn't understand how Nixon won when no one she knew voted for him it told more about the NY Times that about Nixon.
5 out of 5 stars Horrible., July 9, 2002
Reviewer: Brian M Douglas from Brooklyn, OH United States
Only two chapters in and I am already in shock. I don't believe there is much I can say about this book that hasn't already been voiced in the other reviews aside from the fact that I passionately recommend reading it.
5 out of 5 stars Behind the big stories; news to scare us all, July 1, 2002
Top 500 Reviewer: Lynn Harnett from Marathon, FL USA
The eighteen essays in this book will dismay even those who have watched investigative journalism co-opted on TV by talking heads and road accidents or who look up from a newspaper story with more questions than answers. The contributors are distinguished career journalists, most of them award winners, most of them gung-ho about journalism - until their run-in with the buzzsaw of corporate or government displeasure. They may not persuade you (though most probably will) but they will make you think.
Taken individually the essays are emotionally charged, well-organized exposés of blunders, greed, incompetence and ruthlessness. Taken as a whole the book paints a depressing picture of the state of big, mainstream media. Expensive investigative journalism is the first to go in a corporate climate where profit stands above the public's right to know. Beholden first to the bottom line, media giants are also swayed by advertising dollars, government intimidation and fear of lawsuits. And the book paints a disturbing picture of the lengths our government and corporate giants are willing to go to quash negative stories.
Most of these stories are familiar: the investigation of TWA flight 800, the CIA and drug running/ assassinations/ incompetence, civilian Koreans massacred by US troops, MIAs in Vietnam, and the election of 2000. On the corporate side there's rapacious DuPont, bovine growth hormone, and the state of psychiatric hospital care.
Which story is the scariest? Well, everyone eats so Monsanto's push to get bovine growth hormone into all our milk comes to mind. Jane Akre details the process (i.e. the longest test for long-term human toxicity lasted 30 days on 30 rats - and although the FDA was told there were no adverse effects, one third of the rats suffered cysts and lesions) and then the demise of her story, orchestrated by Monsanto lawyers and abetted by her station's new owners, Rupert Murdoch.
Or how about Michael Levine's (former DEA undercover operative, turned author and journalist) surreal but all too believable piece on long-term CIA involvement with politically expedient drug runners and killers, which segues neatly with Gary Webb's piece on CIA collusion with Contra drug dealers who introduced vast amounts of crack to gangs in South LA who then spread it to the rest of the country. Remember that one? Discredited? Gary Webb tells how and why and he's very believable.
But the saddest, most chilling story of all is the case of returning Vietnam POW Bobby Garwood who was vilified and court-martialed in 1979 as an enemy collaborator because his story conflicted sharply with the government line that all POWs and MIAs had been accounted for. Writer Monika Jensen-Stevenson spent 20 years working to clear Garwood's name and her account of our government's deliberate, well-orchestrated destruction of a loyal, traumatized soldier would be hard to believe if it wasn't so well-documented. Memorial Day 1998 Garwood was embraced by three Medal of Honor winners and honored at the Vietnam Memorial but, though network cameras were present, the occasion never appeared on the news.
Kristina Borjesson offers a comprehensive piece on the investigation of TWA flight 800, the Paris-bound plane that exploded off Long Island in 1996. You don't have to agree with her conclusions to be convinced of an investigation thoroughly botched by FBI incompetence, turf wars, government spin and outright lies.
Some of these essays get a boost from the revelations about FBI and CIA bungling revealed since September 11. But why did it have to take an event so horrific to make news out of what so many already knew?
The essays are well-written and buttressed with loads of facts and sources, many of them checkable by interested readers. Names are named, which in itself is unusual for today's news stories. Each essay is prefaced with a short, impressive biography of the writers, many of whom have written books about the stories that consumed their careers. Many lost their jobs; some, like April Oliver, the CNN producer whose nerve gas story was famously retracted, had their reputations destroyed.
This is a book for anyone interested in what goes into a well-researched investigative story, for anyone who thinks it can't be true if it doesn't make the news, and if it does it is, for anyone who wonders why some stories never get legs (the state of our food, the state of our prisons), for anyone who wonders why some stories won't go away (OJ, Monica), for anyone who's noticed that soft interviews with government officials and elected representatives have apparently replaced hard digging, for anyone who would like to be better informed about the world.
5 out of 5 stars Good to know the media is on our side!, June 27, 2002
Reviewer: mctavern (see more about me) from Hampton Bays, NY United States
Yes, if you read this book you can tell that review title was dripping with sarcasm. This book gives accounts of how the government and the corporations kept certain "BIG" stories from appearing in the news are flat out discrediting them through shotty corporate owned journalism. A recommend read for news junkies.
5 out of 5 stars "smell the coffee", June 12, 2002
Reviewer: Scott Caplener from Gilroy, CA USA
If you're awake, and your mind is open, this book will anger you right down to your toes. If you're closed-minded, this book actually has the power to crack it open. Yeah, big business is killing us, everyone, you and me. Yeah, our government isn't elected, it's selected. Yeah, the United States' military-industrial complex is dangerously, dangerously out of control and driving our planet into a toxic death tailspin.
And I'm angered to read that our best and brightest journalists have been boot-stomped by the market-watching bosses intent on raking in more money than they could ever spend.
It's a great read. It's not relaxing. It's stressful, calling-out-to-your-spouse angering with every revelation.
You NEED this book. It'll make you a better citizen. A more informed citizen. And a dangerous citizen, as there's nothing the U.S government hates more than secrets revealed.
Here's to the journalists that lost it all in the pursuit of a 'true' Fourth Estate! Thank you so much for all you've done. And to all of you in the crosshairs of this book, remember one thing: Mother Nature bats last in this game, you greedy, naive souls you.
5 out of 5 stars What You Don't Know CAN Hurt You, June 7, 2002
Reviewer: James D. Brooks from Worcester, VT United States
If you're like me, perennially skeptical about conspiracy theories and "unsubstantiated" claims, you're in for a shock. I used to blame the dumbed-down American media on a "dumb public" - I said, "we're getting what we asked for." Now I see that this idea was not just arrogant and supercillious (I knew that already!) - it's also dumb, and dangerously misinformed.
This is an exceptionally brave and candid book in which over a dozen award-winning journalists detail a shocking, and rapidly growing, pattern of media censorship in America. It's an excellent introduction to the state of information - and misinformation - in America today, and helps explain why, in the midst of an information flood, the American public is unaware of the deeper picture of government and corporate corruption.
You get the stories straight from the journalists who wrote them, how reporters had to fight for years to get some of the biggest investigative reports of the 1990's into the press - and how many of them lost their jobs in the process.
Into The Buzzsaw shows how corporations and the federal government use the legal system to blackmail the media into silence, and how the consolidation of media ownership and the quest for profits has nearly obliterated the media's service of the public's need to know. The book explains, with detailed examples, how mainstream, respected journalists and editors go out of their way to discredit colleagues for daring to expose taboo information.
For instance, one author is Gary Webb, who wrote the San Jose Mercury News story about the CIA's sale of pure cocaine in LA, which preciptated the national crack cocaine epidemic. You've heard that the story didn't "hold up under scrutiny", right? A BIG lie, perpetrated by the "respectable media".
We're being taken a for a ride folks, and not toward where we want to go. Read this book, and begin to wake up. But, fair warning; it will make you very angry.
5 out of 5 stars The most important book about US journalism in years, May 28, 2002
Reviewer: J. Fox from New Jersey, USA
As a professional journalist, who studied under Fred Friendly at the Columbia U. School of Journalism, I find this the most important (and in light of recent 9/11 FBI revelations, timely) book about American journalism in many years. I read through its 381 pages in just a few days, amazing since I'm not an especially fast reader. I could hardly put it down. Why?
-First, these are great tales written by great writers.
-Second, these are accomplished pros and their experiences span a wide range of media outlets and topics.
-Third, this book makes a pusuasive case both that investigative reporting is essential to an informed American public & the survival of American democracy *and* that it is being sabotaged, by either intention or default, by media companies that (I deduce) are so profit-driven and risk aversive that they can barely be considered as practicing serious journalism.
Anyone who is bored by this book is either sleep deprived, on a controlled substance, or is predisposed against it. After reading this book, it became evident to me that it is now up to journalists ourselves to defend our work and democracy. We are truly America's last hope for an informed public.
5 out of 5 stars Excellent, insightful collection of journalist tribulations, May 24, 2002
Reviewer: Naum
An eye-opening collection of tale after tale of investigative journalists who in seeking to go beyond the official proclaimations, or the consensus agreed upon "truths", and discover the real truth of an event and/or story pay the price for rubbing powerful interests the wrong way.
In my view, these journalists are true heroes. Consider that any one of these individuals could have "sold out" at any moment and made life a lot easier on themselves and family. Staggering lawyer bills, losing their homes, all due to a steadfast reluctance to accept distortion or to settle for a half-baked lie. I am saddened because it appears that the ranks of reporters that actually do research are being bludgeoned in favor of the "swallow the press release" brand of PR journalist that will displace these dedicated souls.
Each chapter is by a different writer - from Gerald Colby's "privishing" adventure in writing a tell-all book on the DuPont family (and later the Rockefellers), Kristina Borjesson and Dave Hendrix on TWA800 and the government suppression to keep them from the truth, Greg Palast on Florida purge of valid voters, each writer stepped "into the buzzsaw".
As for the few negative reviews here that claim the book was "liberal bias", examine the content of those one-sentence reviews. It sounds like those folks judged the book by preconceived notions ... left or right matter not, the gist of the stories is bumping up against powerful, monied interests that can conjure great force to suppress and/or slant a news event or issue.
5 out of 5 stars Into the Buzzsaw, May 23, 2002
Reviewer: Wendy M. Espina from Niskayuna, New York
This is a really important book to read - especially in this day and age when honest news is so rare. Buzzsaw proves definitively that the news we get is all stirred out of the same bucket and distributed to the main television, printed press and radio and they just regurgitate it at us. The truth is always hard to get at, but to have paid the price some of these journalists have paid just reminds us of the price Karen Silkwood had to pay just trying to get the truth out. Don't ever think that the news you're seeing, reading or hearing has much to do with what is really going on - we just get benign half truths so America can continue to live the illusion that it's well informed and that it's press is free....HAH!!!!!!
Read this book, and you will be inspired to start really digging to get to the truth - the real truth. Hopefully, more and more Americans will do the same. GET OUT AND BUY THIS BOOK!!! It's important for you and our future.
BUY ONLINE
About Buying Books Online