REVIEW - Cartographies of Danger: Mapping Hazards in America by Mark S. Monmonier.
Fair Use Statement
About Buying Books Online
MORE BOOKS
Purchase Now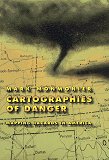 Cartographies of Danger: Mapping Hazards in America by Mark S. Monmonier.
Editorial Reviews
Amazon.com
With chapters titled "Death Tracks," "Ill Winds," and "Nuclear Nightmares," Mark Monmonier's book Cartographies of Danger is sure to appeal to anyone interested in natural or manmade disasters. But make no mistake--this book is not just another attempt to profit off of a scary topic. Mark Monmonier is a professor of geography at Syracuse University, and Cartographies of Danger is an in-depth look at the little-known science of hazard-mapping.
As Professor Monmonier demonstrates, hazard-mapping is as much art as science; detailed seismic-hazard maps of California, for example, failed to indicate the potential for the disastrous Northridge earthquake of 1994. Yet despite its imperfection, hazard-mapping is a valuable exercise and one that will undoubtedly improve in the coming decades.
Cartographies of Danger doesn't restrict itself to natural hazards such as floods, earthquakes, or volcanoes; Professor Monmonier also covers crime, pollution, and radon using the same principles of hazard-mapping. His examples of hazard maps demonstrate the relationships among mapping, scientific understanding of hazards, and the perception of risk. In addition, the book gives practical advice on how to avoid geographic hazards.
From Booklist
Syracuse University geography professor Monmonier, who brought his subject from grade-school classrooms to libraries and living rooms with How to Lie with Maps (1994) and Drawing the Line (1994), takes on the perils and promises of hazard mapping. A relatively new, postwar phenomenon, highly dependent on the capacity of computers to store and manipulate vast collections of data and statistical models whose assumptions generate controversy, hazard maps are ubiquitous, Monmonier urges, because they "afford control, either real or imagined, over fate and nature." Monmonier devotes full chapters to 12 specific hazards--earthquakes, volcanoes, tsunamis, tornadoes, floods, groundwater contamination, air pollution, radon and magnetic fields, nuclear plants, hazardous chemicals, crime, and disease--and the challenges of mapping them (and of interpreting their maps). Full of useful information for readers who want to learn how to distinguish Chicken-Little (or, What, Me Worry?) propaganda from geographic hazard facts. Mary Carroll
Midwest Book Review
What is a hazard zone map, and how does it apply to consumers and any seeking an understanding of potential American disaster areas? This explores issues of risk management and geographic knowledge alike, using maps illustrating examples from across the country to explore how mapping affects both knowledge of risk and actions to reduce it. A truly unique guide which defies categorization, but which holds broad appeal to students and consumers alike.
Book Description
No place is perfectly safe, but some places are more dangerous than others. Whether we live on a floodplain or in "Tornado Alley," near a nuclear facility or in a neighborhood poorly lit at night, we all co-exist uneasily with natural and man-made hazards. As Mark Monmonier shows in this entertaining and immensely informative book, maps can tell us a lot about where we can anticipate certain hazards, but they can also be dangerously misleading.
California, for example, takes earthquakes seriously, with a comprehensive program of seismic mapping, whereas Washington has been comparatively lax about earthquakes in Puget Sound. But as the Northridge earthquake in January 1994 demonstrated all too clearly to Californians, even reliable seismic-hazard maps can deceive anyone who misinterprets "known fault-lines" as the only places vulnerable to earthquakes.
Important as it is to predict and prepare for catastrophic natural hazards, more subtle and persistent phenomena such as pollution and crime also pose serious dangers that we have to cope with on a daily basis. Hazard-zone maps highlight these more insidious hazards and raise awareness about them among planners, local officials, and the public.
With the help of many maps illustrating examples from all corners of the United States, Monmonier demonstrates how hazard mapping reflects not just scientific understanding of hazards but also perceptions of risk and how risk can be reduced. Whether you live on a faultline or a coastline, near a toxic waste dump or an EMF-generating power line, you ignore this book's plain-language advice on geographic hazards and how to avoid them at your own peril.
Ingram
No place is perfectly safe, but some places are more dangerous than others. Maps can tell us a lot about where we can anticipate certain risks. This book demonstrates how hazard mapping reflects not just scientific understanding of hazards but also perceptions of risk and how risk can be reduced.
The publisher, The University of Chicago Press--www.press.uchicago.edu , February 20, 1997
The Ten Riskiest Places to Live - In Cartographies of Danger Mark Monmonier looks at how well America maps its natural and technological hazards as well as social hazards like crime and disease. In conjunction with the release of this book, the Press asked Mark to give us a list of the country's ten most hazardous places.
His top ten (or is that bottom ten?) list is only available on the web at: http://www.press.uchicago.edu/Misc/Chicago/534189.html
Information about the book itself is at: http://www.press.uchicago.edu/cgi-bin/hfs.cgi/00/13244.ctl
Mark Monmonier is professor of geography at Syracuse University's Maxwell School of Citizenship and Public Affairs.
Purchase Now
About Buying Books Online