REVIEW - All Our Relations: Native Struggles for Land and Life by Winona Laduke.
Fair Use Statement
About Buying Books Online
Purchase Online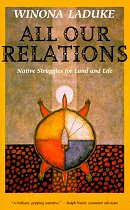 All Our Relations: Native Struggles for Land and Life by Winona Laduke.
Editorial Reviews:
Ralph Nader, consumer advocate
"A brilliant, gripping narrative of the corporate state's brutality to the land of its First Natives and the valiant ones who are resisting and rebuilding their culture and identity."
Whole Earth, Winter 1999
"This is the book I would have used had it existed 35 years ago. Eight portraits of Native-American peoples refusing to make distinctions among spirit, politics, land, and all life. A sense of faith and deep continuity on Turtle Island, our continent ravaged by invasion and time.... No ragtag remnants of lost cultures here. Strong voices of old, old cultures bravely trying to make sense of an Earth in chaos."
Book Description:
This eagerly awaited non-fiction debut by acclaimed Native Environmental activist Winona LaDuke is a thoughtful and in-depth account of Native resistance to environmental and cultural degradation. LaDuke's unique understanding of Native ideas and people is born from long years of experience, and her analysis is deepened with inspiring testimonies by local Native activists sharing the struggle for survival. On each page of this volume, LaDuke speaks forcefully for self-determination and community. Hers is a beautiful and daring vision of political, spiritual, and ecological transformation. All Our Relations features chapters on the Seminoles, the Anishinaabeg, the Innu, the Northern Cheyenne, and the Mohawks, among others.
About the Author:
Winona LaDuke lives on the White Earth reservation in Minnesota and is an enrolled member of the Mississippi Band of Anishinaabeg. She is the Project Director of the Honor the Earth Fund and Campaign Director for the White Earth Land Recovery Project. In 1994, LaDuke was named by Time as one of America's 50 most promising leaders under 40 years of age. In the 1996 presidential campaign, she served as Ralph Nader's running mate in the Green Party. In 1997, with the Indigo Girls, she was named a Ms. Woman of the Year. LaDuke received the Reebok Human Rights Award in 1998.
Excerpted from All Our Relations by Winona Laduke. Copyright © 1999. Reprinted by permission. All rights reserved
Seminoles at the Heart of the Everglades Where the natural world ends and the human world begins, there you will find the Seminoles. There is no distinction between the two worlds-The Creator's Law governs all. It has always been like that, since the beginning. "The Creator made our people and gave us the laws on how we're supposed to conduct ourselves," explains Danny Billie, spokesperson for the Independent Traditional Seminole Nation, which consists of about 300 people in the midst of the Florida Everglades. He is trying to keep that law: the Creator's Law, the Breathmaker's Law. The Independent Traditional Seminole Nation of Florida steadfastly keeps their traditions-language, culture, housing, ceremony, and way of life-against the forces of colonialism, assimilation, globalization and all that eats cultures. Their presence in the Native community provides a yardstick against which to measure your own values, your own way of life, and your choices. That is the lesson they will teach without speaking. And that is a great gift. In the center of their Chickee (traditional house) they keep a fire-always, it seems. It is the fire of culture, the fire of life. I am not so different. I tend my fire, that one in the woodstove, which keeps my northern house warm.
Watch the fire, nurture it, and it will feed your soul and warm your body. Leave the fire, and it may get away from you. That lesson is worth remembering. The Panther Clan of the Seminole Nation consider the Florida panther their closest animal relative. There are only about fifty of these panthers left. Both the panther and the Seminole have fought for their land and they intend to remain there. But industrialization and the drive for profit are squeezing the lifeblood out of the Everglades, and it's not possible for the Seminole and panther alone to change that. Two hundred years ago, the Seminoles and the animals had most of the Everglades to themselves. Blooming flowers of every shape and color were intertwined with the textured green of shrubs, grasses, and trees. Small hills rose among the great waterways, in whose fertile soils the Seminoles planted small gardens. In their massive dugout canoes, they travelled as far as Cuba and the Bahamas. At home, they prayed for and feasted on fish and animals, and made their shelter from the great cypress swamps and palm trees. From other plants they made their medicines, and each day they gave thanks to the Creator for their way of life. To the Seminole, like other Indigenous people, the way of life is a ceremony in itself, and they acknowledge it historically and today through a language called Hitchiti. The Seminoles, it is said, had once been closely affiliated with the Creeks. Their name, Seminoles, came from a Creek word meaning "runaway," or "wild," or alternatively, "people of the distant fire." When they decided to keep to themselves, they started an independent, village-based system of governance. But their land was coveted. First by the Spaniards, who imagined a Fountain of Youth amidst the sea of grass, pink flamingos, blue herons, and brilliantly colored birds, and then by the Americans, who, as time would tell, coveted all.
Purchase Online
About Buying Books Online
Didn't find what you are looking for? We've been online since 1996 and have created 1000's of pages. Search below and you may find just what you are looking for.
---
Michael R. Meuser
Data Research & GIS Specialist
MapCruzin.com is an independent firm specializing in GIS project development and data research. We created the first U.S. based interactive toxic chemical facility maps on the internet in 1996 and we have been online ever since. Learn more about us and our services.
Have a project in mind? If you have data, GIS project or custom shapefile needs contact Mike.