Cartographies of Danger: Mapping Hazards in America.

BUY ONLINE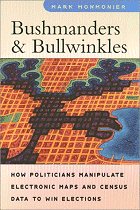 Bushmanders and Bullwinkles: How Politicians Manipulate Electronic Maps and Census Data to Win Elections by Mark S. Monmonier.
Editorial Reviews
Amazon.com
Maps present one of the prickliest problems in U.S. politics. The shape of congressional districts plays a gigantic role in the never-ending struggle between Democrats and Republicans. Draw the boundaries one way, and liberals have the upper hand. Shift them around a bit, and suddenly conservatives control the agenda. Gerrymandering is a constant threat every 10 years, when the states redraw their congressional districts based on fresh census information. The stakes are enormous, and abuse is almost a certainty. That's why Bushmanders and Bullwinkles is so welcome. "I want to make readers aware of how legislators, judges, and other elected officials use the decennial remap to promote personal or ideological agendas," writes Mark Monmonier. He succeeds at this gloriously--and just in time: redistricting will be a hot-button issue in the years ahead, as states draw their new maps in 2001 and 2002, the parties inevitably go to court in 2003, and finally the 2004 election shakeout arrives, with results that can reverberate for years. (Some analysts argue that redistricting explains why Republicans captured the House in 1994, for example.)
What's more, redistricting has never been more complicated. Monmonier walks readers through all the important controversies, paying special attention to the furor over majority-minority districts. He describes the paradox of the first Bush administration working with black and Hispanic groups to create these jurisdictions--on the theory that packing minority voters into overwhelmingly Democratic districts would dilute their influence elsewhere and thereby help elect more Republicans. The result was a surge in black and Hispanic members of Congress (a goal of the minority groups), plus gains for the GOP. Achieving this required sophisticated software, and resulted in messy, fractal-shaped districts.
This is an outstanding guide to these once and future controversies. It's also loaded with maps, which are essential to any understanding of the subject. For readers looking for a primer on this complex but vital and fascinating topic, there may be nothing better than Bushmanders and Bullwinkles. --John J. Miller
From Publishers Weekly
With the 2000 census completed, congressional districts will soon be redrawn. And how they are redrawn may determine who controls the next Congress. Monmonier instructs readers in the complexities of the remapping process and explores its possible outcomes. According to the author, "the goal of most redistricting efforts" is to protect incumbents, but there are other goals. After the 1990 census, one aim was to increase minority representation then-president Bush's gerrymandering led to the creation of New York City's bizarrely shaped 12th congressional district, which, according to Monmonier, resembles Bullwinkle's antler. It may seem surprising that a Republican administration would want to create districts that would elect minorities (who are less likely than whites to vote Republican), but as Monmonier (How to Lie with Maps), a geography professor at Syracuse University, explains, such districts can, paradoxically, decrease minority representation in Congress by adding white voters to surrounding districts. The author relates the history of political gerrymandering (named after Elbridge Gerry, governor of Massachusetts and later the fifth U.S. vice-president), but he makes his strongest case when talking about the future. Monmonier argues that the U.S. needs to consider other alternatives to racial gerrymandering to ensure better minority representation in Congress (e.g., proportional representation which caused the downfall of Lani Guinier). The fact is that race matters, Monmomier observes; the emphasis should be on how racial electoral conflicts are resolved. (Apr.)Forecast: This is a timely and important book, but too technical for any but devoted cartographers and political junkies. Perhaps its arguments will trickle into public consciousness by way of political journalists rather than through a wide readership.
Copyright 2001 Cahners Business Information, Inc.
BUY ONLINE
See also: Cartographies of Danger: Mapping Hazards in America.

About Buying Books Online

Didn't find what you are looking for? We've been online since 1996 and have created 1000's of pages. Search below and you may find just what you are looking for.
---
Michael R. Meuser
Data Research & GIS Specialist

MapCruzin.com is an independent firm specializing in GIS project development and data research. We created the first U.S. based interactive toxic chemical facility maps on the internet in 1996 and we have been online ever since. Learn more about us and our services.

Have a project in mind? If you have data, GIS project or custom shapefile needs contact Mike.