REVIEW - Carfree Cities by J.H. Crawford, foreword by James Howard Kunstler.
ORDER ONLINE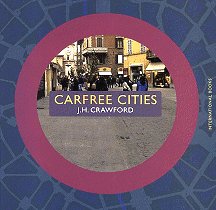 Carfree Cities by J.H. Crawford, foreword by James Howard Kunstler.

There are so many good reasons to rethink our automobile culture and create alternatives. Automobiles are a large source of pollution, spewing tons of toxics and CO2 -- a major contributor to global warming -- into the air we breathe. Automobiles present a serious hazard to pedestrians and cyclists. Automobiles contribute to sprawl. Automobiles are inefficient. The list goes on and on. I am sure that you can think of more to add. This, of course, is all very depressing news. How can we break the habit? Is it doable? J.H. Crawford leads the way towards creating livable CarFree cities. Enjoy the reviews on this page, visit the CarFree Website for more information, and then return here to order copies of CarFree Cities for yourself and your friends directly from us. -- Michael R. Meuser
From the CarFree website

Carfree Cities offers a practical solution to the many urban problems caused by cars and trucks. The carfree city saves energy, preserves the environment, and improves the quality of our lives.

Imagine life in a city free from the noise, stench, and danger of cars, trucks, and buses. Imagine that all basic needs, from groceries to child care, lie within a five-minute walk of every doorstep. Imagine that no commute takes more than 35 minutes from door to door, and that service is provided by a fast, cheap, safe, comfortable public transport system. This is the future that J.H. Crawford envisions in Carfree Cities.

Crawford argues unapologetically that the car is a technology that has run wild, and that the time has come to reclaim city streets for human activities. He proposes a city planned to maximize the quality of life for individuals and communities, and gives practical suggestions for implementing this basic design in both new and existing cities. Crawford believes that sustainable development can only be achieved by ending car use within cities.

In the face of passive acceptance of declining quality of life, Carfree Cities is a beacon of hope and sanity that offers a practical solution to the danger, pollution, and breakdown of social systems caused by autocentric development. By rejecting the assumption that continued car use in cities is inevitable, Crawford takes us a step closer to the tantalizing possibility of a return to the pattern of lively, attractive streets that we had enjoyed for thousands of years, until the advent of automobiles.
What Others Say
Nikos A. Salingaros

"Carfree Cities is a pathbreaking work that outlines how human beings can live in an urban environment entirely free from cars. As someone working to uncover mathematical forces that shape urban form, I appreciate Crawford's efforts and applaud his conclusions. I personally believe that the city of the future will have to combine many different means of transportation, including the hated/loved car, but it is not clear to most planners how to achieve this. Crawford's book provides a well thought-out plan for pedestrian life, which, in the hands of an enlightened urbanist, can be used to drastically improve the quality of existing cities.

"Therefore, while I don't necessarily accept Crawford's total exclusion of cars, I find his solutions vitally important to the future of cities. Furthermore, I don't think that anyone would have taken him seriously unless he did what he has done: to show that a totally carfree solution is possible. Not only is it possible, but Crawford has shown that it is both feasible and practical. Congratulations to him for this outstanding work." -- Nikos A. Salingaros is Professor of Mathematics at the University of Texas at San Antonio. His areas of work include mathematics applied to architecture and urbanism.
James Howard Kunstler

"The fruits of the last century's romance with the automobile can now be seen in hundreds of mutilated cities around the world. There should be no question anymore that the future will compel us to reduce the presence of cars in our daily lives. J.H. Crawford's fine book launches a major cultural project for the 21st century--to recreate an everyday environment that is worth caring about and worth living in." -- James Howard Kunstler is the author of Home from Nowhere and other books.
Eric Britton

"Carfree Cities offers up a vision of a sustainable city that provides an exceptional quality of life for its citizens. No science-fiction odyssey, this carefully illustrated book sketches out a number of ways to move toward car-free cities, using proven technologies. A must read for not only for the academics and students, but for anyone who cares about people and cities." -- Eric Britton is the founder of EcoPlan International and The Commons (Paris).
ORDER ONLINE
Didn't find what you are looking for? We've been online since 1996 and have created 1000's of pages. Search below and you may find just what you are looking for.
---
Michael R. Meuser
Data Research & GIS Specialist
MapCruzin.com is an independent firm specializing in GIS project development and data research. We created the first U.S. based interactive toxic chemical facility maps on the internet in 1996 and we have been online ever since. Learn more about us and our services.
Have a project in mind? If you have data, GIS project or custom shapefile needs contact Mike.