REVIEW - Cell Phones: Invisible Hazards in the Wireless Age: An Insider's Alarming Discoveries About Cancer and Genetic Damage by Dr. George Carlo and Martin Schram.
Fair Use Statement
About Buying Books Online
See also:
Radiofrequency & Wireless Risks.

BUY ONLINE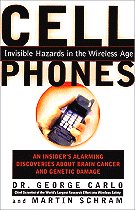 Cell Phones: Invisible Hazards in the Wireless Age: An Insider's Alarming Discoveries About Cancer and Genetic Damage by Dr. George Carlo and Martin Schram.
Children Are At Higher Risk
About 1/3 of Americans use wireless technologies. Many of you are cell phone users, use other wireless technologies, or are interested in both. Recently the Media reported that new studies found that cell phones present no risk, one in the Journal of the American Medical Association and the other in the New England Journal of Medicine. Of course they did not tell us that both studies had caveats, reservations and the like. And there's more to the story. What of the risks of the growing number of telecommunications antennas in our communities? At any rate, most Americans got the message that cell phones and therefore other wireless technologies are A-OK. Well, it's not quite so.
This new book, Cell Phones: Invisible Hazards in the Wireless Age: An Insider's Alarming Discoveries About Cancer and Genetic Damage by George, Dr. Carlo, Martin Schram documents the risk of brain tumors, genetic damage, and the disproportional risk to children of wireless technologies. Carlo, a medical epidemiologist, was hired by the Cellular Telecommunications Industry Association (CTIA) to direct its $25 million study on the risks of cell phone useage. Carlo didn't end up finding the results the industry expected and was fired and discredited. This is an excellent book if you are interested in wireless technology or another example of the politics of research. -- Mike Meuser
Editorial Reviews:
Book Description:
Here is a gripping narrative of scientific detection that chronicles an unprecedented journey of discovery by Dr. George Carlo into the impact of cell phones on human health. This book is a clarion call sounding the message that consumers need not allow themselves to become guinea pigs for new technologies whose long-term health effects are unknown. It is essential reading for the 90,000,000 Americans currently using wireless phones, and the millions who may begin using them in the future. In 1993, as news reports appeared of people using cell phones who'd also developed brain tumors, Carlo was hired by the cell-phone industry to affirm the safety of its product. He soon learned there was little research into whether these phones could impair human health, and no consensus among scientists on the question. Carlo's own research intensified his concern, especially the startling discovery that human blood cells could be damaged by the radiation emitted from a cell phone. He made urgent recommendations to the industry, including a plea that cell phones not be marketed to children. Yet, phones emblazoned with cartoon characters soon hit the market. In 1999, the industry quit funding the independent research directed by Carlo, investigated his private life, and began a whispering campaign that sought to discredit him. Appalled but undeterred, he has now brought his case to the public in a powerful assessment of the dangers posed by wireless phones-with safeguards readers can use to protect themselves-that is destined to be placed alongside such classics as Silent Spring, Microbe Hunters, and The Coming Plague.
About Time, December 16, 2000
Reviewer: Richard Greene from Los Angeles, CA.
Congratulations to Dr. Carlo for having the guts to try to stop an upcoming epidemic of fallout from cell phone use. Human bodies did not evolve with this kind of exposure to these kinds of electromagnetic frequencies so it so makes sense that the dangers that Dr. Carlo points out would, in fact, be likely.
Read it and spread the word!
BUY ONLINE
See also:
Radiofrequency and Wireless Risks.

About Buying Books Online
Didn't find what you are looking for? We've been online since 1996 and have created 1000's of pages. Search below and you may find just what you are looking for.
---
Michael R. Meuser
Data Research & GIS Specialist
MapCruzin.com is an independent firm specializing in GIS project development and data research. We created the first U.S. based interactive toxic chemical facility maps on the internet in 1996 and we have been online ever since. Learn more about us and our services.
Have a project in mind? If you have data, GIS project or custom shapefile needs contact Mike.