REVIEW - The Corporate Planet: Ecology and Politics in the Age of Globalization by Joshua Karliner.
Fair Use Statement
About Buying Books Online
BUY ONLINE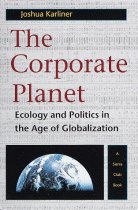 The Corporate Planet: Ecology and Politics in the Age of Globalization by Joshua Karliner.
Editorial Reviews
From Kirkus Reviews , August 15, 1997
An overly shrill indictment of transnational corporations' leading role in environmental havoc--but an indictment that nonetheless finds its mark. Eco-activist Karliner sounds themes current since the 1970s: Big Capitalism pledges loyalty only to itself and not to any particular nation or region; the First World's large corporations view the rest of the planet as a source of raw materials and labor; the likes of Coca-Cola and Ford think only of the present bottom line, and not the long-term effects of their rush for profit. ``Increasingly flagless and stateless,'' Karliner charges, the transnational corporations ``weave global webs of production, commerce, culture and finance virtually unopposed.'' In making his case that such unrestricted power is a bad thing, Karliner relies too heavily on rhetoric and abstraction; he writes purplishly, for instance, of ``our Blue Planet--home to untold cultural and biological diversity, to clear, raging rivers and majestic, ancient forests, to a plethora of civilizations, nations, tribes, and idiosyncratic communities.'' More statistics and less gush would be welcome in such instances. When he gets down to cases, Karliner is much better. He examines, for example, the Chevron Corporation's quest for control over world oil supplies, a quest that involves the support of brutally oppressive regimes in places like Nigeria and Indonesia and the environmental degradation of huge districts around the world. Karliner is especially fuzzy when it comes to recommending what the average First World citizen can do to help in ``reclaiming the Blue Planet from the clutches of corporate globalization,'' a matter in which his book is singularly unhelpful. This is all too bad, because a glance at the headlines suggests that Karliner is probably right in broad outline. An argument better framed would have done his cause much greater service. -- Copyright ©1997, Kirkus Associates, LP. All rights reserved.
Book Description
The Corporate Planet brilliantly exposes the elaborate efforts of the giant corporations to "greenwash" themselves, and it demonstrates how they are using free trade agreements and World Bank loans to build a world order where they are accountable only to themselves. From Tokyo, where Mitsubishi processes rain forest logs from around the world, to a polluting Chevron oil refinery in California, to India, China, and Brazil, where global chemical companies are setting up shop, Joshua Karliner takes us on a stunning world tour. Here is a fascinating account of corporate greed and the unexpected powers of local activist to combat.
"The intensity and importance of The Corporate Planet comes from the passion and the skill with which it opens us to a vision of how dangerous to the future of our globe is global capitalism itself."--Norman Mailer
Synopsis
Citing case histories such as Chevron, Shell, and Mitsubishi, CORPORATE WATCH editor Joshua Karliner brilliantly exposes how transnationals--aided by free trade agreements, World Bank policies, and massive consumer campaigns--play central roles in environmental destruction. This important and timely book is a significant contribution to the battle against irresponsible corporate behavior .
The following endorsements appear on the back cover:
"An important source for everyone who is concerned about our environment and our future. This persuasive book is a very useful tool in the struggle against corporate-run globalization that is accelerating the assault on our environment." --Congressman David E. Bonior, House Democratic Whip
"The corporation, by its nature, is as blind as it is powerful. Spiritually blind, morally blind. As a collective entity, it is worse than any of the individuals who make it up. The intensity and importance of The Corporate Planet comes from the passion and the skill with which it opens us to a vision of how dangerous to the future of our globe is global capitalism itself." -- Norman Mailer
"In The Corporate Planet, Joshua Karliner outlines the emerging environmental conflict between corporations wanting the freedom to plunder the earth's boundaries and people who depend on the earth for their sustenance. Essential reading for all who want to be informed members of the Earth Family in the globalization period." --Dr. Vandana Shiva, Research Foundation for Science, Technology & Natural Resource Policy, India
"From the Fortune 500's hijacking of governmental conferences to Mitsubishi's destruction of Southeast Asia's once pristine rain forests, The Corporate Planet is a devastating critique of the corporate pillage of the earth." --John Cavanagh, Director, Institute for Policy Studies
"This fine book reminds us that our biggest environmental problems stem from the scale and borderlessness of transnational corporations. Fortunately, it also reminds us that there are ways to challenge these global giants, powerful as they are." --Bill McKibben, author of, Hope, Human & Wild
"Joshua Karliner provides an excellent overview of how globalization breaks down democratic control. This is the perfect antidote to the corporate and free-market environmentalism that has nearly killed the movement." --Richard B. Norgaard, President, International Society for Ecological Economics; Professor, University of California, Berkeley.
Reader Reviews
Kirkus Review of THE CORPORATE PLANET sucks, December 8, 1997
Reviewer: A reader from Albany, California
Globalization is, obviously, a complicated, misunderstood, and nuanced process. And while THE CORPORATE PLANET is not the last word on that process, or on the dynamics by which corporations are emerging as key shapers of that process, it is also true that it tells stories far too often ignored by Quisslings, diplomats, and book reviewers. I write this because I stumbled across the Kirkus review printed on THE CORPORATE PLANET's page here, and it pissed me off. Particularly irritating is the use of the word "shrill," an adjective that seems reserved for books which contest the common optimism that tells us that radicalism is impractical and unnecessary, and that we need not attend too much to the really dangerous corners of the Big Picture. More statistics? Karliner already has LOTS of statistics here. And if his book is "unhelpful" when it comes to suggesting political alternatives, this may be in part because such alternatives are still unclear, and thus necessarily difficult to spell out in specific form. The corporation is the dominant political form of the modern age, and a principle engine of ecological destruction. In such circumstances, just what kind of an "alternative" does one appeal to? In fact, there are some good ideas here, and some good stories too, important stories well chosen. The emergence of the true transnational corporation is one of the most important development in recent human history. If you wish to know what all the shouting is about, you could do worse than start here.
BUY ONLINE
About Buying Books Online
Didn't find what you are looking for? We've been online since 1996 and have created 1000's of pages. Search below and you may find just what you are looking for.
---
MapCruzin.com is an independent firm specializing in the publication of educational and research resources. We created the first U.S. based interactive toxic chemical facility maps on the internet in 1996 and we have been online ever since. Learn more about us and view some of our projects and services.
If you have data, GIS project or custom shapefile needs send me an email.