REVIEW - The Cultural Creatives: How 50 Million People Are Changing the World by Sherry Ruth Anderson Ph.D., Paul H. Ray Ph.D.
Fair Use Statement
About Buying Books Online
See Also -->
Sample sections from the book
Yes! Magazine, Winter 2001 issue on Cultural Creatives
Click Here to buy online from
Powell's Independent Bookstore
(Powell's carries new and used books and offers free shipping
to North American addresses on all orders of $50 or more)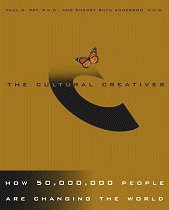 The Cultural Creatives: How 50 Million People Are Changing the World by Sherry Ruth Anderson Ph.D., Paul H. Ray Ph.D.
Book Description
Are You a Cultural Creative?
Do you dislike all the emphasis in modern culture on success and "making it," on getting and spending, on wealth and luxury goods? Do you care deeply about the destruction of the environment and would pay higher taxes or prices to clean it up and to stop global warming? Are you unhappy with both the left and the right in politics and want to find a new way that does not simply steer a middle course?
In this landmark book, sociologist Paul H. Ray and psychologist Sherry Ruth Anderson draw upon thirteen years of survey research studies on more than 100,000 Americans, plus more than 100 focus groups and dozens of in-depth interviews. They reveal who the Cultural Creatives are and the fascinating story of their emergence over the last generation, using vivid examples and engaging personal stories to describe their distinctive values and lifestyles.
The Cultural Creatives care deeply about ecology and saving the planet, about relationships, peace, and social justice, about self-actualization, spirituality, and self-expression. Surprisingly, they are both inner-directed and socially concerned; they're activists, volunteers, and contributors to good causes more often than other Americans. But because they've been so invisible, they are astonished to find out how many others share both their values and their way of life. Once they realize their numbers, their impact on America promises to be enormous, shaping a new agenda for the twenty-first century.
What makes the appearance of the Cultural Creatives especially timely is that our civilization is in the midst of an epochal change, caught between globalization, accelerating technologies, and a deteriorating planetary ecology. A creative minority can have enormous leverage to carry us into a new renaissance instead of a disastrous fall. The book ends with a number of maps for the remarkable journey that our civilization is embarked upon: initiations, evolutionary models, scenarios, and the elements of a new mythos for our time. The Cultural Creatives offers a more hopeful future and prepares us all for a transition to a new, saner, and wiser culture.
From the Back Cover
"There is no way to overestimate the contribution that Ray and Anderson have made to our understanding of the times in which we live. They have put their finger on the pulse of an entire generation. Just knowing who we are, having a name as it were, gives Cultural Creatives more power to affect the world." -- Marianne Williamson, author of Healing the Soul of America
"The Cultural Creatives is a bold announcement that the starting gun for social transformation has already gone off. . . . Essential reading for understanding the converging forces for profound social change in the coming decades." -- Duane Elgin, author of Promise Ahead and Voluntary Simplicity
"A really interesting perspective on the history and growth of the modern consciousness movements. The Cultural Creatives helps us understand who we can be -- it gives hope." -- Jack Kornfield, author of A Path with Heart
"The Cultural Creatives tells the human story behind some of the most significant and intriguing research of the new millennium -- 50 million pioneers who have broken out of the cultural trance and are creating effective change in the world. This is a truly inspiring and essential resource for creating a new politics." -- Corinne McLaughlin, coauthor of Spiritual Politics: Changing the World from the Inside Out and executive director of the Center for Visionary Leadership
"Written with passion, The Cultural Creatives sows seeds of ecological ethics, idealism, and economic justice. Paul Ray and Sherry Ruth Anderson have made a much-needed contribution to the good fight." -- Randall Hayes, founder and president of the Rainforest Action Network
"Hallelujah! The Cultural Creatives brings us spectacular, inspiring good news: our long-desired sea change has occurred, each of us 'cultural creatives' is not alone, together we now amount to a critical mass sufficient to transform America!" -- John Vasconcellos, California State Senator
About the Author
PAUL H. RAY, PH.D., was educated at Yale and the University of Michigan, where he was also an associate professor. Currently he is executive vice president of American LIVES, Inc., a market research and opinion polling firm doing research on the lifestyles and values of Americans. He has headed more than 100 major research and consulting projects and has published numerous articles on values and social change.
SHERRY RUTH ANDERSON, PH.D., was educated at Goucher College and the University of Toronto, where she was an associate professor and head of psychological research at the Clarke Institute of Psychiatry. She is the author of numerous articles in psychology and coauthor of the best-selling Feminine Face of God.
The authors are married and live in Northern California. Their Web site is culturalcreatives.org
Click Here to buy online from
Powell's Independent Bookstore
(Powell's carries new and used books and offers free shipping
to North American addresses on all orders of $50 or more)
See Also -->
Sample sections from the book
Yes! Magazine, Winter 2001 issue on Cultural Creatives
About Buying Books Online
Didn't find what you are looking for? We've been online since 1996 and have created 1000's of pages. Search below and you may find just what you are looking for.
---
Michael R. Meuser
Data Research & GIS Specialist
MapCruzin.com is an independent firm specializing in GIS project development and data research. We created the first U.S. based interactive toxic chemical facility maps on the internet in 1996 and we have been online ever since. Learn more about us and our services.
Have a project in mind? If you have data, GIS project or custom shapefile needs contact Mike.