REVIEW - Divided Planet: The Ecology of Rich and Poor by Tom Athanasiou.
Fair Use Statement
About Buying Books Online
Purchase Online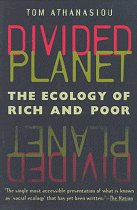 Divided Planet: The Ecology of Rich and Poor by Tom Athanasiou.
Editorial Reviews
Tom Athanasiou, a journalist and businessman, has produced an important, 385-page essay on the state of global environmentalism that is both hopeful and dire. He points to the 1992 Earth Summit Rio de Janeiro as "a doorway opening to ... more humane economics ... and greater concern for the vulnerability of Mother Earth." However, he also warns of the consequences of the economic inequalities of the southern and northern hemispheres and the potential ecological disasters of encouraging poorer countries to pursue the purely market-based path of richer countries. --This text refers to the Hardcover edition.
The New York Times Book Review
Mark Dowie A fine and ferocious writer ... Al Gore should read (this) book.
Synopsis
A radical argument for environmental awareness examines the major threats to our planet, states that current efforts are barely scratching the surface of what is necessary, and calls for dramatic changes to ecology-saving systems. Tour.
The author, Tom Athanasiou June 14, 1996
The quote you attribute to me is not from my book. I hate to write this here, but unfortunately Mark Dowie, in reviewing my book -- Divided Planet: The Ecology of Rich and Poor -- together with Phil Schabecoff's A New Name for Peace, incorrectly attributed four quotes from Mr Schabecoff's book to me. The problem is that Mr. Schabecoff and I don't seem to agree about the significance of the Earth Summit. He says, evidently, that "Rio was a doorway opening to a new post-cold war, post-industrial era" of "more humane economics and benign technologies." I say it was "an environmental Rashomon, in which each could see just what he or she wished," and emphasize that far less was accomplished at Rio, and since Rio, than most environmentalists imagine. Also, Mr Schabecoff writes of his concern for "the vulnerability of Mother Earth and all of her creatures." I hope I can say this without offending the Goddess-worshipers among your readers, and while stressing that extinction is among my greatest concerns, but I wouldn't use such language on a bet. --This text refers to the Hardcover edition.
Purchase Online
See Also --> Dowie's Losing Ground
About Buying Books Online
Didn't find what you are looking for? We've been online since 1996 and have created 1000's of pages. Search below and you may find just what you are looking for.
---
Michael R. Meuser
Data Research & GIS Specialist
MapCruzin.com is an independent firm specializing in GIS project development and data research. We created the first U.S. based interactive toxic chemical facility maps on the internet in 1996 and we have been online ever since. Learn more about us and our services.
Have a project in mind? If you have data, GIS project or custom shapefile needs contact Mike.